SOCCER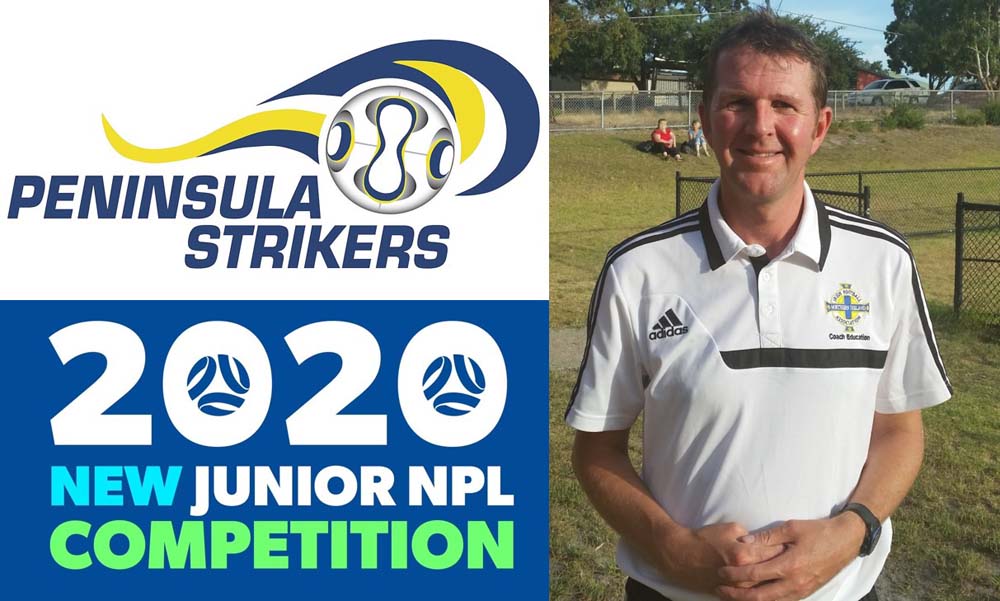 PENINSULA Strikers announced the lowest junior fees in NPL Victoria history last week and threw down the gauntlet to local rivals Langwarrin and Mornington.
Strikers and Mornington recently were granted NPL junior licences and had to stump up $20,000 each for the privilege.
Most NPL clubs charge the maximum junior player fee of $2200 for a season.
That is the case with Langwarrin while Mornington has set its player fee at $1800.
But Strikers have outdone their rivals by charging junior players $1090 to play for the club in the under-13, under-14, under-15 and under-16 elite NPL competition next season.
"The whole idea when we went down this path was to tackle the cost to families and we have worked extremely hard to come up with a figure that not only trumps everybody else but makes costs feasible," Strikers president Adrian Scialpi said.
"No club in Victoria can match us.
"We wanted to go low to attract young players who have never even considered NPL because it was completely out of reach of their family's budget and believe me there are a lot of kids in that category.
"We wanted to offer some real value for money and we think we have four really good coaches and a TD (technical director) that is outstanding, in fact I don't think you'll find anyone more qualified in Victoria."
That man is Jonathan Magee, 47, who played with Glenavon, Linfield, Bangor, Portadown and Lisburn Distillery in his native Northern Ireland before injury ended his career in 1998.
Magee holds a UEFA A licence and has worked with Preston North End's youth program and is the former Player Recruitment Manager at West Bromwich Albion.
He arrived here in 2010 and became technical director of Strikers junior club in 2015.
This week Strikers also will unveil the club's NPL junior coaching line-up.
The under-13s will be coached by John Meads who has worked in the NPLW with Southern United and has a C licence.
The under-14s will be under former Springvale White Eagles junior coach Sasa Djurovic who is a C licence holder.
Former Doveton junior coach Darren Hili (C licence) will be in charge of the under-15s while Christian Castro (B licence) will take charge of the under-16s and is well known at the club due to his work with its community junior wing.
"We have coaching plans in place that we believe are the equal of any club in Victoria and we think we have created something that's a little bit special," Scialpi added.
"We're not using NPL fees to help finance our senior club which a lot of other clubs do.
"The senior club will stand on its own two feet and we plan to tap into our junior talent pool to provide players for our senior program.
"We aim to deliver a whole package over the next few years that just might change junior football in our region."
Strikers are also expected to announce that Givova is their NPL apparel supplier.
The Italian-owned company has been involved with the junior club for the past two seasons.
Scialpi and Strikers senior coach Danny Verdun are due to meet this week as the club moves to lock-in its senior appointments for next season.
It's believed that reserves coach Paul Williams has been retained while Donn Delaney has been linked with the Centenary Park outfit.
Delaney coached Langy's under-15s to this year's NPL title and was expected to take over the under-16s but he surprised most observers by passing up that opportunity.
In NPL2 news Langwarrin gaffer Scott Miller has told the senior squad that they are all required for next season.
However the club is yet to negotiate deals for 2020 with most senior players.
It's believed that teenage defender Lucas Portelli knocked back the chance to trial with Central Coast Mariners.
The former Melbourne City player trialled with A-league newcomer Western United who is understood to have made him an offer which he rejected.
Melbourne Knights goalkeeper of the century Peter Blasby has been retained as Langwarrin's senior goalkeeping coach while Francis Beck has been retained as junior goalkeeping coach.
Fifteen-year-old Langwarrin keeper Nathan Lynders flew out of Melbourne last week to trial with English clubs Crystal Palace and Norwich City.
Lynders has previously trialled with Spanish giant Valencia.
He will miss Langy's upcoming underage NPL trials but Mornington is believed to be keeping close tabs on its former junior whose younger brother Cael plays in goal for the Dallas Brooks Park outfit.
Eighteen-year-old Langy keeper Colby Jones will trial with Western United.
He was recently named under-20s best and fairest and also was the players' player of the year winner.
His father Chris was a successful keeper with South Melbourne, Bentleigh Greens, Oakleigh and English club Brighton and Hove Albion and retired in 2010 after a long spell as the No 1 at Lawton Park.
Former Langy under-16s coach Doug Hodgson is expected to be named the new under-18s coach at Doveton.
Hodgson and a squad of Langy juniors flew out of Melbourne last week on a seven-match 14-day tour of England and will play West Bromwich Albion, Sheffield United, Kidderminster Harriers, Leicester City, Nottingham Forrest, Coventry City and the University of Warwick's academy side.
In NPLW news Southern United finished the 2019 season with a 2-0 loss to Bulleen in Saturday's under-16s grand final at ABD Stadium in Broadmeadows.
In wet and windy conditions Southern's inability to make inroads in the midfield battle and to create chances was to prove its undoing.
Bulleen keeper Pyper Prosen was rarely in the action whereas her counterpart at the other end of the pitch, Alex Jones, was kept busy and was one of Southern's better performers along with defender Emily Ryan.
Jones effected a superb smother in the 4th minute to deny Anna Berrell after Southern had given the ball away just inside its defensive third.
In the 7th minute Jones was forced to dive down and push a low shot from Rebecca Salvaggio out for a corner.
Bulleen was on top in midfield and Southern's best chance of a breakthrough seemed likely to come from set piece situations but when the sides went into the half-time break at 0-0 Bulleen had the upper hand with the wind at its back in the second stanza.
That advantage was driven home in the 54th minute when a curling shot from Pria Savarirayan deceived Jones and crept inside the far post to open the scoring.
A looping shot from Rosie Rodger bounced off the bar three minutes later and when Belinda Stojcevksi punished Southern's inability to clear following a corner by slamming the ball home from point-blank range in the 66th minute the contest was over.
This was Southern's third successive Grand Final appearance after winning the under-13 event in 2017 and losing 2-1 to Calder United in last year's under-14 final.
On a positive note if Southern coach and former Matilda Deb Nichols keeps this group together they can expect to mount serious title and finals campaigns next year as only two players, Sydney James and Indy Scarr, are ineligible to play at that level in 2020.
On Sunday Southern announced that Brian Roberts would become the club's new technical director replacing Harry Chalkitis who has retired.
Chalkitis has an impressive list of credits amassed during a decades-long involvement with the sport.
He is a two-time Victorian Coach of the Year, former men's state team coach, head coach of a number of clubs including Bentleigh Greens, Port Melbourne and Frankston City, head coach of Victoria Vision in the women's NSL and head of Victoria's National Training Centre women's program.
"I'm leaving Southern on very good terms and I'll always be just a phone call away," Chalkitis said.
Roberts is the former senior coach at Box Hill United and has won the past two NPLW Coach of the Year awards.
First published in the Southern Peninsula News – 24 September 2019