SOCCER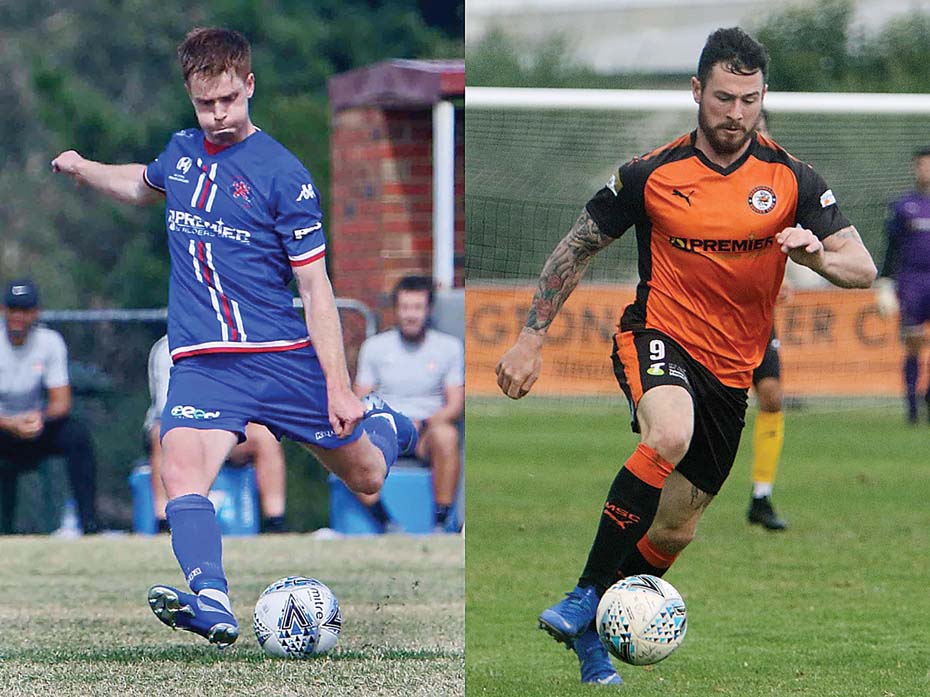 DAVID Stirton has left Langwarrin while Josh Hine has agreed terms for a second season at Mornington.
Stirton contacted head coach Scott Miller and club president Tanya Wallace last week to inform them of his decision.
The 28-year-old was one of the more experienced NPL players on the club's books having had stints with South Melbourne, Bentleigh Greens, Dandenong City and Port Melbourne and is regarded as one of the best set piece specialists in the competition.
"It's just about game time," Stirton said, a reference to the number of matches last season in which he failed to make the starting line-up.
"I came off the bench a number of times and scored some important goals but the next week I was back on the bench again.
"I spoke to Scott about it and he said he didn't want to change a winning team even when my goals were winning us points.
"I didn't want to be a supersub again. I think I'm better than that and I just found it really frustrating.
"I wanted to finish my career at Langy but obviously that's not going to be the case now."
Stirton has already fielded offers from other NPL clubs including one from Doveton which brought his father Iain to Australia for the 1983 season.
"I'm not keen to drop below NPL2 so let's see what comes up," he added.
Stirton and Jordan Templin tied for Langy's Golden Boot award this year.
At this stage eight of last year's senior squad have agreed terms for next season and every senior player has met with the club and been made an offer.
The ones that have signed on are Wayne Wallace, Jamie Cumming, Jaiden Madafferi, Fraser Maclaren, Brandon Jansz, Damir Stoilovic, Alex Van Heerwarden and Dylan Kilner.
The club also has spoken to prospective newcomers but has yet to agree terms with any of them.
Scottish midfielder Scott Lochhead has been training at Lawton Park and still could be on Langy's radar if his visa issues are resolved.
The 22-year-old has an impressive CV which includes spells with Rangers, Celtic, Dundee United and Dunfermline and he arrived in Melbourne in February to join Bentleigh Greens.
It's unclear whether John Baird will rejoin Langy after the experienced Scottish striker's inaugural Australian season there.
Baird returned to Scotland a few weeks ago to take up a short-term deal with former club Raith Rovers currently on top of League One.
On Sunday at Langwarrin's junior NPL presentation day Taylan Unal won the Ben Caffrey award as the club's NPL junior player of the year.
Unal had a remarkable season winning the best and fairest and players' player awards in the club's championship winning under-15s side.
He also won the league Golden Boot award with 44 goals making him the top scorer in both the East and West divisions of the competition.
Meanwhile Mornington reached agreement with English import Hine last week.
It was a boost for the Dallas Brooks Park club as Hine had a few NPL suitors keen to use the services of the former Salford and Boston United player.
"That's a big one for us," Mornington gaffer Adam Jamieson said.
Hine has made quite an impression in his first Australian season, winning the club's top scorer award and finishing second in the league equivalent.
The club has also agreed terms with Taylor Davidson, Kyron Kerr, Sam Scott, Craig Smart and Andy McIntyre and when Jamieson returns from a two-week holiday he'll be holding a series of meetings with current players and prospective targets.
In State 2 news Peninsula Strikers head coach Danny Verdun has decided to take a break from coaching.
Verdun returned on Sunday from a brief trip to the Gold Coast with wife Cathy and let Strikers president Adrian Scialpi know of his decision.
"As a club we will always be in debt to Danny who has become a friend and who leaves on very, very good terms," Scialpi said.
"We want everyone to know how much we value his professionalism which was a wonderful asset to our club and we can't be more grateful for what he brought to us this year."
Strikers will sort out their senior and reserves coaching positions over the next week.
Verdun's assistant Neil Standish is also keen to take a step back from coaching due to family commitments but is likely to be involved in some capacity.
In State 3 news both Max Boulton and Alex Whyte are firmly on Frankston Pines' radar while senior coach Kevin "Squizzy" Taylor remains on the lookout for an assistant.
Both Boulton and Whyte played under Taylor for Langwarrin's under-20s in the 2018 season.
Boulton played with Casey Comets last season while Whyte switched to Peninsula Strikers but they are no certainties to sign for Pines as other clubs have shown interest.
In State 4 news head coach George Hughes and assistant Robert Mathieson look set to stay at Baxter.
Hughes confirmed this last weekend but struck a note of caution after his baptism of fire last season.
"I don't want to go through what we went through last pre-season regarding players," Hughes said, referring to the struggles the club had to field a senior side just to meet its FFA Cup commitments.
This continued into the early part of the league campaign but Hughes and Mathieson finished off the season with a highly competitive and confident side which defeated local rival Seaford United and only lost to third-placed Sandown Lions through the only goal of the contest in the 96th minute.
"If we can keep the squad together and add a couple of new players then I think we could do something next year," Hughes added.
Holding onto the versatile Stuart McKenzie is a priority as he has attracted the attention of a number of clubs.
One newcomer could be ex-Peninsula Strikers and Frankston Pines defender Laban Stringer.
The 24-year-old could be used in central defence alongside experienced defender Matt McDermott freeing club captain Izaak Barr to play as a full-back or a holding midfielder.
State 4 looms as one of the more interesting leagues in 2020 with Somerville Eagles being promoted to that level of competition so derbies against Baxter and Seaford United are on the horizon.
The clash with Seaford will be of special significance for Somerville goalscoring legend Dave Greening who rewrote the record books during a highly successful spell at North Seaford Reserve between 2011 and 2014.
Somerville's joint senior coaches Scott Morrison and Greening and reserves coach and senior assistant Stan Packer will hold talks this week before meeting with director of football Zach Peddersen to discuss the upcoming season.
The club already has identified players that it wants to target and expects to retain "about 90 per cent of last season's senior squad" according to Morrison.
Charlie Conrath won't be one of them as he is set to return to the UK but Morrison is keen for veteran striker Mark Pagliarulo to pull on his boots once more.
"He's more than capable and he had a brilliant year for us and could back it up easily," Morrison said.
An upgrade of Tyabb Central Reserve should get underway next month and be completed by Christmas while Barber Reserve has been allocated $200,000 to upgrade the facilities and floodlights.
A $50,000 feasibility study at Barakee Drive Reserve in Somerville should begin shortly when soil testing is conducted.
In State 5 news Lee Barber and assistant Thomas Raby look set to be re-appointed at Aspendale Stingrays.
Barber was in charge of the youngest squad in the league last season and is optimistic about his side's prospects in 2020.
"If we can add a couple of onfield leaders then we should do well," he said.