DIVISION ONE SEASON WRAP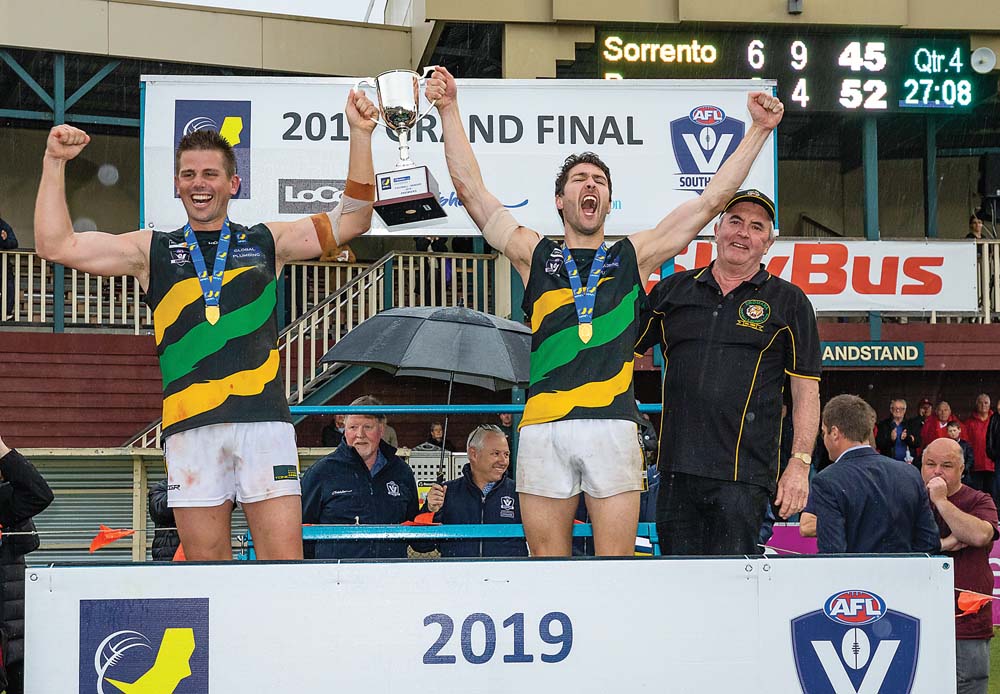 WINNERS:
Dromana
THE Tigers came into division one full of confidence after winning promotion last year, but not even their most optimistic fans could have predicted the success to come.
Dromana were impressive in 2018 and ran out deserving premiers of the second division. They made history by becoming the first side to be promoted in the new two division MPNFL format, and their performance in division one would prove to be an interesting insight into the gap between the two competitions.
Dromana didn't miss a beat and relished the opportunity to play against the best. An excellent run of results at their home ground helped prop up their season, and they ended up heading into the finals in third position. They only finished below last year's grand finalists Pines and Sorrento on the ladder.
After knocking off reigning premiers Pines in week one, Dromana were comfortably defeated by Sorrento in week two of finals. They didn't drop their heads though, and came back to win their grand final spot with a win over Bonbeach.
The Tigers avenged their previous loss to the Sharks by claiming the win over them in the grand final. The win capped off a dream year as Dromana went back to back.
Bonbeach
BONBEACH had a disappointing 2018 season, missing the finals series. Under the guidance of Steve Hughes and Trent Dennis-Lane, they showed great improvement this year to prove they could hang with the best of them
The Sharks came into finals with a 50/50 record, but looked a dangerous side all throughout the finals series. They knocked off powerhouse club Frankston YCW in the first elimination final with ease, but it was the following week where they would truly impress.
Faced with the task of knocking off the reigning premiers, Bonbeach smashed Pines to move onto the preliminary final. Although Dromana eventually stopped their run, the Sharks can hold their heads high after an impressive finals run.
Formerly AFL listed player Trent Dennis-Lane played a big role all year and helped his side to a better result in 2019.
Peter Williamson will coach the Sharks in 2020.
LOSERS:
Mornington
AFTER showing glimpses of promise in season 2018, Mornington came into the year with hopes of a decent showing. Unfortunately for them, it was not to be.
The Bulldogs found themselves rooted to the bottom of the ladder for most of the year, and copped some big losses.
They ended up bottom by a game and a massive percentage difference. They will play in the second division next season.
Pines
THE reigning premiers started the year off on the right foot, but found themselves out of form at the wrong time.
A difficult run into finals saw Pines finish second by two games, but they still remained a side with the quality to beat any team if they played at their best.
The Pythons couldn't correct course by the time finals came around, and were shockingly eliminated in straight sets. Their premiership defence fell flat with consecutive losses to Dromana and Bonbeach.
Their 2020 season will be made more difficult by the losses of powerful midfielder Paul Scanlon and Tim Bongetti.
Frankston YCW
POWERHOUSE club Frankston YCW had a difficult time with injury and form last season, which resulted in a second week finals exit.
Despite their attempts to restore themselves to their past glory, they fell short again this season when Bonbeach defeated them in the first elimination final.
Next year will see some changes at the club, with 2017 premiership coach Wayne Capp set to depart.