SOCCER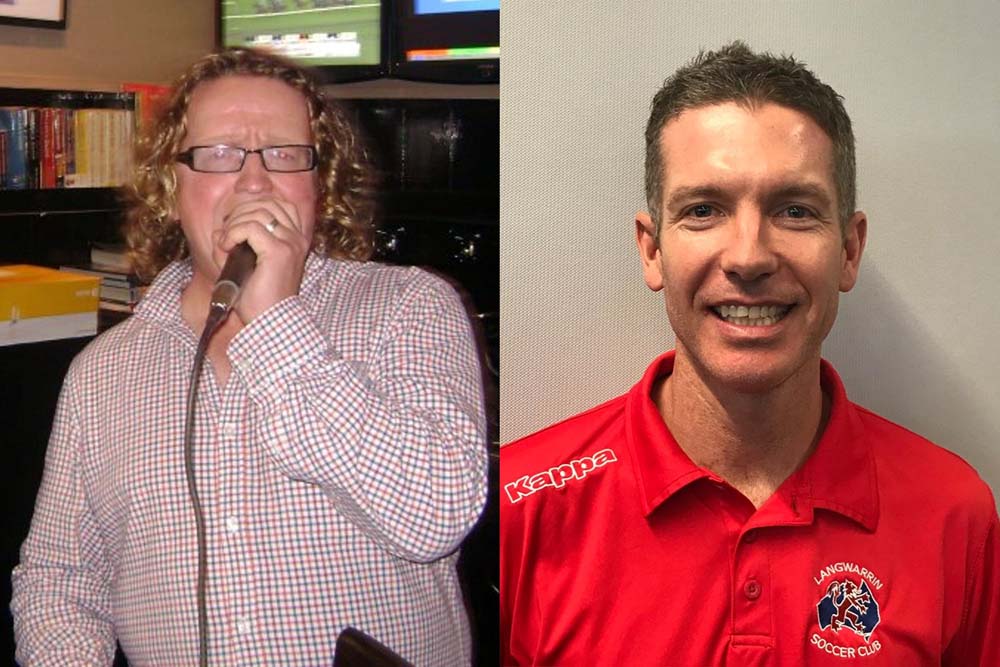 KEVIN "Squizzy" Taylor and Doug Hodgson are locked in a battle to win the services of well-respected technical director Stephen Fisher.
They were joined in the contest to lure Fisher by Bentleigh Greens but this was always going to be between Pines and the Doves.
Fisher's son Dylan, a promising teenage player, is at the centre of a tug of war between Taylor and Hodgson who reasoned that the winner would also secure the services of his father, who recently stepped down as Langwarrin TD.
Taylor is senior coach at Frankston Pines and Hodgson is the new under-18s coach at recently promoted NPL club Doveton.
Taylor gave the youngster his first chance at NPL under-20 level in 2018 and Hodgson coached him this year in the Langwarrin under-16s.
"Dylan could stay at Langwarrin but that's unlikely," Fisher said.
"It will probably be either Doveton or Pines which gives me and my son the opportunity to work with people we both like and respect."
Fisher's departure from Langwarrin as its inaugural NPL technical director had been announced before the end of the season.
He wanted to stay at Langy as assistant to Hodgson believing that they would work together with the under-18s but that possibility vanished when Langy and Hodgson parted company.
The jewel in Langy's NPL underage program was its championship-winning under-15s but once its coach Donn Delaney left the club to pursue an interest in senior coaching that squad was under threat of being decimated by departures.
"Donn wanted to get involved in senior football and I think his decision (to leave) is a good one," Fisher said.
"A lot of the boys in the under-15s had been working with him since the under-8s at Strikers so the journey was pretty much done.
"A lot of those boys want to challenge themselves and play 18s NPL and I expect plenty of NPL teams will attempt to lure them."
Some may end up switching to Strikers who now have a junior NPL licence and will field under-13s, 14s, 15s and under-16s next season.
Strikers also recently announced a junior NPL fee that took rival clubs by surprise and Fisher expects that to have a major impact.
"The fee that Strikers are offering is appealing and looking at what they are giving people for half the price will definitely have an effect.
"But whether that fee is sustainable is another matter.
"Every team they field costs them $5000 to Football Victoria before they even kick a ball so you are up for around $350 a player before you start talking about other costs."
Sustainability is a recurring theme with Fisher when he discusses the NPL.
"It's turned into an arms race and Langwarrin is a case in point.
"Dylan Kilner is the only player in the senior squad to have come through the club's junior ranks and not having kids coming in is a serious problem.
"Your budget just keeps going up and that's not sustainable.
"You have to ask the question: Are we dealing with what we've got and improving them to a level that meets our needs or do we keep throwing money at expensive players and say 'go out there and play'?
"I have so much admiration for (NPL2 champions) Eastern Lions and what they achieved this year.
"They are a great example of what can be done with a very small budget against teams like Bulleen who spend massive money to try and win the league.
"I think what Lions have done is as good an effort as we've seen in a long, long time."
Langwarrin's budget is believed to be double that of Eastern Lions but a key to Lions' success is home-grown talent with six players in its senior squad coming through the club's junior program.
"In Langwarrin's defence Eastern Lions have had four years' head start with their NPL junior program and I'm hopeful that in a few years' time we will see those sort of numbers of Langwarrin juniors in the senior squad."
Fisher has a firm view on the structure of the junior NPL system and was stunned in August when FV announced that 12 new junior licences had been granted bringing the number of clubs competing in the junior NPL to 48.
"It's ridiculous. They went and reviewed something as if it was broken. It wasn't.
"We've now got 48 clubs which is great and I'm really glad we've picked up the 600 elite kids we missed last time we issued licences," Fisher said tongue-in-cheek.
"Seriously it's far too many clubs and I have no confidence in this model.
"It's fundamentally flawed and from the outside looking in it looks simply like revenue raising.
"All they've done is to dilute the product."
Wherever Fisher ends up next season he'll carry an impressive CV with glowing references from an NPL career that has taken him from Springvale White Eagles to Dandenong City then Lawton Park.
And he has firsthand knowledge of what it takes to succeed as a technical director.
"The most important thing is to be honest because you are going to have to tell people (mainly parents) what they don't want to hear so you have to be strong in your convictions.
"You also need a really good team around you and you have to clearly define what you want to achieve and set realistic targets.
"And remember that people are paying a lot of money to your club and they want to see something for their outlay.
"You need to give them improvement (in their child) and if you spend all your time in the complaints department then your coaches will be distracted and your whole set-up will fall down."
Meanwhile the man he could end up working alongside next season returned on the weekend from a successful tour of England with Langwarrin's under-16s.
Hodgson and his youngsters opened their tour in style defeating West Bromwich Albion 10-0 with goals from Keegan Myatt (4), Sam Maggs (2), Logan Crouch (2), Tom Duckett and Brodie McMinimee.
They prevailed in another goalfest against Sheffield United winning 5-4 with goals from Allen Dzemidzic (2), Maggs (2) and Myatt then followed up with a 4-2 victory over Leicester City with Brodie Jones, Maggs, Duckett and Owen Murphy the scorers.
Langy then twice came from behind to defeat Nottingham Forest 5-3 in the next match with a Crouch hat-trick and goals from Maggs and Duckett.
The only loss Langy suffered was a 5-1 defeat by Coventry City (with Myatt scoring).
Another Crouch hat-trick, another Myatt goal and an own goal resulted in a 5-5 draw with Warwick Academy in the final tour match.
In other news Mornington has finalised its coaching appointments for its inaugural NPL junior season.
Adam Jamieson will combine his role as senior coach with head coach of the under-13s.
Mitchell Ball will be in charge of the under-14s. Ball has a C licence and has worked in the NPL junior area with Bulleen and Langwarrin and was assistant coach of Mornington's reserves last season.
The under-15s will be under the guidance of Jim Constantinou who has worked with the club's community juniors for the past five seasons. He has a C licence and plans to complete his B licence next year.
Constantinou worked with the under-14s this year winning the league and finishing runner-up in the state final.
Kyriakos Matziartis will take charge of the under-16s and he holds a B licence. He has coached at NPL junior level with Dandenong Thunder and Box Hill United.
In State 2 news Peninsula Strikers look set to finalise their senior and reserves coaching appointments by the end of the week.
Paul Williams and Donn Delaney are expected to be among the appointments.
In State 3 news Frankston Pines has reappointed Paulo Pinheiro as reserves coach.
"We are delighted to retain Paulo for the upcoming season," club president Lee Davies said.
"After a difficult start (last season) Paulo assembled an exciting, talented young squad that put together a great run of games in the second half of the season and we are confident he will continue to develop the next generation of Frankston Pines senior players."