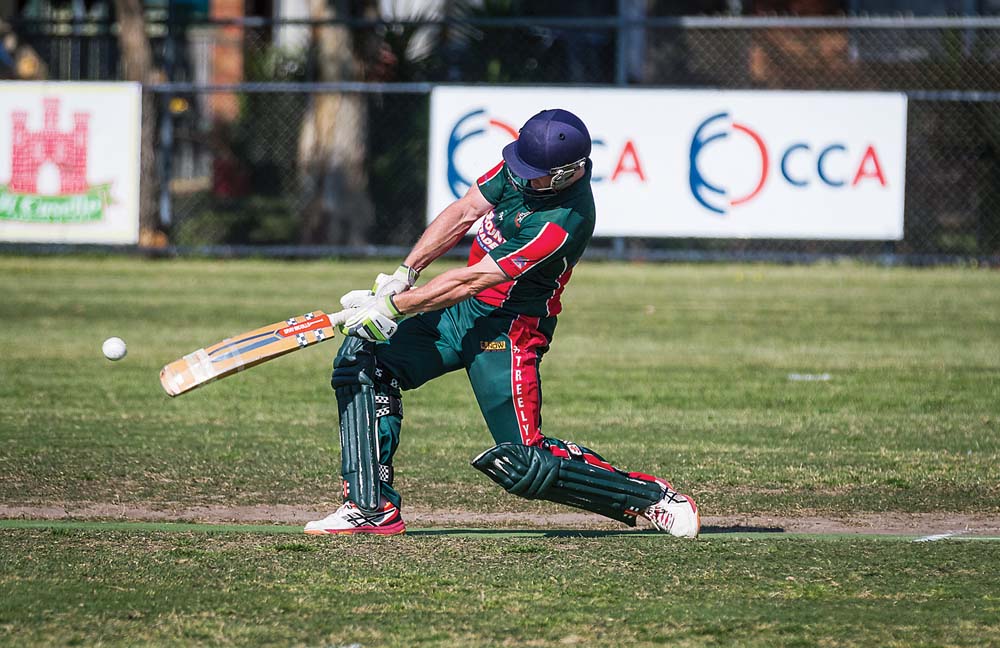 PENINSULA
RED Hill have secured a narrow win over Pines away from home.
Playing out of Eric Bell Reserve, the travelling Red Hill chose to bat first. They lost their first opener for a duck but recovered well from there.
All of Red Hill's middle order performed well on the day, and they ended up putting 189 runs on the board by the time their innings expired.
Pines bowler Patrick Jackson played a part, helping to clean up the tail and finishing with good figures of 4/24.
Pines' run chase started well with a 38 run opening stand, but they quickly started to lose qtickets.
They steadied the ship and ended up in a good position at 5/120, requiring 70 more for the win.
The tail end was not able to hold up for Pines, and they ended up all out for 164.
At Ballam Park on Saturday, Long Island played host to Moorooduc.
Long Island chose to bat first and did well, with eight of their batsmen reaching double digit figures.
Despite being consistently good, none of Long Island's batsmen went on to make a big score, and they ended up all out for a decent total of 159.
Moorooduc opener Ben Williams did most of the heavy lifting during the run chase, putting 47 runs on the board. Unfortunately for him he got no help from his teammates, as the next five batsmen in for Mooroduc were all dismissed for less than five runs each.
A spirited showing from the tail helped, but Moorooduc still fell short and were all out for 112.
At Ditterich Reserve, Heatherhill did well to defend their total of 166 against Main Ridge. Heatherhill's Kieran Lenehan did well with ball in hand, taking 4/20.
Pearcedale had a tough day at home, when they were soundly defeated by Somerville.
A brilliant team effort from Somerville's top order set them up well, and they ended up setting target of 225 to win.
Pearcedale couldn't get close, and only put 90 runs on the board in their 40 over innings.
DISTRICT
A STUNNING 142 run third wicket partnership has helped set up Carrum for an impressive win over Delacombe Park.
Campbell Ak and Jake D'Atri did the damage, each notching up half centuries.
Delacombe Park were faced with a target of 200 runs to chase down, and gave it their best shot. They put together a respectable innings, but ended up falling 29 runs short of the win.
D'Atri stopped all chance of Delacombe Park snatching the win by cleaning up the tail order. He posted figures of 4/22 to round out a man of the match performance.
Hastings had a good day against Rosebud, as they chased down a target of 130 with ease.
Luke Hewitt was at his best for Hastings, scoring 71 not out to help Hastings chase down their target with 12 overs to spare and 9 wickets in hand.
At Cyril Fox Reserve, Crib Point's total of 226 proved far too big a task for Seaford Tigers.
Matthew Blake was Crib Point's best with bat in hand, passing his half century.
Seaford Tigers started well, and at 0/62 it looked as if they might be a chance of snatching the win. They quickly fell to 4/64, and couldn't recover from there.
Seaford Tigers ended up all out for 142.
Mt Martha struggled badly against Dromana on Saturday, setting just 89 runs for their opponents to win.
Dromana didn't do it easy during their run chase, but eventually claimed the win with four wickets in hand.
SUB DISTRICT
FRANKSTON YCW just held on to claim a thrilling win over Tootgarook over the weekend.
The Stonecats made the call to bat first at Tootgarook's home ground, and started well with a 50 run opening stand.
Although they batted well they were a little slow at times. YCW ended up at 7/139 at the end of their 40 over innings.
Tootgarook got off to a great start and were in the box seat at 2/106. A tail order collapse put their run chase in jeopardy, and as the wickets started to fall the runs started to dry up too.
Tootgarook's early hard work was undone as they ended up running out of time. They finished 9 runs short of the win at the expiration of their innings.
Nick Barfuss claimed the last two wickets of the innings to help the Stonecats scrape over the line.
A brilliant innings of 84 from Scott Manders has helped Seaford claim a tight four wicket win over Tyabb.
The Yabbies chose to bat first and started well, looking comfortable at 1/95. By the end of their innings Tyabb had put 174 runs on the board, a target which they would have felt good about defending.
After a shaky start, Manders came in at number three and grabbed the game by the scruff of their neck for Seaford. His side ended up reaching their target with an over and four wickets to spare.
James Quarby put together an innings for the ages for Carrum Downs, smashing 8 sixes and 13 fours on his way to a total of 123.
His side set a target of 204 for their Balnarring opponents to chase down. Balnarring's top order were poor and they fell short.
Skye had a difficult day at home and saw their total of 197 easily chased down by Boneo.
Rye also struggled on Saturday, and were bowled out for 93. Ballam Park claimed victory over them on the day.
PROVINCIAL
MT ELIZA proved too good for Mornington on Saturday in their second match for the season.
Mornington chose to bat first and despite losing one opener for a duck, did well. They finished at 7/168 after their 40 overs, a respectable total.
Mt Eliza had little trouble chasing down their target, and ended up claiming the win with six wickets and ten overs to spare.
Opener Tim Clarke and number four batsman Jsutin Grant both passed their half centuries for Mt Eliza to help their side get the win.
Chris Brittain's entertaining century, featuring 7 fours and 7 sixes, helped Baxter claim a win over Flinders.
Baxter looked brilliant and ended up at 6/230 at the end of their innings. Flinders worked hard but fell well and truly short at the end of their stint with the bat. They finished at 8/161.
Langwarrin easily defended their total of 196 against Baden Powell at Lloyd Park. Tom Hussey's innings of 82 was the highlight of the day for Langy.
Peninsula OB also had a good day, with Sorrento failing in their efforts to chase down a target of 167 to win.