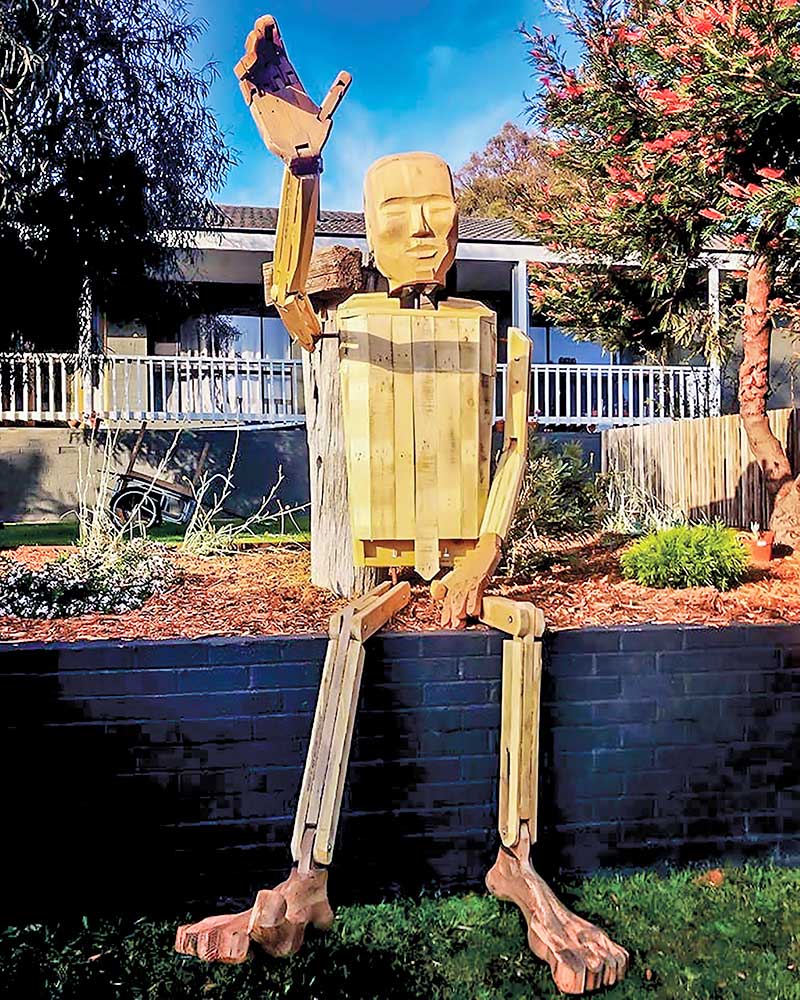 MEET Igor, a part-time scarecrow and part-time electrician who is very good at changing light globes and passing solar panels up onto roofs.
The gentle giant is a big supporter of Somers Primary School and will put himself up for auction at the 16th Annual Somers Arts Fair, 10am-5pm, Sunday 27 October. His sale proceeds will go to the school.
Made from recycled Oregon studs, pallets and old bocce balls, the 3.6-metre Igor has fully articulated limbs and is finished in a mixture of linseed oil and boiled gum turpentine to protect him from the weather.
His creator, David Colcott, said Igor loves being outside with the bees and butterflies, which is handy because going inside can be a problem: few doors are wide enough for him to fit through. "He loves this planet and does all he can to keep it safe," said Mr Colcott, who made Igor in between raising his young family, working full time and renovating his home.
Speaking with a nod and a wink, Mr Colcott said Igor's first memory was as a seed which fell from the fur of a brown bear in the Oregon state forest. Later, after growing into a sapling, he had aspirations of becoming a giant fir tree. There he stood, growing and storing carbon in his wood for 100 years. Then, in the 1970s, Igor was brought to Somers where his valuable timbers helped make up a family home for nearly 50 years.
"Igor knows he is not perfect; he makes mistakes (sometimes more than once), but tries to learn from them," said Mr Colcott, a teacher at Flinders Christian College. "He listens to his teachers and parents (they don't tend to say much because they are trees) and always tries his best."
"He thinks little people are funny when they walk around staring into their little black boxes and miss all of the beauty in nature."
Supporters can show their appreciation for Mr Colcott's work by bidding for him at the arts fair at the school in Camp Hill Road, Somers.