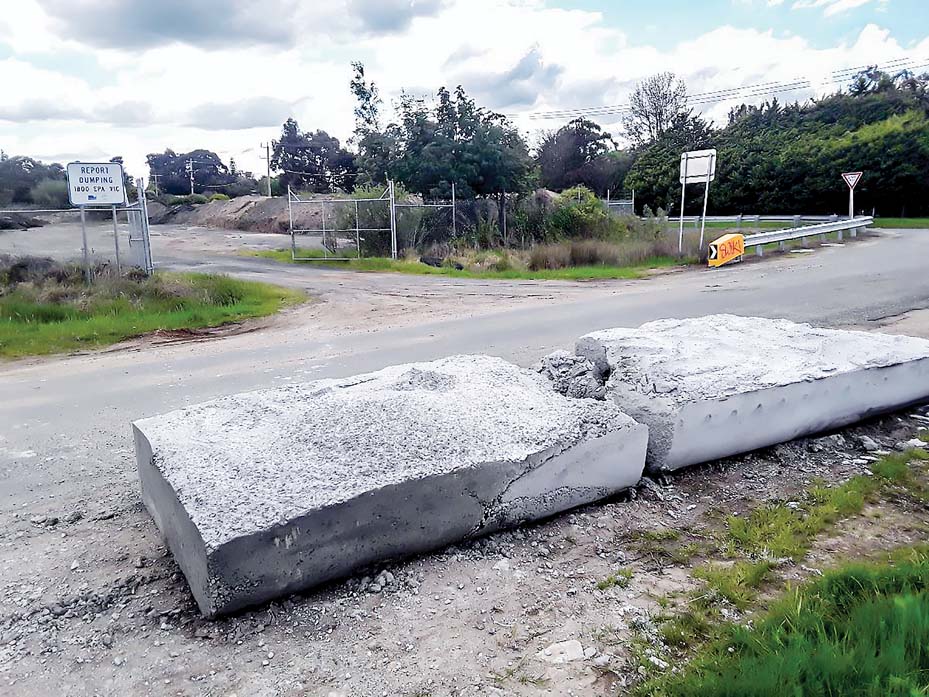 BUILDERS and plumbers across the Mornington Peninsula are being asked to help track down a serial concrete dumper.
The dumper has left at least eight solid clues on peninsula roadsides.
Authorities believe the concrete is most likely leftovers from a building foundation pour and is being dumped to avoid tipping costs.
It is believed a skip bin truck, possibly an Isuzu or Mitsubishi with green writing on the door, may be involved.
The Environment Protection Authority Victoria (EPA), Victorian Building Authority (VBA) and Mornington Peninsula Shire Council have joined forces to "bring a serial concrete dumper to justice".
At least eight incidents of roadside dumping at sites from Pearcedale to Cape Schanck have been reported to the shire.
As the concrete is suspected of having come from a construction site, the VBA is contacting all registered builders and plumbers on the peninsula to help track the culprit.
The mayor Cr David Gill said dumped waste poses a serious threat to wildlife and can lead to contamination of land, waterways and groundwater.
"Council spends more than $700,000 a year cleaning up the mess left behind by illegally dumped waste, collecting 4518 individual cases of illegal dumping in the past 12 months," he said.
"Hardworking ratepayer's money could be put to much better use in our community."
EPA south metro regional manager Marlene Mathias said tracking down the concrete dumper was an example of how regulators and councils work together to combat "difficult waste crime activity".
"Dumping construction waste in this way is done for profit. It's cheaper to leave the problem for others to manage than deal with it the right way," she said. "It will be the Mornington Peninsula community that carries the clean up bill unless we can find the culprit and force them to pay for their actions."
The Victorian Building Authority's state building surveyor, Andrew Cialini said builders had an obligation to dispose of their building waste in designated council locations.
"The VBA supports the EPA's move to stop illegal dumping of building waste. We want all builders to act responsibly when disposing of concrete, rubble and other materials."
Anyone with information about the concrete dumps can call the EPA VIC on 1300 372 842.
First published in the Southern Peninsula News – 22 October 2019