By Doreen Jeremiah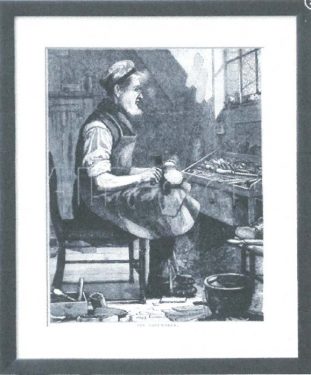 JOHN Jeremiah, together with his wife, Joanna and large family, took up land in Old Tyabb in 1894. Consequently there have been Jeremiahs in the Western Port area for over 120 years and I welcome this opportunity to tell a little of our family history. The tricky bit is that so many of my ancestors were called "John" but I will do my best to avoid any confusion.
***
Welsh Beginnings
The first ancestor I have been able to find was John Morgan who was born in Brecon, South Wales. John was a shoemaker and, after he married Mary, they moved to the prestigious area of St. James, Westminster, London. While living there they had three sons, one of whom was Edward.
After some time in London, John and Mary moved back to Aberdare in South Wales where John and his sons continued to work as shoemakers. There was apparently another shoemaker in Aberdare whose name was Morgan and, not wishing for his work to be confused with that of a less skilful craftsman, John changed his name from Morgan to Jeremiah. The choice of the name is a mystery, but in Wales at that time religion and the church played a significant part in the lives of most people.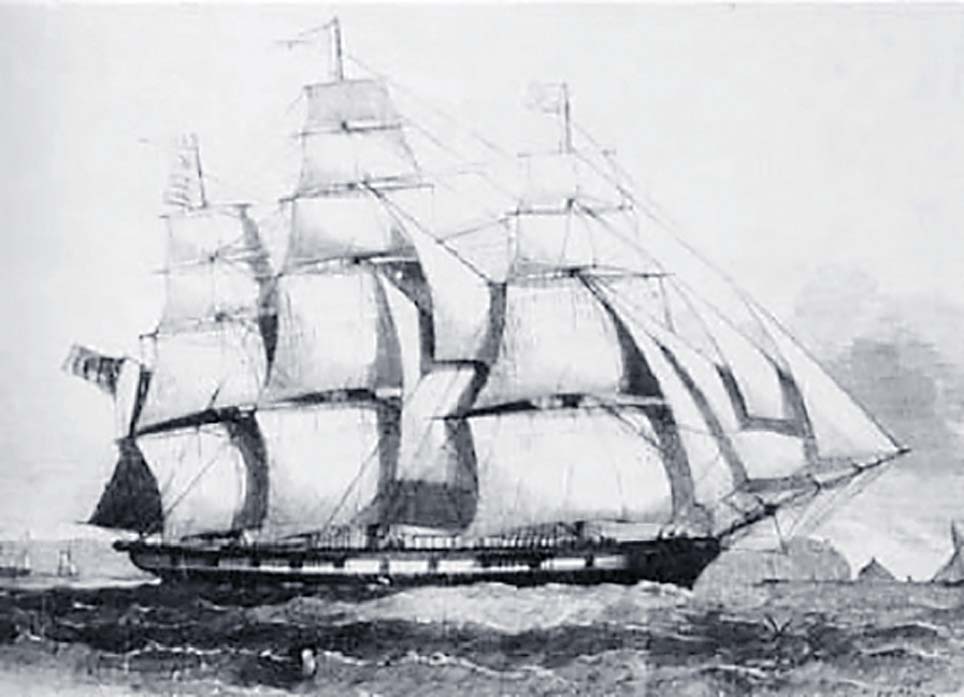 Edward, my great, great, grandfather, had been born in the Naval Hospital in Greenwich in 1808 before the move back to Wales. He became quite heavily involved in the church and was a reader and orator of some repute. If the minister was running late, Edward would commence the Sunday service himself, opening with a prayer: "Good Lord, see us this day, having been disappointed by your emissary-if indeed he is your emissary-if he could have come but has decided against making the effort-chastise him-scourge him: but if it is that he has tried to come and has failed, forgive him. For him, no more than me, is not perfect." It sounds like a harsh start to the service and one wonders how the minister could recover from there.
Edward Jeremiah married Margaret Thomas on 26 April, 1828 in the Parish of Aberdare and they lived, rather appropriately, in Temperance Street, Merthyr Tydfil, a large iron and steel manufacturing town. The 1861 census indicates that the family had moved back to Aberdare and between the two locations eleven children were born. While some of them stayed in Wales, others journeyed to distant lands such as Australia and America.
To the Goldfields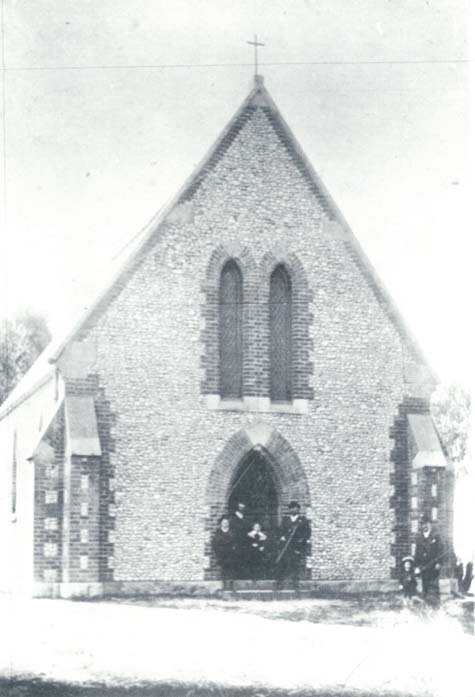 John Jeremiah was born in Aberdare in 1835, the third son of Edward and Margaret. Like most young men of those times, John was keen to avoid an existence in the mines and preferred to try his luck on the Australian goldfields. Accordingly, in 1856 he and a cousin, Richard Davies, booked a passage on the "Ben Nevis"and, on arrival, they made their way to Dunolly.
John lived at Cochrane's Creek and there he met Johanna Williams from nearby Sandy Creek (now Tarnagulla). Johanna, born in Rhymney in Wales in 1845 came to Australia with her parents, Abraham and Margaret, on the "Timothy Castle". John and Johanna were married at the Dunolly Congregational Church in 1861.
Between 1861 and 1883 John and Johanna Jeremiah had thirteen children but only four of them survived to adulthood; this was not uncommon in those days with disease, poor sanitation and with women coping alone. When it came to naming children, the same name was often re-used if the original bearer had died. Consequently there were three "Johns" amongst the thirteen; the last of them was John Edward, my great grandfather, who was born in 1880.
John must have had success on the goldfields for he was able to buy a 1,000 acre wheat and sheep farm at West Carrapooee (also known as Peter's Diggings) in 1867. Under the guidance of Mr. H. Edwards of St. Arnaud, the local miners gathered stones from the mineshafts on the hill opposite and built an Anglican church. The sound workmanship and generations of care by a devoted band of worshippers have ensured that the building has stood the test of time. The tiny church still stands in an isolated location on the St. Arnaud-Dunolly Road, Carrapooee.
A deterioration in Johanna's health necessitated a move from the area, however, so John left his eldest surviving son, Abraham, in charge of the farm. Abraham later became an agent for Massey Harris farm implements and started one of the first reaper and binder units in the St. Arnaud district. He married Emma Golding in 1893 and they had seven children. Some of their descendants still live in that area.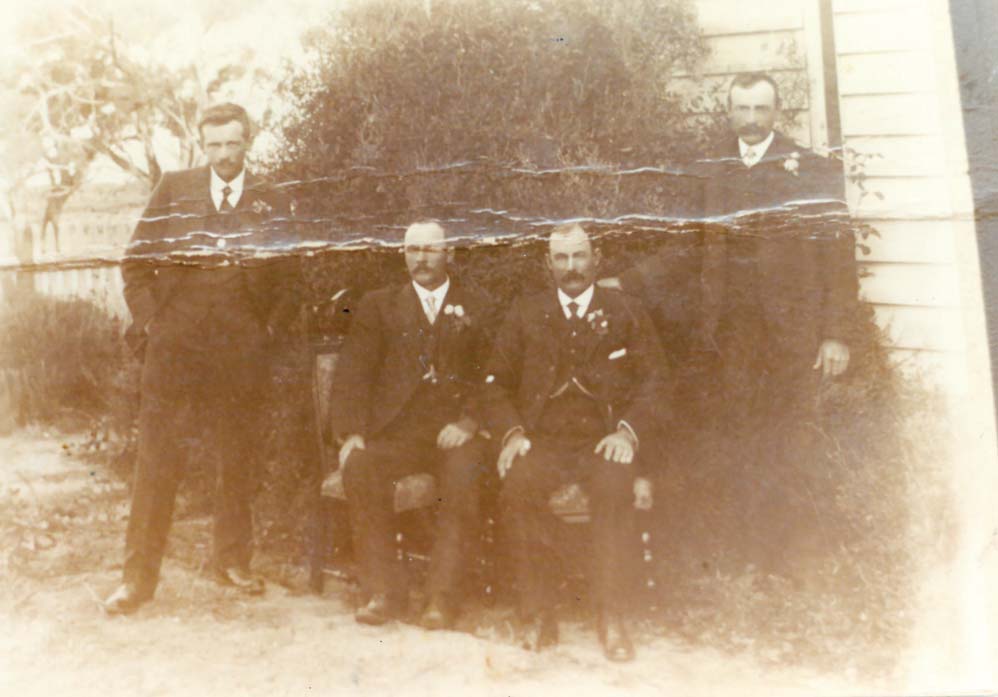 The Move to Old Tyabb
After a few years in the Werribee area, John and Johanna left with intentions to buy land they had seen advertised in The Argus of 2 December, 1893. There were 600 acres for sale divided into blocks ranging from 6 to 60 acres in the area which became known as "Old Tyabb". John intended to buy all 600 acres but they were held up by the ferry at Mordialloc Creek. When they arrived at the auction, held at the Mechanics Institute in Hastings, most of the land had been sold and they were only able to obtain 104 acres. The property was called "Elm Bank" and a few elm trees can still be seen there today. Apple orchards were planted and John and his three sons ( John Edward, Thomas, and Alfred Benjamin Stanley) were an industrious team. John died in 1906 and is buried in the Tyabb cemetery.
One of the boys, Thomas, married Eliza Ellen Dunne in Hastings and moved to Koo Wee Rup where he bought 75 acres in 1899. Tom was a potato farmer and he and Ellen raised eleven children.
Alfred Benjamin Stanley, known as "Stan",married Adelaide King and moved into the original homestead. They had seven children. Stan stayed on the apple orchard all of his working life and two of his sons-Alfred (known as "Sonny") and Ray-who lived nearby, helped him with the farm. When Stan retired, he and Adelaide moved into Tyabb and the farm was taken over by youngest son, Les, who never married. When the property was bought by Lysaghts, Les moved to Mornington. Stan and Adelaide lived in Tyabb until their deaths in 1965 and 1968 respectively.
My grandfather, John Edward Jeremiah, who was born in 1880, was the third brother to come to the area with his parents. He married Christina Davidson Main who had been born in 1883 and who came to Australia with her parents from Fraserburgh, Scotland, when she was eight years old. Her father, John Main, was a fisherman and horse breaker, and the family lived in the area which is now Lyall Street in Hastings. The two families were possibly on friendly terms through church events and neighbourhood outings. John Edward built his home near the original homestead and one of two palm trees that he planted still survives. He and Christina had twelve children, the third being my father, John Alexander.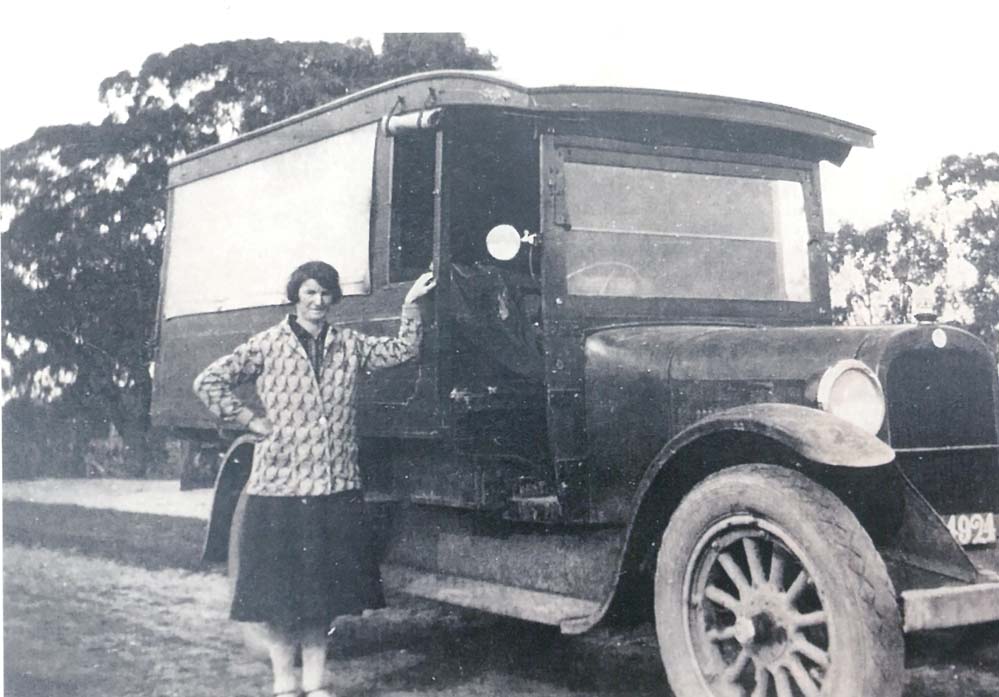 My Parents
John Alexander Jeremiah, known as "Jack",was born in Hastings in 1906. He attended Hastings State School, walking via King's Creek which was a three mile trek. Jack left school at the age of 13 to help on his parents' farm; this was not uncommon in those times. In Jack's case it was unfortunate as he was very good at arithmetic and his teachers were sorry to see him depart.
Jack stayed on the family farm working alongside his siblings but when he was sixteen he started contract ploughing around the district. He would rise early, harness the horse, and walk with it to Tyabb where he would work all day. Jack would have a short break for lunch which would consist of a jam or lard sandwich. He learned to use his mother's sewing machine, and helped his father to make farm equipment , bicycles, ploughs, pumps, and horse shoes using the bellows. Jack loved to make any type of machinery and tinker with engines.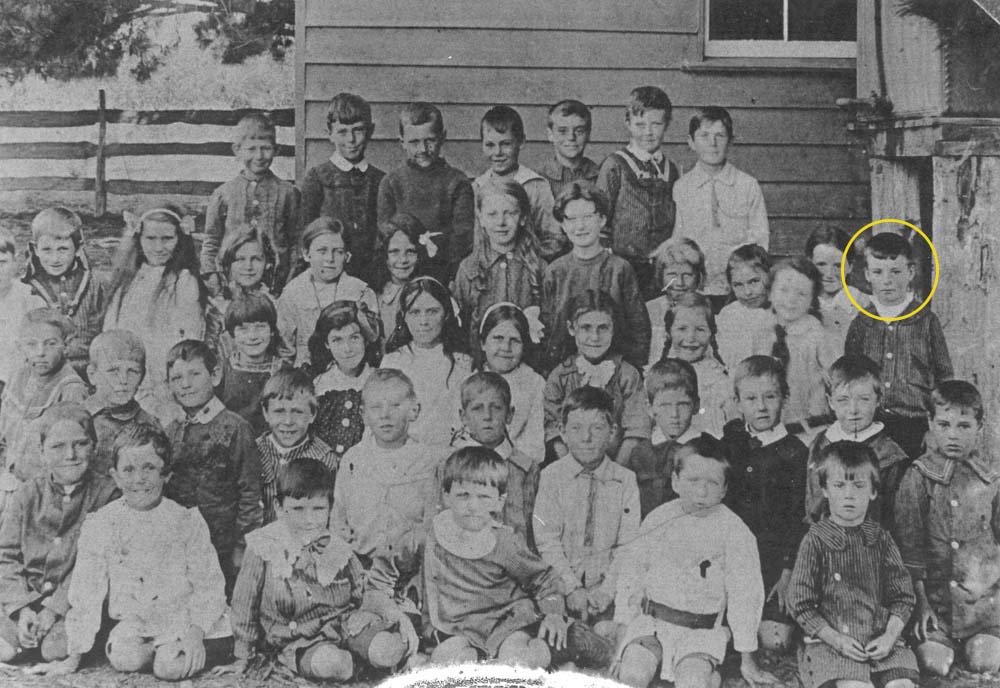 During Jack's teenage years he also helped his uncle Stan by sowing oats and baling hay for neighbours. The spraying of fruit trees in the local area was also undertaken and the pair made spray pumps and other farm implements. At busy times they would work all week, including Sunday.
One of Jack's outlets was dancing and he and his siblings would attend all the local dances. It was at a dance in Hastings in 1928 that he met Emily Victor, a local girl whose family were orchardists along McKirdys Road. In those days dances, concerts, singing around the piano, and picnics were how people on the land would get together. Emily was a Nurses' Aide at the hospital in Somerville.
After a five year courtship Jack and Emily married in 1932 at the Methodist Church in Mordialloc. Jack was 26; Emily was 21. Their first home was rented from George Denham for ten pounds a week. It was a modest timber home but they enjoyed life by visiting various relatives, often by walking across the paddocks. Later Emily would push the pram for miles to visit her mother, Alice Victor, who lived in the Bembridge area.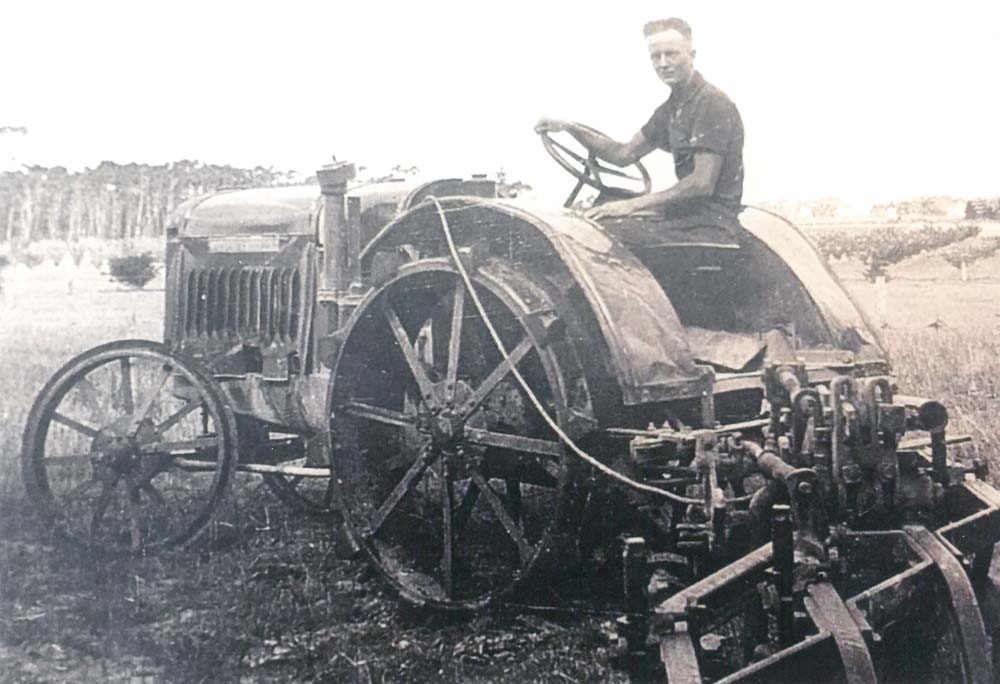 One of Jack's great treasures was a Harley Davidson motorbike, model JDL. Earlier he had a JAP Invincible but the Harley was something he saved hard for; it cost 150 pounds from Millage Brothers in Sydney and included a sidecar. The bike had a reverse gear which was uncommon and people would look on with amazement when Jack reversed into a space. The sidecar was used to transport tools during the week and Emily to dances on a Saturday night. On one occasion Jack hit a sandy bump a little too fast which led to Emily and the sidecar parting company. Emily was shaken, but not stirred!
Jack and Emily's first child, Bryan John, was born in 1932 but only lived for a few months. This caused  great sadness which was to some extent lessened by the arrival at the Hastings BNH of a curly-haired daughter, Gloria Alice, in 1937.Next to arrive was Victor, born in the Somerville Hospital in 1939. There was then a long break before I (Doreen) was born at the Hastings BNH in 1951.
Meanwhile, because Jack was constantly repairing farm equipment, motors, pumps and the like, he decided in early 1946 to move into the township of Tyabb and start his own garage. The land, on what is now the Frankston-Flinders Road, was part of The Sunnyside Estate and was bought from James Lillywhite for 100 pounds. Suddenly the Lillywhites, Shaws, Slocombes, Francis, and Ludgates became  neighbours. The Smedleys were another local family who ran their dairy business and their home was at the rear where the Taranto vegetable farm is today. Jack and Emily rented an old home next to the garage which Jack built.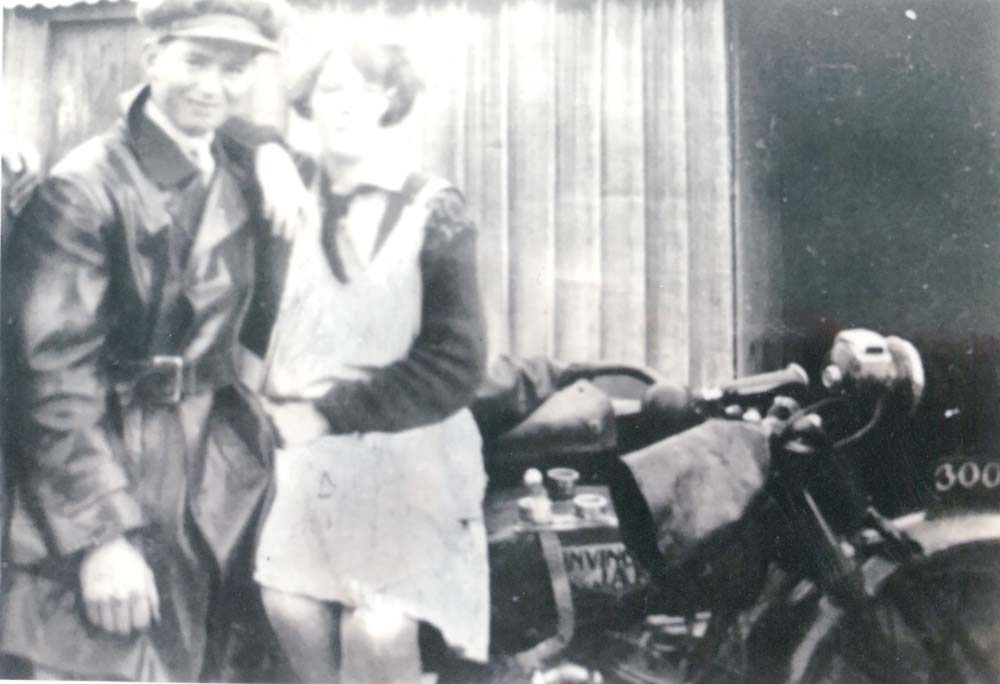 As proprietor of "Tyabb Motors and Engineering Works" Jack became the agent for Vacuum Oil and it was not long before the front was adorned with with a sign for Castrol Oil and the Flying Red Horse. He soon found he was too busy to handle both motor and bodywork repairs, so he persuaded his younger brother, George, to open a garage across the road. George had bought two blocks of land and he built his home beside "Tyabb Body Works". This garage, now an antique shed, had a clock out the front which enabled sailors from Cerberus to check their progress when returning to the Depot!
Growing up in a small country town like Tyabb in the early 1950's was a great experience. No-one locked their doors, neighbours swapped vegetables, people loaned items to one another and a general trust was experienced by all. Everyone walked to school or rode a bike, and local shopkeepers kept a "lookout" for you. School Sports Day was a big event back then and the Eastern Peninsula School Sports was held at the Hastings football ground. I will never forget my final year at Tyabb Railway as I unexpectedly won the blue sash for fastest girl runner. Vic was so proud of me that as a reward I was allowed to steer his precious Ford car up the road!
Jack's garage was always busy and he would often go to Melbourne for spare parts. This was an event which I enjoyed as my mother would dress up-hat, bag, gloves, and high heels-and I would also go along dressed in a smart outfit. We would travel to Melbourne in the little old "Standard 8", which had window flaps where you could put your arm out to make hand signals. The car was small and cosy, with the back seat just big enough for me to go to sleep on the return journey. My mother and I would go shopping and have lunch in Coles Cafeteria, possibly meeting up with one of our "city" relatives. We would then visit the Botanical Gardens where I would get to feed the ducks  with some bread that I had brought from home. To me, these enormous gardens with their tall trees and so many places to hide, was like Fairyland.  Eventually the Standard was replaced by a 1948 Holden.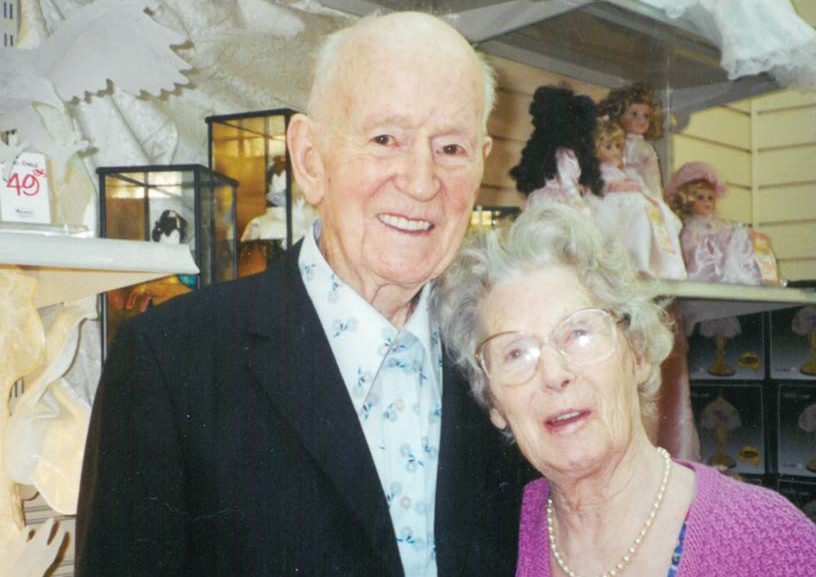 Emily's brother, Ted Victor, used to work for Jack in his teenage years and one night, after he had a few beers, he crossed the main road to visit Jack. It was dark and Ted, walking between the house and garage, forgot that was where Jack disposed of his old oil. He fell into the oil pit and was the subject of a prolonged salvage operation. Ted never made that mistake again!
In 1958 Jack and Emily decided to buy two blocks across the road in the "Stationside Park Estate" which was being developed. It was originally a pear and apple orchard owned by G.C.Coles but Jack cleared the land using the old McCormack tractor and harrows. It was dry and dusty and quite a few snakes lost their homes. When the block was ready an old caravan belonging to Jack's brother, Keith, was installed and we moved in. Our new "residence" was very crowded and lacked the features of modern vans. Most of our furniture was stored in a shed belonging to Christina, Jack's mother; I would sometimes go there for entertainment, climb over the furniture, and think "One day mum will have a nice house to put her things into."
Building the new home took a long time, years in fact, and living in the van just became a way of life to me. The van was under big cypress trees and the rope washing line was strung between two gums. Cooking was done outside on an open fire although an electric cooker was used in winter. Showers or a bath were taken at Ted Victor's place next door. It also housed Emily's precious piano and she would slip in there to play when Ted was out. Emily had found a job in the local grocery store run by the Lovells, and she later worked at the Tyabb Cannery which was a wet and tedious job. Sometimes we would visit "old" Mrs. Paganoni across the road and she would give Emily a sherry and some sweets to me. I'm sure Emily needed a drink at times and I always needed lollies!
The house was eventually built by local builder, Gaza Shaw, and Emily and Jack lived there for the rest of their lives. Emily passed away in 2004 aged 93 after two years in the Regional Nursing Home while Jack lived on at home where he passed away in 2006 at the age of 96. Both were strong survivors from an era where you had to work hard to get ahead.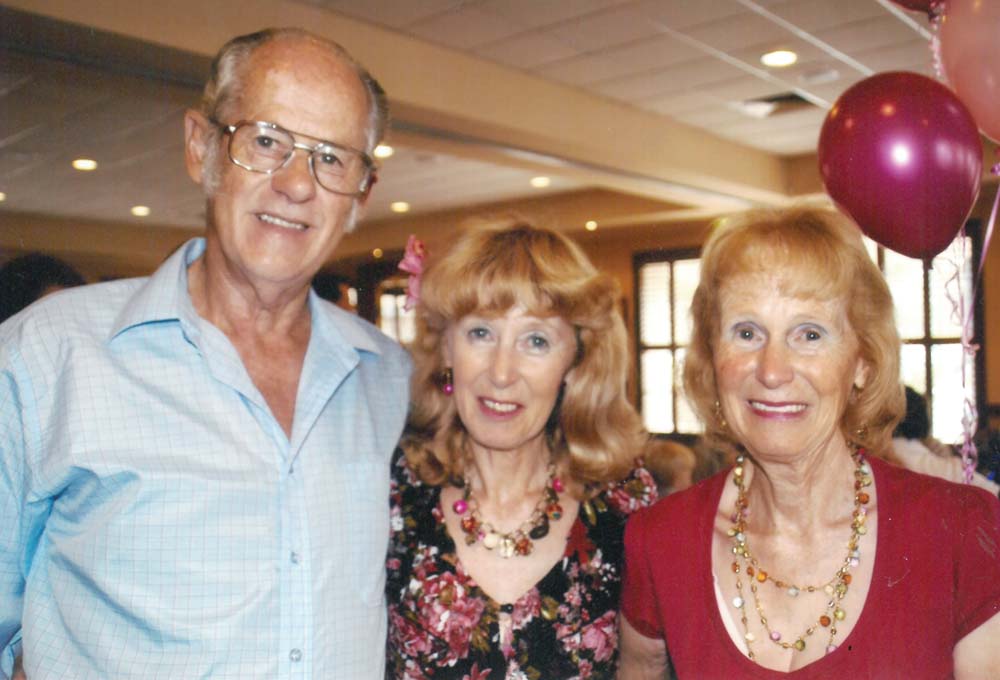 The Present Day
While branches of the Jeremiah family can still be found in the St. Arnaud area and around Koo Wee Rup, most of John and Johanna's descendants are to be found in the Western Port area. Some of these can be traced back to Sonny and Ray while others are first cousins. Of the three surviving children born to Jack and Emily, the eldest, Gloria married John Wells and they live in Moorooduc. Gloria and John have five children,ten grandchildren and  four great-grandchildren. Vic married Margaret Wilson and they, too, have four children. However they have eleven grandchildren and two of those are boys (Billy and Dean) born to Jamie and his wife Toni. In addition there are three great-grandchildren. Vic and Margaret live in Hastings where Vic is the legendary historian for the Hastings Football Club. Finally, I was briefly married to Roy Huggard and now live in Somerville with my only child, Benjamin Huggard.