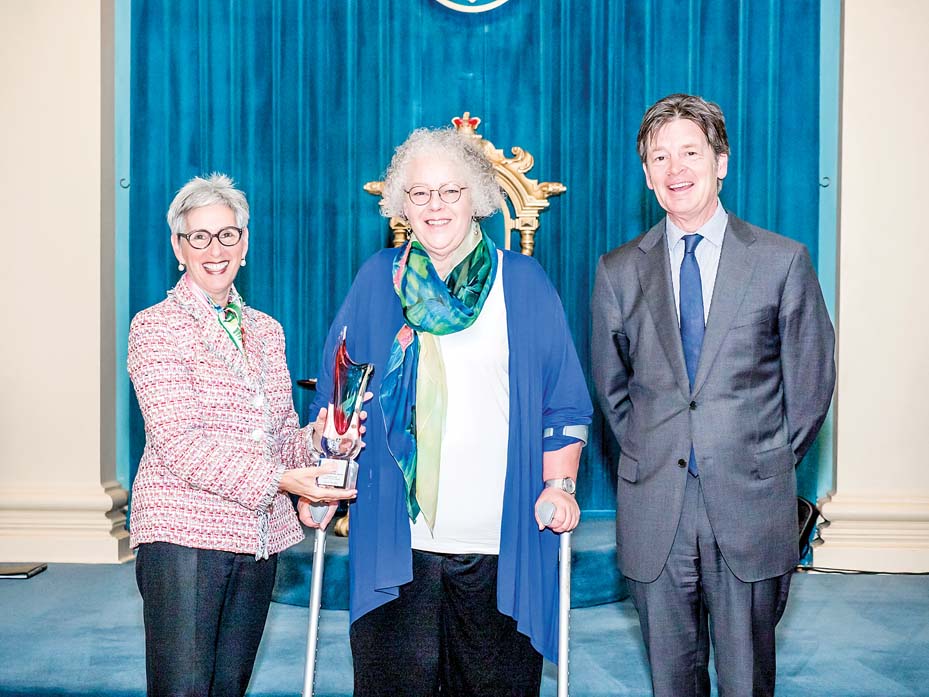 A SOMERVILLE woman honoured at last week's Victorian Senior of the Year awards says state governments and large corporations must learn to wean themselves off relying on gambling revenues.
Anna Bardsley received the Healthy and Active Living Award from the Governor Linda Dessau for her work in helping others beat their own gambling addictions since winning her own self-destructive battle several years ago.
The awards are part of the month-long Victorian Seniors Festival and aim to celebrate older Victorians who support and inspire others through their volunteer work and efforts in their communities.
After rising above her own troubles Ms Bardsley has become an advocate for addiction issues as a participant and leader in the Three Sides of the Coin project, as a Victorian Responsible Gambling Foundation Lived Experience committee member, and as a speaker and trainer at ReSpin Speakers Bureau.
"I was a 'problem gambler' from the early 1990s and I lost 10 years of my life to the pokies," she said. "But I don't like to use that term because when I emerged into recovery I began to understand that the language around gambling made it worse.
"It was impossible for me to ask for help because I was the problem."
Her descent into gambling addiction began innocently when she and a group of friends started visiting hotels to play the pokies on nights out. "We'd spend $20 and have a drink and dinner and it seemed harmless and I had no problem walking away," she said.
Family tragedies and a disintegrating marriage led to arguments with her former husband and one cold, wet night she got in her car and sought refuge in a hotel – playing the pokies. "I'd never been in a pub on my own before but, because I'd been there with friends I knew what to do; it was safe for women and it was a way to pass the time."
The pokies machines worked their magic, did what they were designed to do and "took me to another place" and, before long, Ms Bardsley was hooked. "I began making excuses to go more often," she said.
"I was lying to myself, my family, I lost my self-esteem – it was appalling. I would try to stop and that would last a few days before I was back there.
"It has taken years to retrain my brain to want to get out of that dark place. They are years I will never get back."
Ms Bardsley credits counselling and a writing workshop with Arnold Zable in 2013 for giving her an insight into her plight that was not apparent to her before. She put herself back in the place of the gambler she had been and felt the loneliness and the futility.
"I realised I was addicted to the machines and knew I had to stop. I wrote a chapter to a book of anthologies the group was writing called: From Ruin to Recovery: gamblers share their stories. My chapter was called Shame."
Shame has gone on to be a dramatised reading at the Melbourne Writers' Festival as part of the Three Sides of the Coin project and is recognised as a powerful tool for recovery and education.
Going full circle, Ms Bardsley accompanied shareholder activist Stephen Mayne and advocate for gambling reform's Tim Costello to the October 2017 annual meeting of Crown Casino where she fronted former Crown chairman James Packer on the evils of gambling.
"He was quite taken aback but handled it well, despite saying: 'I am really sorry for your sad life'. "He then apologised for being patronising."
She said she spoke out because "tens of thousands of others can't speak". "[Gambling] is a shameful thing and I want to hold the industry to account."
Ms Bardley said local government was trying hard to curb the allure of the pokies "because it sees the pain first hand," she said.
Mornington Peninsula Shire has joined the national group Alliance for Gambling Reform. Local government is in a unique position because it doesn't earn an income from pokies and so can put pressure on the state government to curb them, she said.
Ordinary people opposed to the pokies should lobby their local members of parliament to put pressure on the industry, she said. "Incrementally we can get rid of pokies."
First published in the Southern Peninsula News – 29 October 2019