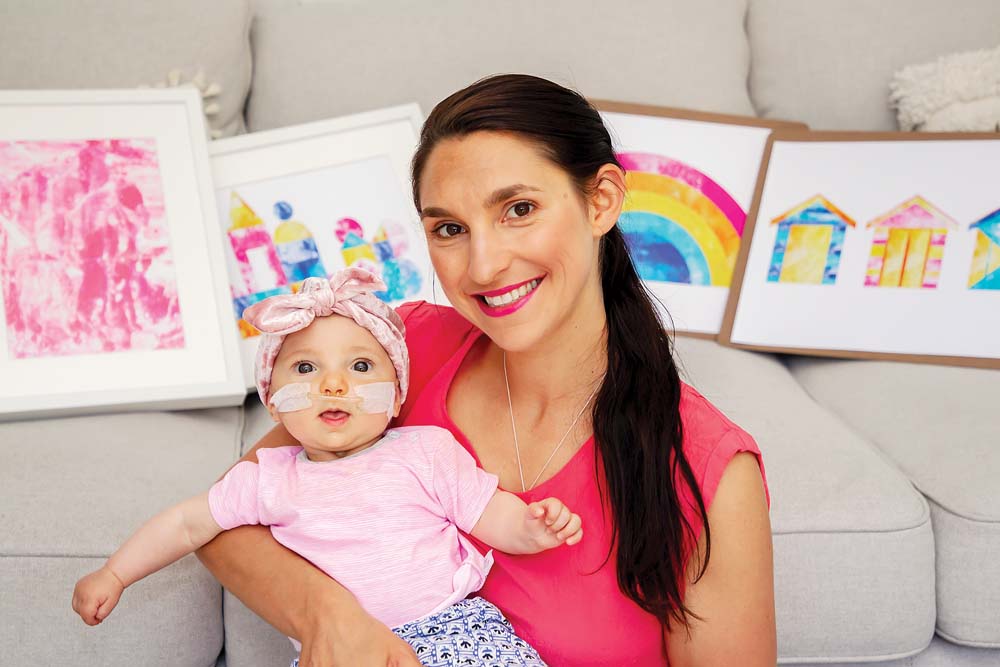 A BABY girl from Mt Martha is suffering from a one in a million genetic condition affecting her lungs and heart which means she must breathe through a tube.
Since birth, four-and-a-half-month-old Eve has been unable to breathe without her oxygen bottle.
First-time parents Georgie and Shaun Doherty spent the first two months of Eve's life in the newborn intensive care unit at the Royal Children's Hospital while doctors scrambled to find out what was wrong.
Eve was eventually diagnosed with interstitial lung disease (chILD) and severe pulmonary hypertension (PHA). The condition chILD in newborns is said to be extremely rare, with a diagnosed three cases a million.
There is no known cure.
The couple has launched a GoFundMe campaign to help pay for Eve's ongoing medical expenses, such as portable oxygen tanks, medications and specialist appointments. Up until Thursday night they had raised $15,200 towards a $25,000 target, but the future costs the family faces are inestimable.
Ms Doherty said she and Eve had been back to the RCH three times for treatment since Eve's discharge 10 weeks ago.
"It's tricky to predict the future, but Eve's outcomes will be unknown until she is at least two," she said.
"It's all really new research as there are only a handful of cases like this worldwide. We've only read two case studies, both in the US, and over the past 20 years there have only been 21 case studies."
Eve's genetic sequence is said to be unique.
Ms Doherty said some of the affected infants do not survive, but others appear to grow out of the condition.
"Eve's lungs are still growing and at age two she is expected to be strong enough to withstand more extensive treatment. For example, similar cases have received heart and lung transplants, but these are enormously complex."
Ms Doherty said there was "no significant data on newborns and not really any upside".
Eve was able to "declare herself"" and signal acceptance of her various treatments or not.
A worrying sign was an increase in the volume of oxygen Eve was breathing since she left hospital, a sing that her lungs are not as efficient as they could be.
Ms Doherty said leaving the house for pram walks – which Eve seemed to enjoy– was "tricky" because the cost of the exorbitant cost of oxygen.
"We have always got to be mindful of where we go and the time we will be out and this gets logistically hard," she said.
Part of the reason the couple, both teachers, moved to Mt Martha in January was for the outdoor lifestyle and beach and bush scenery.
"I've taken extended maternity leave and Shaun gets home at 5pm and spends some "daddy-daughter time" with Eve while I take a break, Ms Doherty said.
"It's hard, but it is rewarding: Eve is incredibly resilient and inspiring."
To support Eve visit: gofundme.com/f/breathe-for-eve
First published in the Southern Peninsula News – 29 October 2019