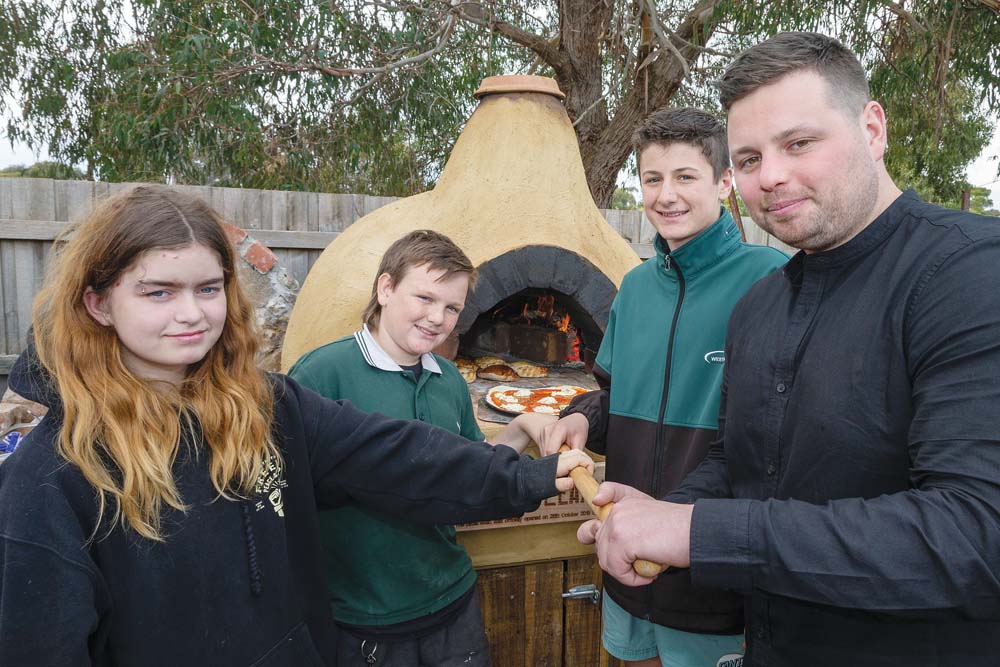 PROOF of the success of Hands-on-Learning as a worthwhile career path for youngsters came with the launching of a students' pizza oven at Western Port Secondary College last week.
Former Frankston High School H-o-L student Liam Sweeney, now the purchasing manager at high-end peninsula hotel Jackalope, worked with the Western Port H-o-L students at the launch of their pizza oven to feed a large group of staff, students, parents and community and local business people, Friday 25 October.
Liam, who has worked on several projects with the students, arrived with Jackalope head chef Andy Bryant, carrying all the food, including calzones they had prepped, as well as pizza bases, sauce and ingredients. They and year 9 students then cooked and presented it.
A holistic approach to the food was augmented by Tuerong Farm wheat and flour miller Jason Cotter, who supplied the ingredients for the pizza bases.
Speakers included Western Port Secondary College student Riley Frewer, who gave a student's perspective of H-o-L, principal Chris Quinn, who welcomed guests, and Flinders MP Greg Hunt, who formally opened the pizza oven.
"It's good that the kids get experience talking about the dough and working to prepare the fire, which is a special skill," Liam said. "I enjoyed the day; it was nice to give something back."