SOCCER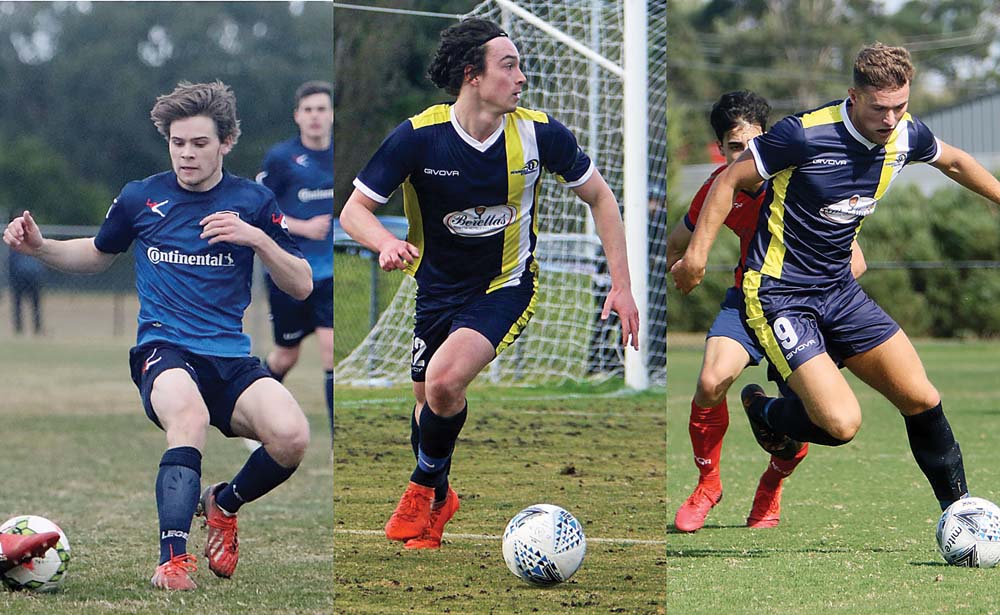 ANDY Stubley, Keegan Guy and Matt Harrington are wanted men and Mornington is leading the chase to sign them.
Stubley and Guy meet with Mornington boss Adam Jamieson this week and are part of an ambitious plan which the progressive State 1 club hopes will take it into the NPL.
"Andy is a flying machine who works really hard at both ends of the ground and can go past players like they're not there so I think he'll complement us in the way I want us to set up but obviously I need to sign him first," Jamieson said.
Guy has tasted senior football with Langwarrin and is one of the most talented teenagers in peninsula ranks.
The 17-year-old has been in the NPL under-20 system for the past two seasons having been signed from Bentleigh Greens by former Langy under-20s coach and current Frankston Pines boss Kevin "Squizzy" Taylor.
Guy has played for Langy in FFA Cup matches and has come off the bench for the seniors.
He was Langy's top scorer in the under-20s last season with 17 goals and was runner-up in the best and fairest and player's player of the year awards.
Harrington is expected to train with Mornington next month.
The teenager earned a reputation as an impact player at Strikers last season often coming off the bench and running riot down the right-hand side.
Many at Strikers think that he could have been given more game time and Jamieson is keen to use him in a wide attacking role.
Last week Jamieson fended off overtures from other clubs to win the race to sign striker Dejan Radojicic from Casey Comets.
Skye United was among the clubs to have spoken to Radojicic but wasn't confident of signing him.
"Yeah we spoke to Dejan but there was a list the length of my arm chasing someone of his quality and we were probably at the bottom of it but it was well worth a shot," Skye head coach Phil McGuinness said.
Radojicic and Jamieson first linked at Frankston Pines years ago and the Dallas Brooks boss was keen to clinch his signature.
"I've known Dejan for a long time and I've watched him over a number of years," Jamieson said.
"I think technically he's a very, very good player.
"He finds space that not many other players do, he reads the game brilliantly and he now scores goals.
"He can play up high or in behind the front men so he presents us with different options."
Jamieson also is tracking a midfielder but remained tight-lipped when asked about his identity.
In NPL2 news star Peninsula Strikers' forward John Prescott is training at Lawton Park and will be joined by other triallists early next month.
Prescott and Langy assistant coach Jamie Skelly worked together at Casey Comets and when Skelly switched to Strikers he took the big Englishman with him.
It's already been reported that Langy has lost striker Max Etheridge who has returned to England so Prescott is hoping to convince gaffer Scott Miller that he's the man to fill the vacancy.
In NPLW news Southern United player-coach Melissa Maizels has signed a contract with Melbourne Victory for the W-League season which starts next month.
Southern prepared for such an eventuality by hiring two-time NPLW Coach of the Year Brian Roberts as its technical director and he'll fill in for Maizels when needed to minimise disruption to the club's pre-season program.
Southern's trials have been completed at Monterey Reserve and the club will start training at its new facility at Casey Fields next month.
In State 2 news Skye United wants to sign midfielder Kevin Duffy from St Kilda Celts.
St Kilda is believed to be struggling with a considerable debt owed to Football Victoria and rumour has it that players are still owed match payments from last season.
Duffy's brother Stephen assists Phil McGuinness with Skye's senior squad and played an important role in the club's promotion from State 3 this year.
"We are aiming high and trying to bring in the right type of players," McGuinness said.
"I don't see us signing many so we definitely need to be precise in what we are looking for.
"Kevin Duffy is a player I really like and can play in many positions so he would fit perfectly with our current squad of players.
"We tried to get him last year but I was a bit slow off the mark and it also can be challenging trying to convince players to leave State 1 and join a club in State 2."
In State 4 news Somerville Eagles are in talks with former Rosebud Heart youngster Zach Karolidis who played with Langwarrin under-20s last season.
Somerville has secured most of last season's championship-winning squad and work on upgrading the clubrooms at Tyabb Central Reserve started last week.
In State 5 news Rosebud started pre-season training last week and senior coach Pat Sabatino is "in the hunt for new players."
He can be contacted on 0406 795 078.
Meanwhile the long wait for FV to organise State League best and fairest and Golden Boot award lists finally ended last week when the state federation posted the information weeks after the league season ended.
There was little joy for local clubs but Mornington veteran Craig Smart was runner-up in the State 1 South-East best and fairest count while teammate Josh Hine finished runner-up in the Golden Boot award.
Mitch Blake of Skye United was runner-up in State 3 South-East's Golden Boot award while veteran Somerville striker Mark Pagliarulo was the second top scorer in State 5 South.
FV continues to oversee an archaic information gathering system whereby clubs are responsible for supplying information about top scorers.
Referees are responsible for best and fairest votes and are expected to lodge that information on a match-by-match basis.
It's not unusual for FV to be forced to chase up both the best and fairest and scorer information after the season has ended contributing to the much criticised delay in publishing the final results.
And sometimes the wrong winners have been announced.
Take season 2014 for example when Daniel Attard of Skye United won the Golden Boot award for State 4 South.
"I won the award on 12 goals but Marcus Roberts from Keysborough was filthy because he scored 15 goals that year and should have won," Attard said.
FV wrongly listed Roberts as only scoring 11 goals that season.
Keysborough acknowledged the error in a facebook post on 14 October 2014 which read: "Congratulations to Marcus Roberts who took out second place in the FFV Golden Boot. Marcus is actually the FFV top scorer but due to a clerical error missed out on four goals being entered."
The federation was informed of the error but took no action.