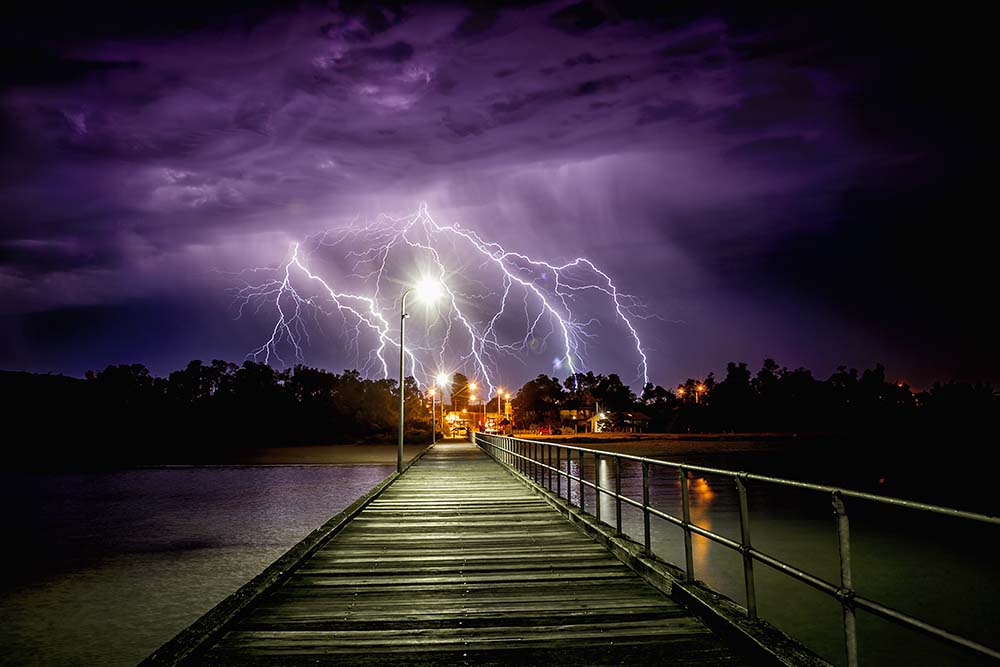 As storm clouds gather on the horizon most people seek shelter or prepare their properties for the worst; battening the hatches, so to speak.
But that's not the case with Yanni Dellaportas. The first sign of a storm sees him checking the weather bureau's forecast. Where and when will it hit, how strong will the winds be or how heavy the deluge. Most importantly, will it be an electrical storm? Will there be lightning?
If the answer to the last two questions is positive, Dellaportas, or Yanni as he is more commonly and professionally known, will be checking his camera and heading out the door.
Yanni is a stormchaser. When others seek shelter he's looking for a vantage point.
More specifically, he prefers to photograph lightning.
Over the years his lightning shots have evolved into more than just recording the flash, that giant spark that briefly connects a positively charged cloud to the negative ground.
Yanni's naturally illuminated shots provide a more profound view of the landscape (or seascape or cityscape). The lightning strikes recorded at night create an eerie cast of colour, something that can't be achieved artificially.
The flash of lightning occurs so quickly that scenes are revealed in the blink of an eye. The images captured by Yanni clearly show what the eye is unable to retain.
His fascination with storms, and lightning in particular, began more than 30 years ago on a cliff overlooking Port Phillip at Mt Martha.
Using a Pentax SLR camera (given to him by his father and replacing his Kodak Instamatic) Yanni "managed to get two images from a 36-frame roll of film".
"I know that photographs do help us remember things, but I also recall the night clearly as there was no rain as such, the lightning was very close to the rocks, and I could detect a faint scent of ozone. That memory has never left me."
Yanni's sense of smell was correct and shows just how close he may have been to a 33,000 degrees Celsius lightning bolt, which creates ozone through the electrical excitation of oxygen molecules.
That first experience of shooting lightning was addictive.
There was something about the majesty of the electrical storm that seemed to flick the on switch within Yanni's creative sensibilities. No matter how diverse his future creative outlets, be it music, filmmaking or digital art, he would always return to the lure of the storm and the unique images he was able to capture.
Yanni's photography originally started in 1979 when he was given a Kodak instamatic for his birthday.
"You put the film in and everything on it was all pre-set – pretty easy. I was able to document my surrounds and environment, family, friends. The images were fairly crappy in quality and square shaped, but they were a snapshot in time and still exist today," he says.
Everything changed when the Pentax came along: "This was a real camera – it had a built in light meter and could take different screw-on lenses. It was totally manual, no auto focus, but very versatile."
Those first two useable images on film meant Yanni was "hooked". "One of my best and most memorable nights was in, I think, January 1992. My wife Liz and I were living in Ormond before we had kids and there was a great thunderstorm one night. So I went down to Port Melbourne about 10pm and photographed the storm till around 6am.
"I had two cameras going. I used one of the new Canon EOS cameras that had just come out and an old Pentax 67 medium format camera that I had recently picked up. Again, all these pictures were taken on film – so I didn't really know what I had till I got the prints back from the photo lab a day or so later. Pretty much everything I shot came out. It was a good night."
Seeing his pictures on the pages of Beautiful Storm "has made the adventure worthwhile", although choosing which ones was problematic.
"I had more storm pictures than I could possibly fit into the book. But once I started sorting through the archive I found many were similar and I really wanted to present as many different photos as possible."
The idea of using poems as a sort of narrative came from Yanni's connection with Poet's Corner and The Peninsula Writers Club, both based on the Mornington Peninsula.
"I just asked my friends Heather Forbes McKeon and Andrea Rowe to ask their members to write a short storm-related poem for my new book. I also got a few poems from other writer friends who I wanted to include in the book as well."
The book's real narrative, the pictures, are "like a day in the life of a thunderstorm".
"Starting with the dark clouds, rough seas, then some wild weather, then lightning, then damage, then the beauty of rain with a rainbow to finish. It doesn't really happen like that in a single day, but it flows.
"I also didn't necessarily want the poetry to literally relate to a particular photo. I wanted the viewer and reader to get more than one interpretation from the picture and words."
All profits from the sale of the book will go towards research into finding a cure for cancer.
Beautiful Storm is available from Farrells Bookshop, Mornington; Antipodes Books & Gallery, Sorrento; Petersen's Bookshop, Hastings; and online at: twotailspublishing.com