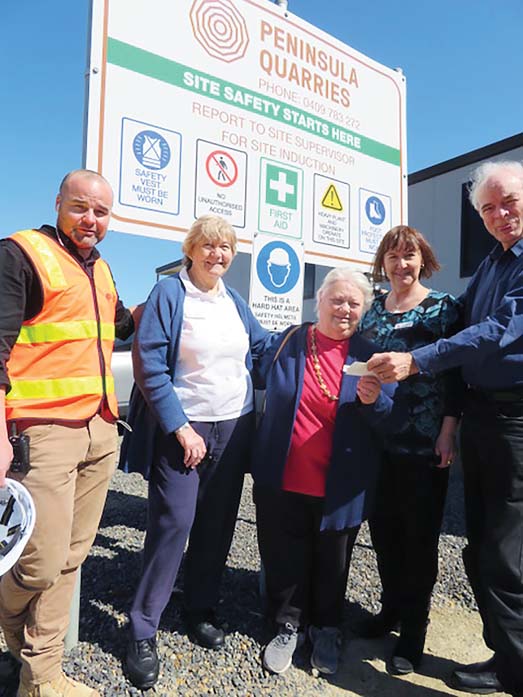 SOMERVILLE Community House and three peninsula schools will share in this year's annual community grant of $5000 from Peninsula Quarries.
The $1250 grants are awarded by the company's community engagement group.
Pearcedale Primary will use the grant to build an easily accessible and secure bike shed. It's certainly needed because an increasing number of students riding bikes or scooters to school has brought the existing shed to "bursting point".
Wallaroo Primary will expand its cooking and garden program. Students plant and tend the school's gardens, growing herbs and vegies, used in making healthy and nutritious meals for the students – all for free.
Tyabb Primary will use the grant to replace an old, ruptured water tank that for years flushed their toilets. They will now be able to conserve drinking water saving the school hundreds in water bills.
Somerville Community House's garden group will build raised garden beds in the community garden to allow those in wheelchairs, or with other disabilities, to grow their own vegetables and herbs.
Peninsula Quarries services the civil infrastructure industry in the region with an extensive range of quarry materials and products for road building and sewerage ponds. The company will soon be involved in building the Mordialloc Bypass.
The company's community engagement group chair Rob Gerrand said the grants were "an outstanding environmental initiative". He said because of the high quality of the applications the group had decided to make a grant to each.
"This year's recipients are outstanding community organisations and worthy winners," he said.
Applications for 2020 grants open early next year. Details will be available on the Peninsula Quarries website or from the Clifton Group 9654 3522.
First published in the Western Port Times – 13 November 2019