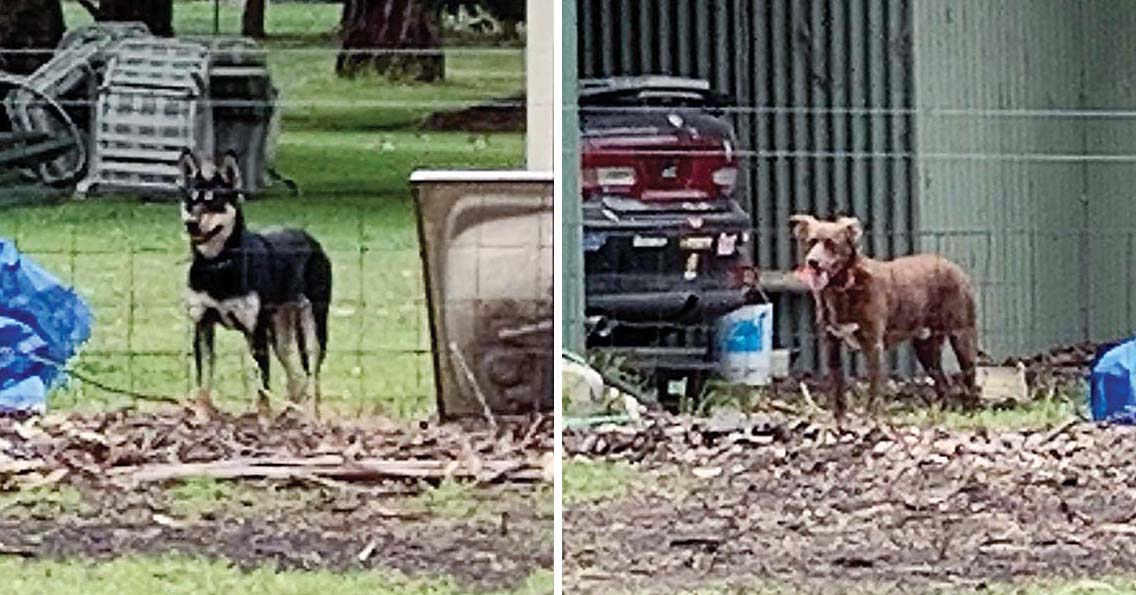 TWO dogs were seized by Mornington Peninsula Shire rangers after chickens and a sheep were mauled and killed on properties at Bittern last week.
The kelpie-type dogs, one red and one black and tan, are being held at the pound while the council investigates attacks at three properties.
Environment protection manager John Rankine said the rangers received reports of two dogs at large, Wednesday 13 November.
"[The rangers] patrolled the area in search of the dogs and received further reports of serious dog attacks on a sheep and chickens," he said.
"Local residents assisted the officers to find the dogs. [They] have been seized and will be held pending the outcome of investigations."
It is believed the dogs have been involved in previous attacks on livestock over the past 10 months. A Bittern resident lost a lamb and 41 guinea pigs about a month ago. Neighbours are angry that the dogs are being returned home rather than being seized and impounded.
Taman Damai Country Retreat's Barbara Tipper said she lost four of her eight hens when the dogs jumped a fence to their enclosure at 3pm.
"By the time I got outside they had killed four and another was just surviving," she said.
"They had the blood lust; they would have killed them all if I hadn't rushed out and started shouting at them."
Ms Tipper said she had lost chooks to foxes before but never to dogs. "They were really good egg producers and we will lose out," she said. "I will be seeking compensation."
Megan Glover, of Bittern, said one hen was killed and another received a large gash in its back. "I heard all the noise and got out there expecting a cat but saw the dogs scaling the fence," she said.
"The white hen was thrown in the air and when the dogs saw me they ran into the next door neighbour's and just stood there."
Ms Glover lost two of her six hens which she had reared from eight weeks.
Shire rangers apprehended the dogs 4pm Wednesday. One was found still wandering while the other was in its owner's driveway. Both were covered in blood.
The owner of the dead lamb Chris Phobe, of Bittern, said the dogs "ripped its guts out" in seconds.
He said his alpacas – which would usually guard the flock of four – were in another paddock while the four-month-old lambs were being wormed.
"We've only had them a week and we feel really sorry for the lamb which suffered for an hour."
Mr Phobe said neighbours couldn't understand why the dogs' owner "keeps getting them back".
"If I see them on my property again I will shoot them."
Mr Rankin asked that any witnesses to the attacks contact the council 5950 1050.
First published in the Southern Peninsula News – 19 November 2019