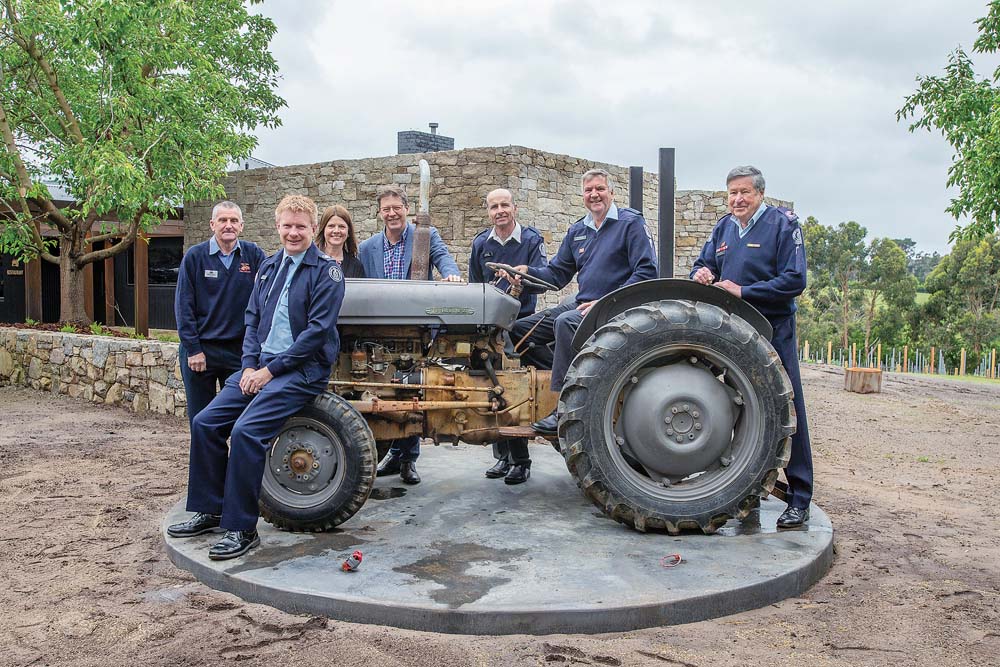 THE award-winning winery and restaurant Ten Minutes by Tractor is back in business since being forced to close by a fire 19 months ago.
Some of the firefighters who fought the blaze were among the first to be welcomed by owners Martin and Karen Spedding at the Main Ridge restaurant's re-opening on Saturday 9 November.
The fire in February 2018, swept through sheds and a storage area, leading to the evacuation of diners and the loss of vintage wines and old tractors ("Wine, tractors lost in fire" The News 27/2/18).
The Speddings say rebuilding the restaurant, with an extra 30 seats, has enabled them to "re-imagine" the original restaurant, which operated from within an existing cottage on the former apple orchard.
The restaurant building has a new kitchen, chef's table, private dining room and outdoor terrace. A new cellar door and "wine gallery" is also due to open in early December.
The fit out includes vertical timber, stone, olive suede banquets, hints of brass, a black spiral staircase to the new wine cellar, and a solid oak dining table in the private dining room.
"The restaurant is built within the original apple orchard cottage on the property, established by Italian settlers in the
1930s, and although the orchard has long gone, the cottage, an old falling down tractor shed, and a lone ancient quince tree is all that remains," Martin Spedding said.
Executive chef Adam Sanderson is also promising to "bring a fresh approach to the five and eight course degustation, and à la carte menus, drawing inspiration from produce that is grown and found on the Mornington Peninsula".
"Our kitchen team forage and gather from the coastline, the rolling hills, and our kitchen garden in Main Ridge, which gives us the opportunity to discuss and generate ideas for dishes and continually evolve our menu," he said.
The wine gallery in the new cellar door will be home to a collection of historical objects and documents detailing Australia's "wine journey" and the establishment of a wine industry on the peninsula.
First published in the Southern Peninsula News – 19 November 2019