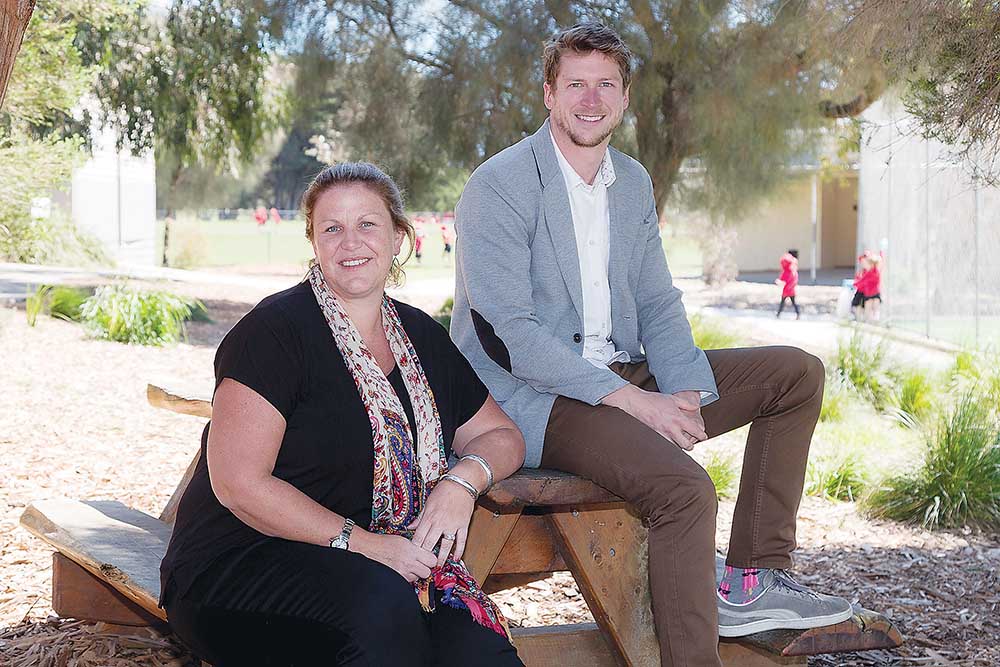 BONEO Primary School teachers Liz Dewar and Ryan Jellie are joint winners of the $10,000 Outstanding Primary Teacher Choose Maths Awards announced at the 2019 Australian Mathematical Sciences Institute Awards.
They and the school received an extra $1000 each for finishing in the top 10 meaning they will share $6000 and the school $6000.
After discovering that student outcomes in mathematics were on a downward trend, the passionate educators set about transforming the way students and teachers viewed the learning and teaching of maths in their school.
They developed a plan to transform maths instruction and improve student engagement through a full mathematics audit and, with the support of the principal Mandy Whitworth, secured extra funds to buy resources for the classrooms.
Among a series of "big ideas to explore the basics of maths" they staged a meteor crash in the school's grounds which prompted a range of learning experiences from research projects about space to calculating the size of the meteor. In other learning adventures they staged three dig sites for dinosaur bones with classes taking turns to visit the sites to draw and measure the items found. Students also baked huge cupcakes after calculating what ingredients to buy and how much to pay for them.
Ms Dewar and Mr Jellie were among 11 teachers honoured for their innovation, creativity, leadership and mathematical education excellence at the awards which are supported by the BHP Foundation.
Principal Mandy Whitworth said the whole school was celebrating their achievements, which had been an 18-month journey. "We have just received feedback that we have improved and grown the learnings of students in years 3-5 after the whole staff embraced the need to change the way we taught maths," she said.
"Liz and Ryan have made a huge difference and we are very proud of them."
AMSI director Professor Tim Brown said the teachers exemplified the very best of mathematics education. "This year's winning teachers are helping equip a generation with the necessary mathematics to thrive in the future where mathematical sciences increasingly underpin any thriving community," he said.
"Importantly, the impacts of their innovation, excellence and passion are felt not only in their own classrooms, but across their schools and communities."
First published in the Southern Peninsula News – 26 November 2019