SOCCER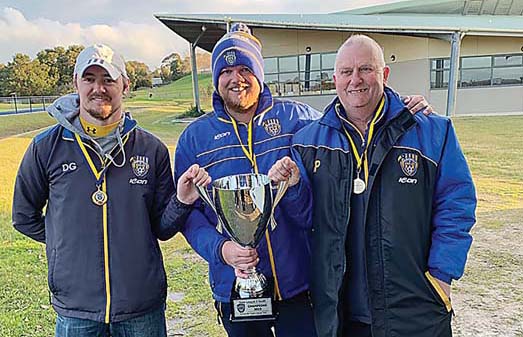 NEWLY promoted Somerville Eagles has been rocked by the resignations of senior coach Scott Morrison, assistant Stan Packer and goalkeeping coach Stuart Mitchell.
All three resigned last week due to a difference of opinion with director of football Zach Peddersen over Somerville's refusal to participate in the 2020 Steve Wallace Memorial Cup.
The tournament commemorates the late Langwarrin president who was an icon of the sport in the local area.
Peddersen claimed that his club had previously been snubbed by Wallace Cup organisers.
"We have never been invited in years and the committee has never received any information or invite about the Wallace Cup," Peddersen said.
"We built Somerville to be different to the other clubs so we don't want to do what other clubs do, and we don't think it's a good idea to put our players on display against local rivals, especially those in the same league.
"I make recommendations to the committee and it was agreed we wouldn't participate if we were invited."
Wallace Cup invites are usually made to the various senior coaches and Morrison had accepted on behalf of Somerville.
Morrison believes that the club's stance left him and his assistants with no room to manoeuvre.
"Myself, Stan and 'Smitchy' all stood our ground for what we believe in," Morrison said.
"We wanted to participate and we believed we should've been in it to support a man who did so much for local football.
"When I took up coaching I always stated that it would be my way in regards to the team and football matters [and] if I want to stay true to myself and what I believe in then I couldn't continue anymore.
"I made it clear to them when this started that there would be no winners here if they went down this path.
"They've now lost coaches and I imagine players plus they have pulled out of the [Wallace Cup] day.
"The club will now be tarnished which is a shame [but] hopefully they learn from this, adjust things at a committee level that need adjusting and move forward."
Morrison, Packer and Mitchell played pivotal roles in Somerville's State 5 South title triumph this year and were re-appointed last month.
Morrison and Dave Greening were co-coaches throughout the 2019 season and Morrison took over as senior coach for 2020 with Greening appointed reserves coach.
It's unclear whether or not Greening will stay at Somerville.
"To be honest I'm still taking this all in," he said.
"I can't believe how quickly this has escalated and I need to have a good think about where I stand after all this.
"I won't be making an impulsive decision and will take my time before deciding my next move."
Meanwhile soccer grounds throughout Frankston could run up a bill well in excess of $1 million to upgrade floodlighting.
That's the result of a lighting audit conducted by Frankston council and recently released to local clubs Langwarrin, Peninsula Strikers, Frankston Pines, Seaford United and Baxter.
No report was available for the two floodlit pitches at Skye United's home ground at Skye Recreation Reserve.
Prior to the council audit Skye United paid for a lighting assessment and sent the results to council but as we went to press had yet to receive a report of the outcome.
The benchmark for the council audit was the Australian Standard (series 2560.2.3) which contains lighting recommendations for training and match competition specific to soccer.
This standard has been adopted by Football Victoria, which conducts its own lighting audits before allowing official matches to be played under lights.
The council audit looked at a uniform 50-lux benchmark for training standard compliance and 100 lux for match standard compliance even though Langwarrin plays at National Premier League level which demands a 100-lux training standard and a 200-lux match standard.
The main pitch at Langy's home ground at Lawton Park lacks floodlights however that project is firmly on the club's radar.
The council audit at Lawton Park was conducted on three surrounding pitches and pitch 4 lighting was inadequate "due to the many failed lamps".
The audit recommended that pitch 4 lighting is returned to full working condition and the lighting measured again and as the results of the assessment were incomplete no estimate of cost could be made.
Pitch 3 (on the far side of the main pitch) failed to comply with training standards and "additional poles are required to adequately illuminate the field".
The preliminary cost of bringing pitch 3 to training level compliance is $80,000 and to match compliance $140,000.
The estimates assume that the power supply at Lawton Park is adequate and the supply upgrade at the venue is expected to be completed within six months and is already covered by a federal government grant.
Pitch 2 (to the right of the ground entrance) received the most damning report:
"The lighting is clearly inadequate. The poles may be unsafe and are not high enough for this field. The luminaires are in poor condition and at end of life."
The estimated cost of bringing pitch 2 up to training standard is $150,000 and to match standard $200,000.
Frankston Pines often plays home matches under lights at Monterey Reserve but the lighting of the main pitch has been deemed non-compliant due to inadequate uniformity.
The estimated cost of re-aiming the lighting system is $3000.
However Pines' second pitch was deemed "unsuitable for training" and a "replacement of the lighting system is required".
To bring that second pitch up to training standard is estimated to cost $180,000 and to match standard $250,000.
The lighting audit at North Seaford Reserve, home of Seaford United, covered four pitches and none of them reached match standard.
To properly floodlight the main pitch involves the installation of additional lighting from both existing and additional poles and to bring that pitch up to training standard would cost $100,000 and $150,000 for match standard compliance.
Pitch 2 lights didn't even reach training standard and to do so would cost $120,000 with an additional $30,000 to bring that pitch up to match standard.
Pitches 3 and 4 both attained training standard but would require $5000 each to replace lamps and bring them up to match standard.
The main pitch at Baxter Park is not floodlit and although the two other pitches are neither is compliant with training and match standards.
The estimated cost of upgrading these pitches to training standard is $120,000 per pitch rising to $150,000 per pitch to bring them up to match standard.
The local club that achieved the best audit results was Peninsula Strikers.
Its junior wing trains and plays at Ballam Park and Delacombe Reserve and both venues were given a thumbs up regarding training standard.
Two new pitches under development at Ballam Park will be floodlit to match standard and should be completed by March.
Thanks to a government grant Delacombe Reserve will be upgraded to LED lighting by March.
Lights at the senior club's home ground at Centenary Park have been assessed as adequate for training and the club aims to floodlight its main pitch to match standard.
"Our understanding is that it will cost upwards of $180,000 to do so," club president Adrian Scialpi said.
"The main pitch is up for full renovation at the end of next season and we are hoping that the lights will be incorporated into that project as we aim to host night games."
A number of questions regarding possible funding were put to Frankston council last week.
Council responded with a statement that said, in part:
"The audits and subsequent recommendations regarding local soccer clubs are currently being considered by Council and will be referenced when devising projects for the Long-Term Infrastructure Plan.
"Council is also working closely with Football Victoria and the State Government to secure contributions to assist with soccer club lighting works through The World Game Facilities Fund."
The lighting issue was drawn to the attention of local state parliamentarian Paul Edbrooke who was asked to comment but failed to do so.
In player news Langwarrin announced last Friday that it had agreed terms with striker John Maclean from Moreland Zebras.
Maclean is an ex-Melbourne Victory youth captain and won the NPL2 title with Northcote in 2017.
He's also been with Bentleigh Greens.