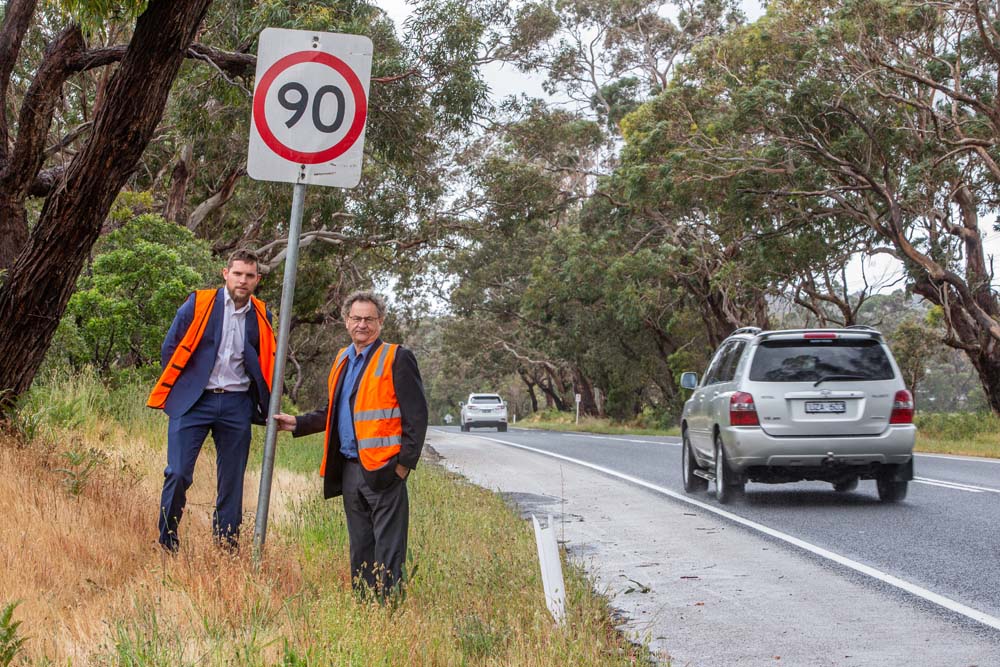 IN a two-year trial the speed limits on 38 shire-managed, high risk sealed rural roads will be reduced to 80kph from mid-December.
The state government last week approved appeals from Mornington Peninsula Shire Council to cut the speed limits to reduce the soaring road toll.
So far this year there have been 14 deaths and more than 100 serious injuries – seven on high risk sealed rural roads – compared to two deaths in 2018.
Many of the roads chosen for the trial have a history of crashes and have high-crash-risk factors, including narrow lanes, large trees close to the road, table drains, and poor sight lines.
The trial is only for shire-managed high risk sealed rural roads and does not affect any peninsula arterial roads, such as Peninsula Link, Moorooduc Highway or the Western Port Highway.
New speed signs, including electronic message boards, will be installed over several weeks from Monday 9 December.
"This trial is a great step towards making our roads safer, especially as we tragically are Victoria's worst municipality for road trauma so far in 2019," the mayor Cr Sam Hearn said.
"Over the past five years, there have been 165 casualty crashes on our rural sealed roads. Any death is far too many."
Cr Hearn said there had been many single-vehicle crashes on peninsula roads and that travelling 10kph slower could reduce the risk of serious injury or death in a crash by up to 30 per cent.
"To obtain a similar outcome by improving road infrastructure through widening roads and installing safety barriers would require the removal of thousands of trees – devastating the natural environment where these roads are situated."
Cr David Gill, who was mayor at the time the shire was lobbying for a trial of lower speed limits, thanked Roads Minister Jaala Pulford for her support.
"This is a great outcome that I believe will reduce the number of serious accidents and deaths," Cr Gill said.
He said shire-run surveys "confirm that over 80 per cent of locals support speed reduction on our most dangerous rural roads".
"While there were two deaths here in 2018, there were 73 very serious injuries recorded. We were very lucky not to have had a worse outcome," Cr Gill said. "I would love for us to have the money to improve road conditions but waiting for the many hundreds of millions of dollars required is just not possible when action is needed now.
Cr Gill said tests had shown there was only 30 to 60 seconds to be gained by driving faster on the roads involved.
"Council is sincere in wanting to reduce road carnage and does not collect any income from policing of speed limits."
Details: visit mornpen.vic.gov.au/saferspeeds
With Keith Platt
First published in the Southern Peninsula News – 3 December 2019