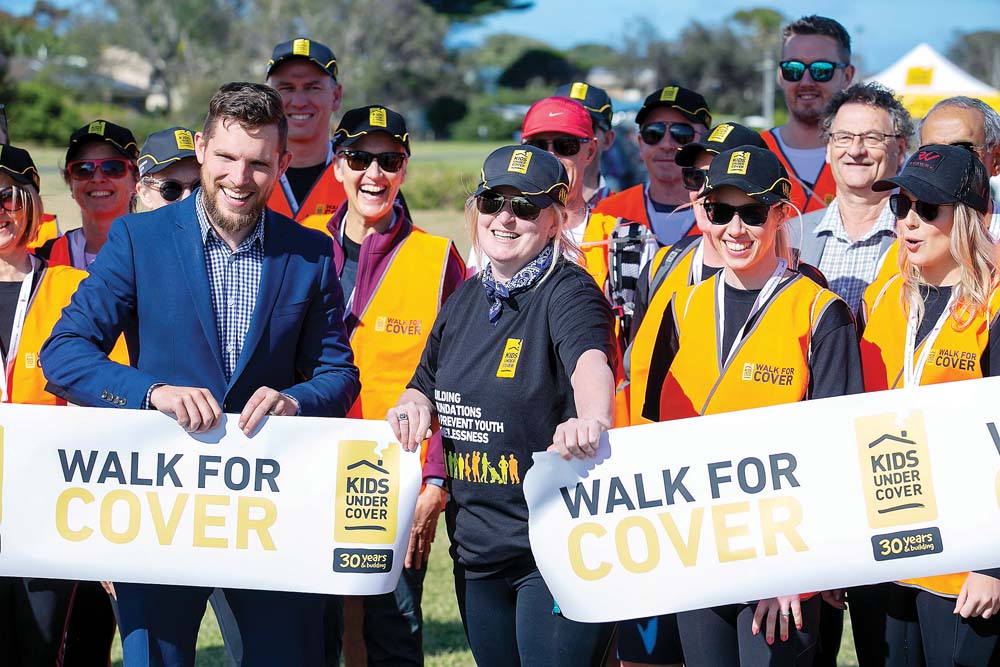 EVERY walk has a start and a finish. On Friday 22 November Mornington Peninsula Shire mayor Sam Hearn joined the CEO of Kids Under Cover Jo Swift in taking the first steps of a four-day walk to raise money to prevent young people being homeless.
Kids Under Cover has been running for 30 years, although it was the first time its fundraising walk has started in Rosebud.
"We hope it's the first of many," Cr Hearn said, of the walk which ended in Richmond on Monday.
"The work Kids Under Cover has done in this region and the state broadly has had an enormous impact. It's so important to keep youth at risk of homelessness connected to the support networks in their community."
Cr Hearn said the organisation's provision of studio accommodation and education scholarships "is a solid, proven method of breaking the cycle".
Organisers hoped to raise $125,000 through the 75km walk.
"If we reach our goal, the money raised will build two new studios and put a roof over two young people's heads to keep them off the streets," Ms Swift said.
Founded in 1989, Kids Under Cover says it is the only Australian charity that delivers both accommodation and educational support for young people aged 12 to 25 who are at risk of homelessness or are already homeless.
The studio program at the heart of Kids Under Cover's work provides one or two-bedroom studios with bathrooms built from recyclable materials in the backyard of a family or carer's home.
The model ensures that young people have access to their networks, but also provides a personal and stable space for them to live in.
For details go to www.kuc.org.au
First published in the Southern Peninsula News – 3 December 2019