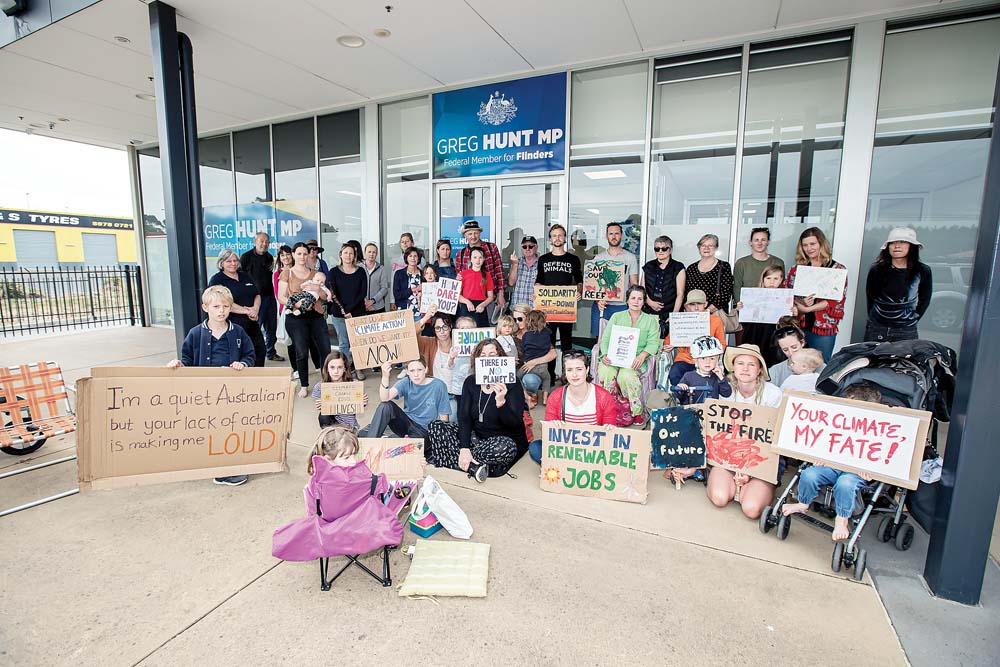 THE higher profile Global Day of Action for Climate Change rally, Friday 29 November, was the catalyst for an afternoon sit-down outside Flinders MP Greg Hunt's office, Somerville, the same day.
Organiser Meike Suggars said the government's "inaction on the climate crisis [was] contributing to catastrophic fire conditions".
"People are hurting," she said. "Communities are being devastated – and summer hasn't even begun."
Ms Suggars said she had previously been unable to arrange a meeting with Mr Hunt "to discuss my concerns over climate change".
"So, when I saw [last] Friday was a day of action for ThisIsClimateChange, I decided to organise a local event outside his office."
On Monday, Mr Hunt issued a statement saying he respected "the right for peaceful protest".
He said the federal government was committed to "taking real and meaningful action to address the challenge of climate change and reducing emissions without increasing power prices".
He said Australia's Greenhouse Gas Inventory: June 2019 released last week showed that emissions had dropped 13 per cent from 610 million tonnes mega-tonnes (Mt) a year in 2005, the "base year for Australia's Paris commitments".
"Emissions are down from 537Mt per annum in 2012-13 in the last year before we came to office to 532.7Mt (2016-17), to 532.4Mt (2017-18) to 532Mt (2018-19)," Mr Hunt stated.
He predicted Australia world beat its Kyoto targets by more than 367 million tonnes. In a flyer promoting Friday's demonstration, Ms Suggars said: "Rather than taking real action on the climate crisis, all our government offers is their thoughts, prayers and more support for coal, oil and gas projects."
The government was also accused of ignoring warnings by Indigenous leaders and firefighters "of a spiralling bushfire crisis".