SOCCER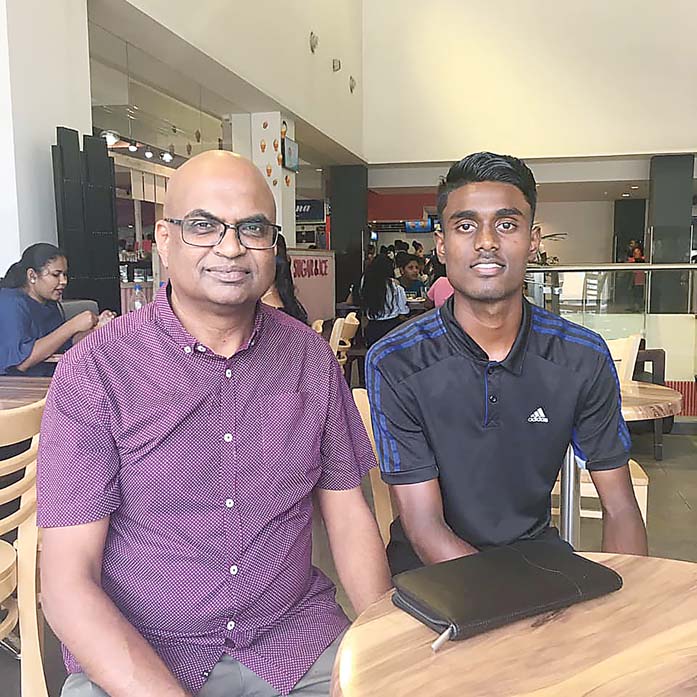 FIVE Fijian internationals could be joining Frankston Pines next season.
Pines recently announced a partnership with the Victorian Multicultural Sports Association, a Fijian community group, and VMSA president Victor Kumar was quoted in a recent Fiji Times story announcing that the five players would be heading to Monterey Reserve.
Kumar was elected vice-president of Pines at the club's recent week's AGM.
The players are Ba midfielder Kishan Sami, Nasinu goalkeeper Alzaar Alam, Nasinu midfielder Savenaca Baledrokadroka, Lautoka central defender Muni Shivam Naidu and Nadi striker Tito Vodowaqa.
They have all represented Fiji at under-19 and under-23 levels and the move to Pines is seen as a pathway to being offered contracts with clubs in higher leagues.
This pathway was made possible by an initiative of Fiji prime minister Frank Bainimarama during his visit to Australia last month and has the backing of Football Victoria and the Department of Foreign Affairs and Trade.
"This initiative is strongly backed by DFAT in making travel arrangements for the players," Kumar said.
"I would like to thank the Australian government for their support towards making these players' dreams come true."
Both Sami and Baledrokadroka have captained Fiji's under-23s and 20-year-old Baledrokadroka has made seven appearances for the full national team.
Pines senior coach Kevin "Squizzy" Taylor welcomed the initiative.
"There are some very talented players mentioned and if they all come over it will give us plenty of depth in the squad," Taylor said.
"I believe that a memorandum of understanding is in place between Australia and Fiji regarding a sporting exchange program and these players would fall into that category."
Taylor is referring to Pacific Sports Partnerships, a $39 million federal government program for developing sport among Pacific communities.
The Pines gaffer was in charge of an 18-player squad, the Victoria All Stars, which flew to Auckland last Wednesday to compete in the 2019 Pacific Cup.
The VMSA arranged an entry for the Victorian squad which was bolstered by the inclusion of guest players CJ Hodgson, Travis Ernsdoerfer and Cedric Benza (Frankston Pines), Marcus Collier (Skye United), Andy Stubley (Box Hill United) and James Burgess (Springvale White Eagles).
Other squad members came from Victoria, NSW and Queensland and they had their first training session the morning after arriving in Auckland.
Hodgson captained the squad which competed in Pool A of the tournament alongside Labasa, Nadi, Northshore All Stars and NZFFI All Stars.
The Vic squad failed to reach the semi-finals in what proved to be a high standard tournament with other sides featuring NPL players from NSW and Queensland and overseas visa players.
In NPL2 news Langwarrin only has a handful of spots available in its senior squad for the 2020 season.
As things stand the squad is Fraser Maclaren, Colby Jones, Jamie Cumming, Luke Burgess, Alex Van Heerwarden, Jaiden Madafferi, Luke Goulding, Dylan Kilner, Lucas Portelli, Boris Ovcin, Brandon Jansz, Wayne Wallace, Callum Goulding, Damir Stoilovic, George Howard, John Maclean and Delarno Pharoe.
A number of triallists continue to train with the squad and senior coach Scott Miller confirmed last week that he had arranged a friendly against Melbourne Victory's NPL squad at Lawton Park on Saturday 14 December at 11am.
A Christmas barbeque will be held after the match for players and supporters.
In State 1 news Wayne "Buzza" Gordon has returned to Dallas Brooks Park after a stint with Doveton.
Mornington had been talking to the veteran striker throughout the back half of last season and agreed terms with him last week.
"He's a winner and I've always had a good relationship with him," Mornington senior coach Adam Jamieson said.
"He left on good terms when he went to Doveton and we're hoping that he can come in and teach some of the kids here."
A number of younger players have been training with Mornington and have been impressive.
Strikers youngster Matt Harrington trained at Dallas Brooks Park a fortnight back and caught the eye.
"He did really, really well and he looked like he enjoyed himself," Jamieson said.
"We've made no secret of the fact that we want to sign him."
One teenager who won't be signing is Langy striker Keegan Guy who is keen to join new NPL3 outfit Doveton.
Peninsula Strikers and ex-Pines midfielder Jordan "Kaka" Avraham is believed to be on Mornington's radar despite trialling at Lawton Park.
Last Friday Mornington announced that Jason Symonds had been appointed head coach of the reserves, with Steve Riley assistant coach and Paul Nott team manager.
In State 2 news Peninsula Strikers have locked in four pre-season games: v Endeavour United, Centenary Park, Saturday 18 January, 1pm and 3pm; v. Frankston Pines, Monterey Reserve, Thursday 23 January, 7.15pm; v. Mazenod Victory, Mazenod College, Saturday 15 February, 1pm and 3pm; and v. South Springvale, Centenary Park, Saturday 29 February, 1pm and 3pm.
In State 4 news there's been plenty of activity at both Seaford United and Somerville Eagles.
Seaford agreed terms with experienced midfielder Scott Webster last week.
"They're ambitious about next season and I'm hoping for promotion," Webster said.
He has been with Frankston Pines, Oakleigh Cannons, Morwell Pegasus, Casey Comets, Mornington and Doveton.
Webster is one of five new players Seaford has targeted and veteran goalkeeper Robbie Acs is firmly in its sights.
Previous No 1 Anthony Madafferi has told Seaford that he is unavailable next season due to work commitments hence the keen interest in Acs who is on holiday in Port Douglas and will make a decision when he returns to Melbourne.
Acs has had stints with Essendon Royals, Heidelberg United, Casey Comets, Southern Stars, Langwarrin and Mazenod Victory.
Andy Lancaster is joint senior coach at Seaford with Matty Morris-Thomas.
"We would like three more players who have played at a higher level, definitely a centre back, a striker and a left-sided player and we would be really happy if we could cover those positions," Lancaster said.
Morris-Thomas will again be a player-coach.
At Somerville the dust still hasn't settled after the recent resignations of senior coach Scott Morrison, assistant Stan Packer and goalkeeping coach Stuart Mitchell.
A club meeting early last week was attended by a handful of first team players and there are fears that a number of players may be on the move.
Of the current senior squad it's unclear whether Daniel Hodge, Carlo Cardoso, Joel Wade, Louis Griffiths, Callum Richardson, Francis Beck and some others will stay for next season.
Somerville had been interested in Blake Hicks, Beau Sharpe and Chris Parry from Rosebud but the coaching upheaval may have ended any potential moves by that trio.
In State 5 news Football Victoria announced last week that Mount Martha was one of five new teams granted State League status for the 2020 season.
It is expected that the six-year-old club will compete in State 5 South alongside Rosebud and Aspendale Stingrays.
Chris Sanderson is senior coach, Al Baldwin is reserves coach and Cheree Lane is operations manager.
Melbourne Victory keeper and Southern United head coach Melissa Maizels is Mount Martha's technical director.
The club will play its home games at Civic Reserve in Dunns Road, Mornington.
Last weekend the official opening of the venue took place headlined by federal member for Flinders Greg Hunt, shire councillors and Australian athletics legend Debbie Flintoff-King.
The club is waiting on funding approval for new clubrooms.