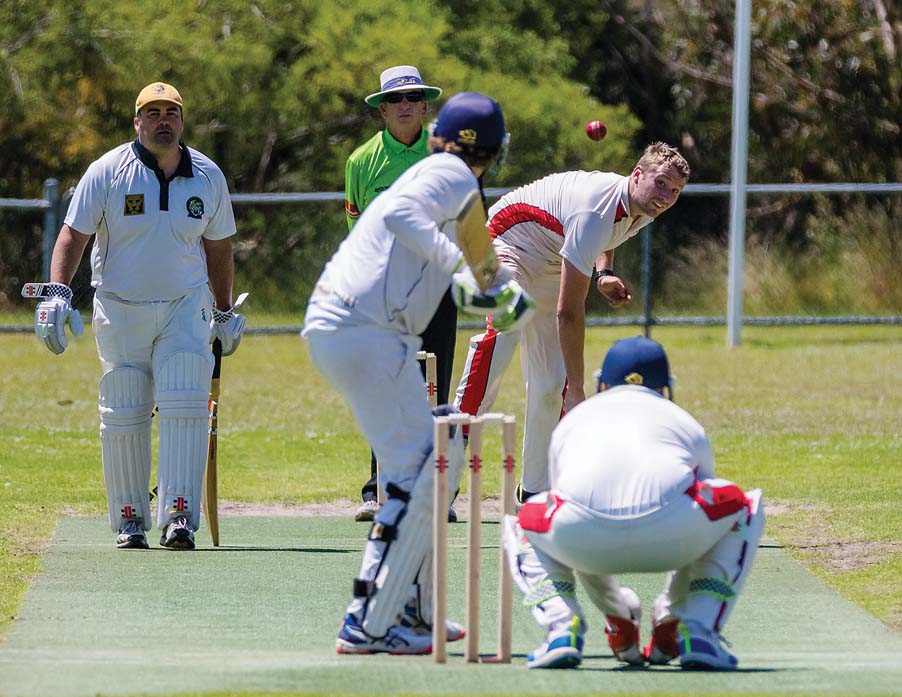 PENINSULA
PINES have secured a trouble free victory over Pearcedale in the first day of their two day battle.
Pearcedale were sent in to bat first, and struggled badly. Their top order collapsed, and from 4/20 they never recovered.
Pearcedale ended up all out for 85 runs. Pines came in and quickly chased that down, declaring at 0/95 off 21 overs to give them a chance at grabbing an outright win this weekend.
Pearcedale will restart at 1/6 on day two.
Long Island have set a mammoth target for Somerville to chase down in the first day of their matchup.
Openers Nick Jewell and Aiden Mckenna were electric for Long Island. They put together an opening partnership of 178 runs. Mckenna scored 91 before being dismissed, and Jewell got to 97.
Long Island finished at 3/296 at stumps, leaving Somerville a daunting task.
At Bruce Park, Heatherhill and Moorooduc had a tightly contested first day.
Moorooduc came in to bat first and had some troubles, eventually bowled out for 149 off just 47 overs. Heatherhill weren't too impressive with the bat either, and ended the day at 5/88.
Main Ridge set Red Hill a target of 230 to chase down at Ditterich Reserve.
DISTRICT
A CENTURY from Joel Malcolm has helped Delacombe Park to a good total in the first day of proceedings in their match against Hastings.
Malcolm came in at number five and scored 127 not out, his best ever score for his club. He scored 11 boundaries during the impressive innings.
Opener Jonathan Guthrie also contributed, scoring 63 runs.
Delacombe Park managed to score 258 runs before stumps was called to end the day.
At Ferrero Reserve, Mt Martha and Seaford Tigers both struggled to score in the first day of their clash.
The Tigers won the toss and chose to bat first but it wasn't a decision that paid off. Their best scoring batsman put just 34 runs on the board, and they were bowled out for 92 after 48 overs.
In pole position to claim a win, Mt Martha would have felt comfortable at 1/40. From there, a stunning middle order collapse saw them fall to 6/53 before the end of the day.
Mt Martha need 40 runs with 4 wickets in hand, and the clash looks poised to go down to the wire if they can't improve.
Carrum set Crib Point a big target to chase at Cyril Fox Reserve, setting a score of 257 in their first innings.
Daniel Polson was Carrum's best, scoring an impressive 83.
Crib Point came in to bat for 5 overs before stumps, and finished at 1/6.
Dromana had a good day against Rosebud, batting first and scoring 264 before stumps.
SUB DISTRICT
CARRUM Downs have thrashed Skye to secure a win on day one of their two day clash.
Skye were sent in to bat first, and were completely cleaned up. They ended up all out for a paltry 37 off 19 overs.
Michael Flahive only bowled five overs, but was brilliant. He ended up with figures of 5/3.
Carrum Downs had no trouble chasing that down, and declared after 37 overs at 7/181.
Skye struggled in their second innings too and will restart on day two at 5/66, in grave danger of falling to an outright loss.
Travelling to take on Frankston YCW, Tyabb had a difficult day on Saturday. They were bowled out for 105 runs.
Opener Michael Edwards scored 41 for Tyabb in a decent showing, but he got no backup from his teammates.
The Stonecats came in to bat 18 overs before stumps, and finished in a good position at 1/33.
Tootgarook are in pole position for a win after a good showing on day one against Ballam Park.
Ballam Park were dismissed for only 112. Things were going well for them at 2/74, but quickly derailed. They lost their last six wickets for just 11 runs.
Tootgarook finished the day at 0/45, looking likely to secure a win on day two.
Rye fell from 2/96 to all out for 151 against Boneo.
Rye's task of defending their total was made more difficult by their collapse. Boneo will start on day two from 0/26.
Seaford set a massive total of 307 in their first innings against Balnarring.
PROVINCIAL
SORRENTO have defeated Baden Powell on day one at home at David Macfarlane Reserve.
Baden Powell were poor with bat in hand, scoring just 71 before being bowled out after only 29 overs.
Jake Wood was brilliant for Sorrento with the ball. He posted figures of 8/26 off his 15 overs to decimate Baden Powell.
Sorrento scored 127 to claim victory. On day two Baden Powell will start from 2/11.
At Lloyd Park, Matt Foon scored a brilliant century to put his Mornington side in a good position against Langwarrin.
Mornington ended the day at 7/219 off their 80 overs.
Peninsula OB also had a good day on Saturday, putting 234 on the board before being bowled out.
It was an excellent team performance for the Old Boys. None of their batsmen scored a half century, but seven of them scored more than 20.
At Emil Madsen Reserve, Flinders went in to bat first and scored 125 off 76 overs before being sent packing. Mt Eliza restart on day two at home from 0/7.