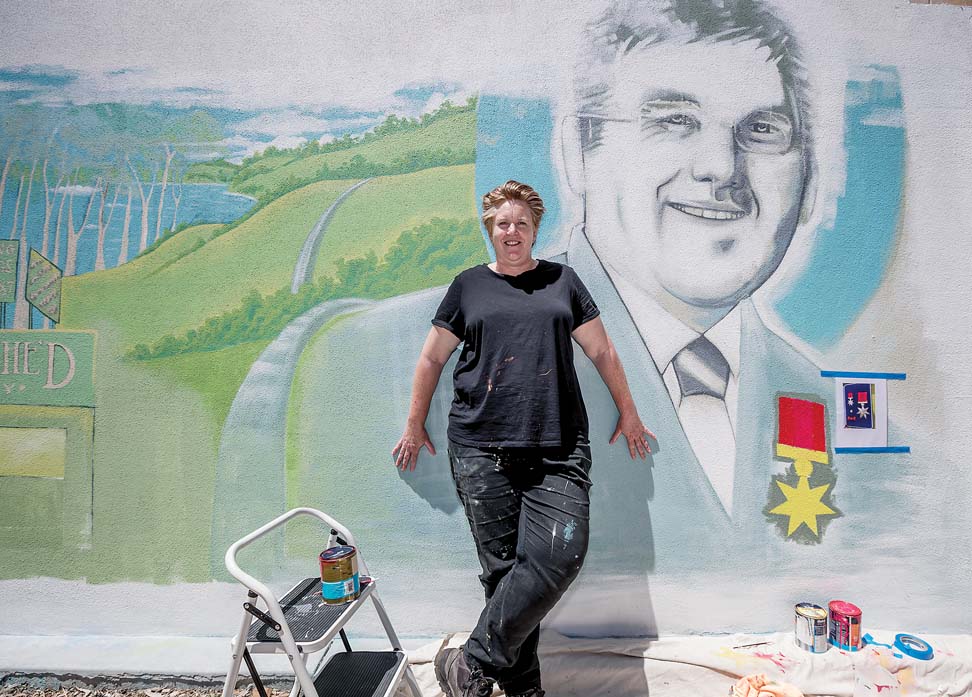 PAINTING the Dermot O'Toole mural at Hastings has given artist Justine Wallace an insight into her subject as well as the Hastings community.
While the mural in O'Toole Lane depicts milestones in the life of Mr O'Toole, who was murdered by an armed robber in his jewellery shop in early 2013, Wallace says it is the supportive comments of passers-by that has made the work more special.
"The experience of creating this artwork as a tribute to the life of such a widely loved gentleman is really special," Wallace said last week. "O'Toole Walk is a busy thoroughfare and so, while I have been painting the mural, many people have stopped to comment and talk to me about their memories of Dermot.
"It's encouraging to get fresh, positive feedback as you work. I don't want to forget any of it."
The brush-painted mural on the cement rendered wall is part of an upgrade of the civil infrastructure within the busy laneway.
The mural begins with Mr O'Toole and his wife Bridget in Ireland and the ship that brought them to Australia in 1971. There are many Celtic inspired patterns, the couple's jewellery shop and a portrait of him wearing the posthumously awarded Star of Courage medal, recognising his courage in circumstances of great peril.
Mr O'Toole was a loving family man – grandad, father and uncle – and a former champion Irish dancer who was especially fond of eagles, hence the two wedge-tails soaring over the landscape.
Helping Ms Wallace is her mother Viv Russell-Smith, a landscape artist, of Mt Martha.
"So many people told me stories about how kind Mr O'Toole was," Wallace, who has been creating murals and sculptures for public places for 30 years, said.
"My respect for him grew every day. And I got such an insight into the people of Hastings through this project. Hastings has a special place in my heart now."