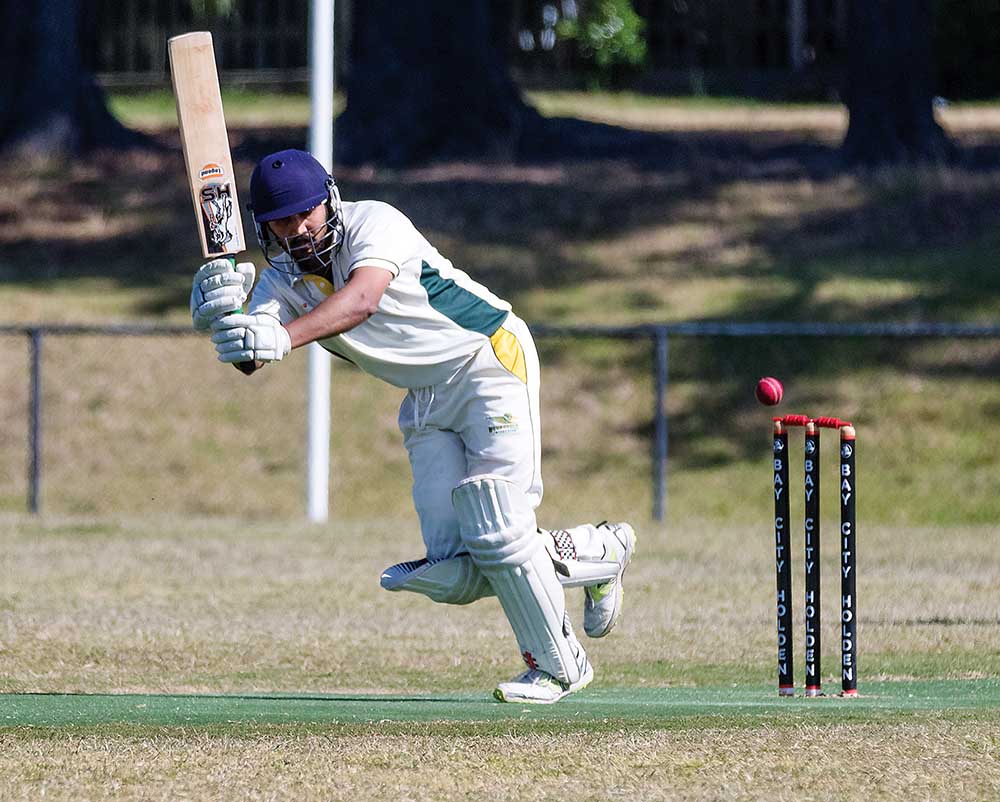 PENINSULA
PEARCEDALE have slumped to an outright loss against Pines at home.
After being bowled out for 85 on day one, Pines declared at 0/95 to set themselves up for a shot at an outright win.
Pearcedale's second innings went a little better, but they still gave Pines an opening to come back in and chase them down. They were bowled out for 121 of 54 overs.
Pines made quick work of the rest of the day, reaching their target after 23 overs to secure a second innings victory.
At Ditterich Reserve, Main Ridge and Red Hill's contest went down to the wire.
Main Ridge set a target of 231 runs on day one. Red Hill started well on day two, and at 2/102 looked in a good position.
They quickly fell to 6/153, leaving the tail order with a lot of work to do. Number seven batsman Adam Slack helped with a late innings effort of 36 runs but it wasn't quite enough to get Red Hill over the line.
The Hillmen ended up all out for 220, 11 runs short of a win.
Somerville had a tough task ahead of them on day two of their match against Long Island, having to chase down 296 to get a result.
Somerville put together a good team performance, with each of their top seven batsmen reaching double digit figures. None of them went on to make huge scores though, costing Somerville any chance of a win.
Somerville were bowled out for 253, handing Long Island the victory. Long Island bowler Andrew Tweddle was the best performer on the day, posting figures of 7/65 off 24 overs.
At Bruce Park, Heatherhill were able to defeat Moorooduc. They reached their target of 150 without too much trouble.
DISTRICT
ROSEBUD have fallen agonisingly short of a win against Dromana.
Rosebud were chasing 267 to win at Olympic Park, and got off to a good start with a 90 run opening stand. Opener Kane Donald was impressive, scoring 84.
The Buds were travelling along well, and at 8/261 needed just six runs to win with two wickets in hand.
Rosebud lost their final two wickets without scoring a run, dooming then to a narrow six run loss. Dromana bowler Ben Brittain took the final two wickets, and posted figures of 6/83 for the day.
A tail order collapse also cost Hastings a chance of getting a win against Delacombe Park.
Chasing 259 to win, Hastings started well and were sitting pretty at 1/89. Robert Hearn's half century helped them get off to a good start.
Hastings chipped away at their target, and at 7/250 needing 9 runs to win, were in an excellent position to win. A tail end capitulation saw Hastings go all out for 255, four runs short of a victory.
At Cyril Fox Reserve, Crib Point were able to chase down Carrum's total of 257 to claim a three wicket win.
At Ferrero Reserve, Mt Martha bounced back from their first innings defeat against Seaford Tigers to claim a second innings victory.
The Tigers' second innings was disastrous, being bowled out for just 48. Mt Martha bowler Max McKenzie posted figures of 6/25 off 12 overs.
Mt Martha chased down their target with five wickets in hand.
SUB DISTRICT
BONEO have scraped over the line for a thrilling win against Rye.
Chasing 151 to win, Boneo had some struggles and at 6/108 looked to be in a bit of trouble. The tail end was able to hold on, and Boneo ended up passing their target with just one wicket in hand,
Rye came in for a second innings to close out the day and finished at 7/71.
Carrum Downs had less trouble in their clash against Skye, securing a thumping outright win.
After being bowled out for 37 on day one, Skye were in huge trouble. Carrum Downs ended up making 181 in their first innings, and bowled Skye out again for 80 to secure the outright victory.
Michael Flahive was the pick of the bowlers, with figures of 6/37 off 13 overs. He also took 5/3 in the first innings to round out his man of the match showing.
At Peninsula Reserve, Tyabb weren't able to defend their small total of 105 against Frankston YCW.
The Stonecats passed their target with five wickets in hand. Stuart Plunkett top scored with 35 runs.
Seaford were able to easily defend their total of 307 against Balnarring on Saturday.
Balnarring worked hard but were bowled out for 196, well short of where they needed to be to get a win. Seaford bowler Dil Pageni posted his best ever bowling figures, taking 6/47.
PROVINCIAL
FLINDERS have held on to grab a thrilling win over Mt Eliza.
Flinders had a tough day ahead of them to defend their total of 125, but started well. Mt Eliza got off on the wrong foot when they lost their two openers for a combined total of just two runs.
Mt Eliza's middle order steadied the ship, and at 7/109 they looked as if they might go on to grab a victory. Unfortunately for them, a late collapse saw them finish all out for 115, 10 runs short of a result.
Despite an excellent century from opening batsman Daniel Warwick, Baxter fell short in their battle against Peninsula OB.
Chasing 235 to win, Baxter had a difficult task ahead of them on day two.
Outside of Warwick's heroics, Baxter were disappointing. Their next best scoring batsman scored just 13 runs, and the side ended up all out for 190 runs.
Baden Powell had a better day on day two against Sorrento, after they slumped to a loss on day one.