SOCCER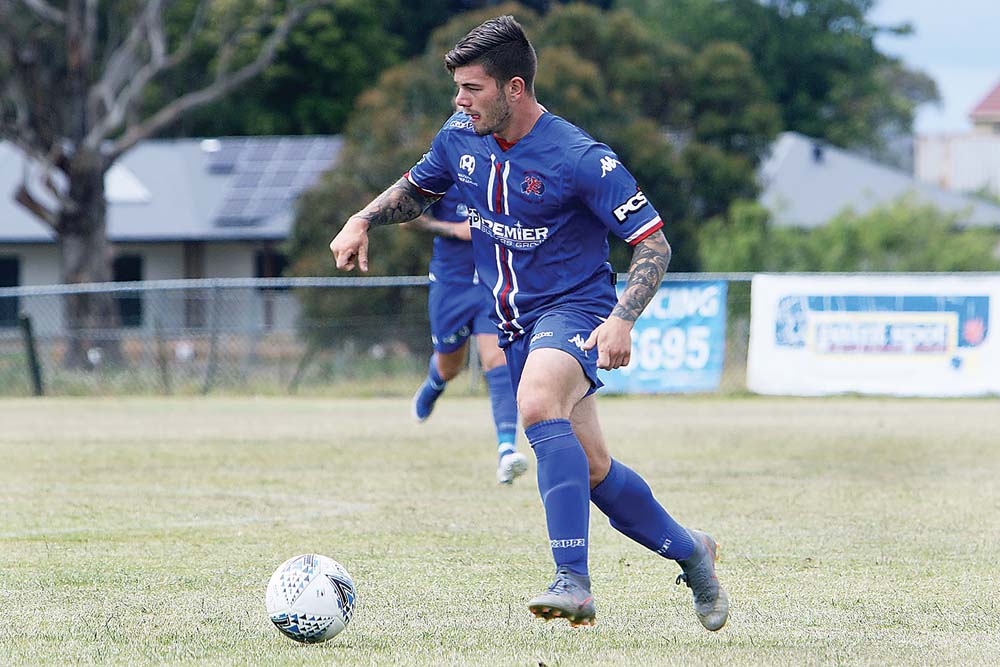 SAM Orritt's trial with Langwarrin ended with a visit to Frankston Hospital last weekend and x-rays confirmed that he'd broken his collarbone.
He'd lined up against Melbourne Victory at Lawton Park on Saturday in a friendly that was to play a part in determining whether he would be offered a place in the senior squad.
Just 20 minutes later he was given a support bandage for his injured right shoulder and assisted from the arena before Langy president Tanya Wallace drove him to hospital.
Orritt will decide shortly whether to pursue a surgical option but it seems likely that he'll be sidelined for up to eight weeks.
Langy gaffer Scott Miller is due to decide soon whether or not John Prescott, Jordon "Kaka" Avraham and Orritt have been included in his senior squad for next season.
Both Orritt and "Kaka" were in the starting line-up against a young Victory side while Prescott is in the UK until next month.
Senior squad absentees from Saturday's Langy line-up were Wayne Wallace, Jamie Cumming, Alex Van Heerwarden, Delarno Pharoe and Dylan Kilner.
Victory ran out a 2-0 winner with both goals coming after half-time the second via a superbly crafted curling shot low into the far corner from outside the area.
Langy gave as good as it got in the first period but Victory's passing and movement lifted a notch after the interval.
It created a number of clearcut chances and Langy keeper Fraser Maclaren was forced into a couple of fine one-on-one saves.
"You could see the physicality drop off in the last 20 minutes which was to be expected," Miller said.
"Victory's program is running full-time now and unfortunately we had a few players ill this week and some have gone away."
Miller is likely to finalise his squad in the new year and is looking at bringing in two players in the attacking half of the field.
He was happy with the hitout and Langy's pre-season match program won't get into full swing until February.
In State 1 news an impressive Mornington enjoyed last Thursday's night 5-0 romp at Dallas Brooks Park against Brian MacNicol's Oakleigh Cannons under-20s.
It was the unveiling of the Seagulls' new strike force and the interpassing and movement between Josh Hine, Wayne Gordon, Dejan Radojicic and Matt Harrington was superb.
Teenager Harrington is yet to sign but the club is hopeful that he'll do so soon.
"I want to get Matt locked away but it's up to him now," head coach Adam Jamieson said.
"He's done a few sessions with us and he played really well against Oakleigh and we want him as a Mornington player."
It took just five minutes for the home team to cut a swathe through Oakleigh's defence with Gordon and Hine combining on the left before Hine's cutback was met first time by Harrington whose precise low strike made it 1-0.
Five minutes later Andy McIntyre got forward and headed home powerfully from a Gordon cross from the left to make it 2-0.
McIntyre and another newcomer, Reece Caldecourt, were partnering each other at the heart of defence with Andre Bennett at right back and teenager Kyron Kerr at left back.
"Reece is a hard nut, he's an organiser, he likes to win and he's a good footballer," Jamieson said.
"Andre was a professional footballer (in England) at right back and right wing back and I've gone away from the idea of using him as a central midfielder."
Both Caldecourt and Bennett looked very comfortable in their roles.
Peninsula Strikers midfielder Danny Brooks took up a central midfield role alongside Ethan Goulding, younger brother of Callum and Luke at Langwarrin.
Ethan Goulding is a tremendous prospect, a composed control and pass player with excellent vision who only turns 15 this week and has been involved in junior NPL programs at Melbourne City and Bulleen.
"Ethan signed with us last week and he's already said that he's learnt a lot in the first three or four weeks here and we're absolutely rapt to have him," Jamieson added.
"We'll keep working with him and I have no doubt that he'll play some sort of senior football here next season."
"That's how much I rate him."
Mornington continued to control the first half and went 3-0 up after a low corner to the near post wasn't cleared and Hine acrobatically volleyed home from close range.
Gordon conjured up the individual goal of the contest when he nutmegged an opponent on the left then curled a pinpoint shot inside the far post from a tight angle to make it 4-0.
Jamieson made a series of changes in the second half taking off most of his experienced players and Harrington's second goal rounded off the scoreline.
Sam Scott continues to recover from a fractured fibula and ankle incurred in June against Nunawading City but he should be fit for action for the start of the new season.
Mornington has confirmed a number of challenging pre-season fixtures in February against State 1 North-West and NPL opposition.
The local club will take on Clifton Hill on Saturday 8 February, Banyule City on Saturday 15 February, Bulleen on Saturday 22 February and Werribee City on Saturday 29 February.
All matches are away from home and kick-off times will be confirmed closer to these dates.
Mornington's pre-season training resumes on Tuesday 14 January.
In State 2 news Peninsula Strikers are now faced with finding a new senior assistant after Alex Halikias left last weekend to become senior coach of State 5 South outfit White Star Dandenong.
Strikers president Adrian Scialpi and senior coach Paul Williams were disappointed to lose Halikias but understood why he chose to move.
"Alex has been a senior coach before and we understand that he wants his own team and wants to do things his way," Scialpi said.
"Alex said he wanted to do this now because doing it after Christmas or heading into round one wouldn't be fair on the club and we appreciate that."
Strikers are likely to talk to prospective candidates for the vacancy in house at first and may not need to advertise.
Meanwhile Strikers will host the eighth staging of the Wallace Cup on Saturday 1 February at Centenary Park.
The competing teams are Baxter, Frankston Pines, Langwarrin, Mornington, Peninsula Strikers, Seaford United, Skye United and Rosebud.
State 5 South outfit Rosebud is competing for the first time.
The annual event is a celebration of the local game and honours Stephen William Wallace, Langwarrin life-member and former club president, committeeman, coach, player and Bayside League referee who died on 19 July 2011 at the age of 54.
Casey Comets won the inaugural Wallace Cup (2013) and had featured in every subsequent staging of the tournament until last year when it chose not to compete.
Mornington has won the tournament five times and has failed to reach the final on just two occasions.
In State 3 news Frankston Pines will play Doveton's under-20s at Waratah Reserve on Thursday at 6.30pm.
Pines will go into this pre-season contest without key defender Cedric Benza who is recovering from torn ankle ligaments sustained in the recent Pacific Cup tournament in Auckland.
Benza is expected to be out for up to eight weeks.
Pines have arranged pre-season games against Bunyip District on Saturday 18 January at Monterey Reserve (5pm and 7pm), Peninsula Strikers on Thursday 23 January at Centenary Park (6.30pm) and Beaumaris on Friday 28 February at Beaumaris Reserve (6pm and 8pm).
A reserves match between Pines and Strikers will be held at Monterey Reserve on Thursday 23 January at 6.30pm.