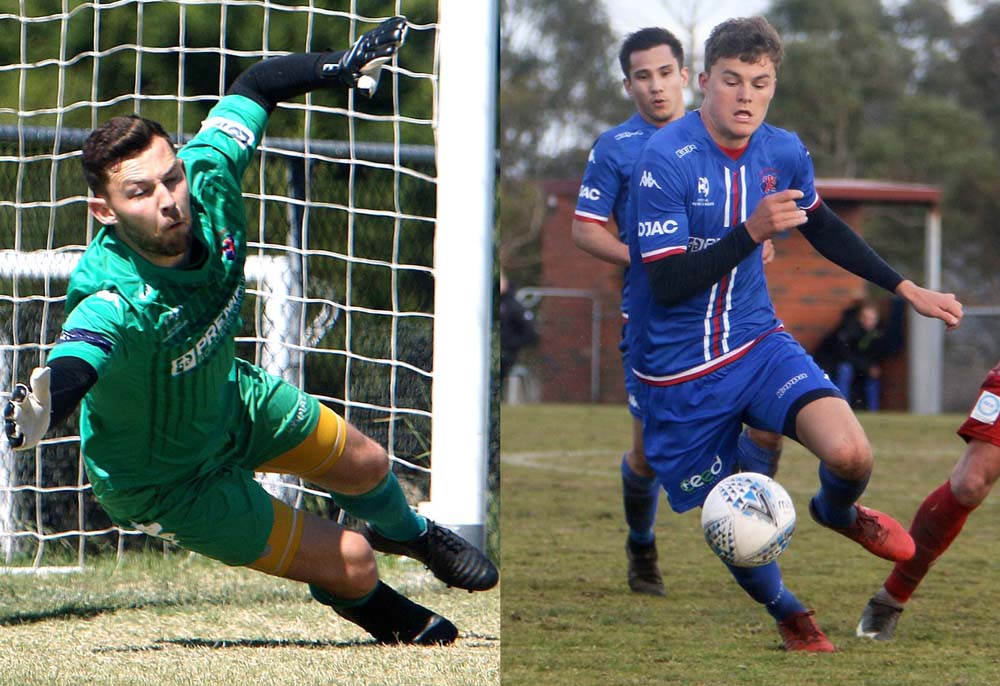 SOCCER
LUCAS Portelli signed with NPL heavyweight Oakleigh Cannons last weekend while Fraser Maclaren could return to former club Beaumaris.
Ex-Melbourne City teenager Portelli agreed terms in October for a second season with Langy but attracted the interest of Cannons and played against Melbourne Victory in a practice match on Saturday.
Oakleigh won 4-0 and Portelli had a 30-minute hitout.
"He's come under my radar quite a while ago and I wanted to know what the boy was like so we had a meeting with him and his dad and invited him down to a training session," Cannons boss Chris Taylor said.
"We were very keen on him, no doubt about it and from what I've seen of him I think he could do a good job for us."
Langwarrin was loathe to lose Portelli but Taylor defended his approach to the youngster.
"I can understand Langwarrin not being happy but that's just a part of the game and I believe that Lucas should be playing at a higher level," he said.
"Once we got the right reaction from Lucas (at the meeting) I said to him 'the first thing you need to do is speak to Langwarrin and tell them what's going on'.
"He did that and I spoke to (Langy head coach) Scott Miller last Thursday."
Langwarrin players are not contracted so there was little Miller could do to retain Portelli or Maclaren.
Miller and Maclaren spoke last weekend and the talented keeper confirmed that work commitments had forced him to step away from the NPL.
"Work issues have become pressing for Fraser and he faced the prospect of missing four to six sessions a month and perhaps 10 games which simply wasn't feasible," Miller said.
"He's effectively been forced to put his football career on hold at the age of 24."
Despite losing two vital elements of his senior squad Miller was unperturbed.
His immediate task is to decide how he wants to use the money budgeted for these two players.
He's definitely in the market for a first-class goalkeeper but he could choose to add another striker to his squad rather than a like-for-like replacement for Portelli.
"It's all good. We'll get it sorted," he said.
In other Langwarrin news club president Tanya Wallace emailed the competing clubs last week confirming the draw and venue for the 2020 Wallace Cup.
The eighth staging of the tournament takes place at Centenary Park on Saturday 1 February and will be a straight knockout format.
Here is the schedule:
11am Langwarrin v Peninsula Strikers, Rosebud v Seaford United; 12 noon Mornington v Frankston Pines, Skye United v Baxter.
The semi-finals are at 1.15pm and 2.15pm and the final is at 3.30pm. Losing clubs in the knockout stage will play a second match during the semi-finals.
The annual charity event is a celebration of the local game and honours Stephen William Wallace, Langwarrin life-member and former club president, committeeman, coach, player and Bayside League referee who died on 19 July 2011 at the age of 54.
Meanwhile the coaching spotlight during the festive season fell on Scott Morrison and Billy Rae as both were appointed to new roles at local clubs.
Morrison had stepped down as senior coach of State 4 side Somerville Eagles in late November and was appointed senior assistant to Paul Williams at State 2 club Peninsula Strikers on 29 December.
Morrison's coaching career kicked off at Rosebud a few years ago and he replaced Ray Vaughan at Rosebud Heart in late 2015.
He entered the record books in 2016 in charge of the Heart senior team that won every league game.
That year Heart strolled away with the State 5 South championship with 18 wins, 76 goals for and 11 against and became only the second Victorian senior team in more than 50 years to achieve such a feat.
Morrison won the State 5 South title again last year with Somerville.
He was contacted by State 4 side Noble Park United after leaving Somerville but chose to join Strikers instead.
"Experience and exposure at a higher level were important factors," Morrison said.
"It's pretty exciting what they want to do and it's fair to say it's not the Strikers of old.
"There are a lot of talented youngsters down there and I think we'll be more than competitive.
"I think Paul would agree that we'd be looking to push into the top four."
On Saturday morning Morrison and Williams watched intently as an intraclub match took place at Centenary Park with Robbie Acs in goal for the senior squad and ex-Mornington and Frankston Pines striker Jason Bradbury scoring twice.
Among the onlookers were Oscar Marsden and John Prescott.
Strikers are keen to hold onto Marsden despite Berwick City's interest in the defender while striker Prescott is training with Langwarrin this week.
The future of midfielder Danny Brooks is uncertain. He took part in Saturday's match but remains on Mornington's radar.
So far Strikers have locked in a number of pre-season fixtures.
They play Endeavour United at Centenary Park at 1pm and 3pm on Saturday 18 January; Frankston Pines at Monterey Reserve at 7.15pm on Thursday 23 January (reserves v Pines at Centenary Park at 6.30pm on same day); Spring Hills at Centenary Park at 1pm and 3pm on Saturday 8 February; Mazenod at Mazenod College at 1pm and 3pm on Saturday 15 February; and South Springvale at Centenary Park at 1pm and 3pm on Saturday 29 February.
Veteran coach Rae was another on the coaching merry-go-round as he was announced as assistant to Billy Armour at Endeavour United on 3 December and 27 days later was named new senior coach of State 4 rival Somerville Eagles.
The short term of his stay at Endeavour caught observers by surprise but before giving Somerville the thumbs up Rae phoned Armour who was holidaying in New York and they enjoyed a friendly exchange:
"I phoned Billy to tell him about Somerville and the first thing he said was 'I'm happy for you but I'm so disappointed' then he went quiet for a second and said 'hang on a minute you're in the same league as us!'
"I said 'Billy that's the next problem' and his reply was 'I'll have to get my handbag out because we'll be having handbag fights at 10 paces.'
"I thanked him because had he said that he'd prefer if I didn't take the job I would have had a total rethink."
Rae wants local goalscoring legend David Greening to assist him at Somerville but Greening is currently holidaying overseas and the pair need to sit down and discuss Rae's plans for the veteran striker.
"I'd like David to become my assistant and I can step away down the track and hand the reins over to him," Rae said.
Rae, 70, views the Somerville job as likely his last in a senior coaching role and he sees Greening as an important part of his onfield plans.
"My idea about football is pretty simple – it's all about scoring goals," Rae said.
"How the goalkeeper plays and the defence and the midfield and the guys up front are all important but we have to score goals.
"That is what the game's all about."
In other local news Mount Martha resident Gavin O'Reilly flew out of Melbourne yesterday (Monday) to trial with A-League giant Sydney FC.
The 16-year-old midfielder is a former Mornington and Langwarrin junior who has been training with Bentleigh Greens senior squad.
In State 1 news Mornington may have lost Andre Bennett.
The English import and partner Shauni Mankin returned to Melbourne last week after spending Christmas and New Year overseas but Mankin had an issue with her visa and the couple was forced to return to the UK.
Losing Bennett will be a blow to the local club as he was expected to play an important role at right back in a change to the club's playing style.
Mornington also may have to play this year's opening two league fixtures away from home as work started this week on a resurfacing project at Dallas Brooks Park.
In State 3 news five Fijian players are expected to join Frankston Pines next month.
They are Ba midfielder Kishan Sami, Nasinu goalkeeper Mohammed Alzaar Alam, Rewa midfielder Savenaca Baledrokadroka, Lautoka midfielder Shivam Naidu and Nadi striker Tito Vodowaqa.
All of them played last year in the OFC Olympic qualifying tournament held in Fiji.
Pines kick-off their pre-season schedule with a friendly on Saturday at Monterey Reserve against Bunyip District at 5pm and 7pm.
In State 5 news Aspendale Stingrays have confirmed practice matches against Endeavour United at Reema Reserve at 7pm on Thursday 23 January; Seaford United at North Seaford Reserve at 1pm and 3pm on Saturday 8 February; and Lyndale United at Lyndale Secondary College at 1pm and 3pm on Saturday 7 March.