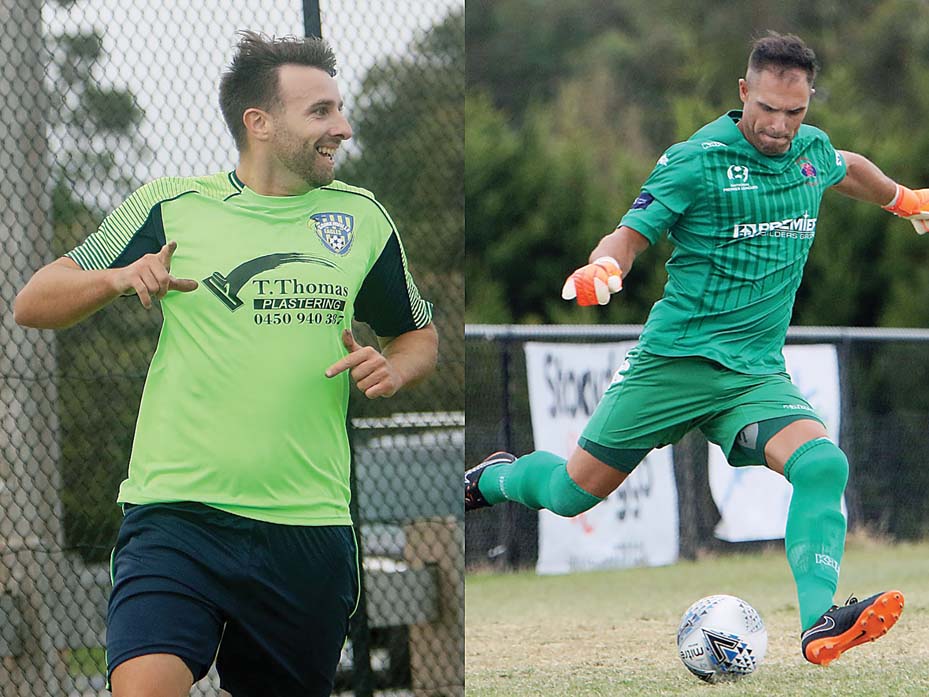 SOCCER
VETERAN Somerville Eagles striker Mark Pagliarulo and goalkeeper Robbie Acs have clubs clamouring for their services.
"Pags" met with Somerville president Luke Mulder, vice president Craig Bozelle and director of football Zach Peddersen on Sunday having previously spoken with new senior coach Billy Rae.
It's understood that the club is keen for him to take on a role as a playing assistant coach.
His strike partner David Greening is on an overseas holiday but it's believed that he too has attracted the attention of other clubs.
"Pags" will be a busy man as he was due to meet with State 5 outfit Rosebud yesterday (Monday) and has had contact with Skye United head coach Phil McGuinness, Peninsula Strikers assistant Scott Morrison, Frankston Pines coach Kevin "Squizzy" Taylor, Endeavour United coach Billy Armour and White Star Dandenong coach Alex Halikias.
"I'll speak with them all properly and decide after the Wallace Cup," he said.
Meanwhile experienced No 1 Acs had his second hitout with Peninsula Strikers in Saturday's 4-0 win over Endeavour United at Centenary Park following the previous week's intraclub match.
The former Langwarrin custodian still hasn't made up his mind as to his immediate playing future and Seaford United continues to pursue his signature.
Acs was rarely tested against Endeavour but was called into action midway through the first half when forced to react quickly to get a hand to the ball and deny the visitors from a one-on-one situation.
Strikers goals came from Jai Power (2), Julian Malander and Naseer Mohammed.
The opening goal came via a superb ball over the top which Malander slotted past the keeper.
Power scored the next two goals his second following an excellent combination with Tuach Ter and Ter had another assist for the fourth goal when he set up Mohammed for a first-time strike from close range.
Strikers may have to add John Prescott, Oscar Marsden and Danny Brooks to the list of player exits with State 2 rival Berwick City extremely confident of signing the trio.
And in NPL2 news Langwarrin has confirmed that English striker Prescott won't be joining the club.
"It's a pity because I was looking forward to working with him," head coach Scott Miller said.
"We still have three or four places in our playing budget to fill and although I'd ideally like a squad of 20 it's difficult to get in the type of player that you'd want.
"But we have a number of names on our list and I'll be meeting with some of them in the next couple of weeks."
Skye United continued to prepare for the State 2 season with a 1-1 draw with East Brighton on pitch 2 at Monterey Reserve on Saturday.
Mark O'Connor came off the bench and his perfectly struck chip levelled the scores in the first half.
East Brighton was unbeaten in State 4 East last season and strolled to the title with a 10-point margin.
"They were very impressive and I know it's early days but I would back them for another promotion," Skye boss Phil McGuinness said.
"I was very pleased for our first pre-season game.
"I know we made a few silly errors at times in losing the ball so easily and a couple of bad decisions going forward but overall it was a hard workout and everybody put in a tough shift.
"It was also our first opportunity to try out a few new players who didn't disappoint."
Newcomers included Endeavour United full back Michael Rovinson, former Peninsula Strikers midfielder Joe Buccello, 16-year-old Logan Magri from Casey Comets and Naveed Hashimi who played in the Melbourne Chinese Soccer Association competition last year.
McGuinness was particularly delighted to have John Andrinopoulos back in action after the big defender suffered a partial ACL tear and also had a hernia operation last season.
"That was the highlight of the day for me," McGuinness said.
"Johnny has been out of action since last May but still attended most training sessions and all the games.
"I know it killed him not being able to play last season but he stuck to his recovery 100 per cent and it showed on Saturday with a man-of-the-match performance."
Skye was without Jack Gallagher, Mo Elhassan and Gerard Lawler while Pines striker Travis Ernsdoerfer was unavailable and is yet to sign.
Striker Mikey Turner is uncertain about his playing future.
Baxter is keen to talk to the ex-Langy player who also is considering a return to Lawton Park to play in the over-35s in the Bayside League.
There's also doubt about Maxim Avram's future and McGuinness planned to talk to him as we went to press.
McGuinness initially planned to add three players to the senior squad but it increasingly looks like he may add more.
Skye's next outing is the Steve Wallace Cup on 1 February at Centenary Park.
"I love this competition and I really look forward to it every year," McGuinness added.
"I know it's a lot of work but I would love to see this cup get even bigger over the next few years and maybe even become a two-day competition."
In State 3 news Frankston Pines senior coach Kevin "Squizzy" Taylor and vice-president Victor Kumar flew to Fiji last weekend to finalise arrangements for bringing players to the local outfit for the upcoming season.
Taylor is confident that all the paperwork will be processed shortly and he expects the players to fly to Melbourne next month.
Contracts will have to be signed to satisfy the Fijian FA prior to their international release to curtail Pines from financial gain should the players switch to higher-ranked clubs here.
Pines seniors and reserves took on Bunyip last Saturday on the main pitch at Monterey Reserve with the reserves drawing 2-2 and the seniors winning 4-1.
Lachlan McMinimee (2), Hamraz Zanoozi and a triallist from Doveton scored in the senior match.
Zanoozi played with Langwarrin's under-20s last season.
Other new faces in the Pines side were Callum Richardson, 27, from Somerville Eagles and a former Seaford United player and Stephan Ngoneh from Dingley Stars.
Richardson played quite a few games at full back for Somerville but Taylor plans to use him further afield.
"He will bring dynamism and versatility in the attacking third," Taylor said.
"He can play anywhere across the front four, has a fantastic workrate and is a real handful for defences with his dribbling ability, movement and unpredictability."
Here are some pre-season schedules (kick-off times are subject to change so check club facebook pages for any updates):
Langwarrin's pre-season schedule: v Eastern Lions, Gardiners Creek Reserve, Saturday 8 February 12pm, 2pm, 4pm; Preston Lions, B. T. Connor Reserve, Saturday 15 February, 12.30pm, 3pm; Doveton, Waratah Reserve, Saturday 22 February 11am, 1pm, 3pm; Box Hill, Wembley Park, Saturday 29 February kick-off times TBC; v Nunawading, Lawton Park, Saturday 7 March kick-off times TBC.
Seaford United's pre-season schedule: v Boronia at North Seaford Reserve, Saturday 8 February 1pm and 3pm; Aspendale Stingrays at North Seaford Reserve, Saturday 15 February 1pm and 3pm; Middle Park at North Seaford Reserve, Saturday 8 February 1pm and 3pm; and FFA Cup on Saturday 29 February.