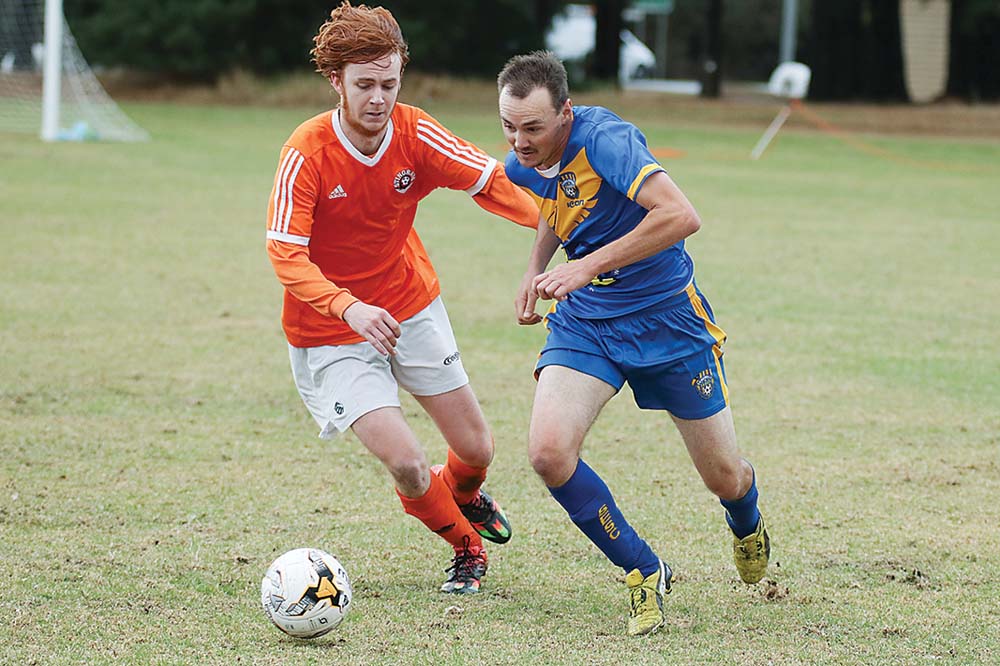 SOCCER
THERE is increasing doubt about goalscoring legend David Greening remaining at Somerville Eagles.
The veteran marksman was due to arrive back in Melbourne from an overseas holiday as we went to press and has declared his unhappiness with what he claims are mixed messages emanating from his club.
Two weeks ago new senior coach Billy Rae said that he would like Greening to be a playing assistant coach but that role has also been offered to fellow striker Mark Pagliarulo.
"The mixed messages I've heard coming out of the club are a worry with different guys being offered the same role," Greening said.
"When I went to Somerville in 2018 I had a vision and plan on where I wanted to take the club and how we would set about achieving those aims by getting the right people on board.
"We were on the right path, two years in with a promotion and a winning mentality yet in the blink of an eye a bulldozer has come and smashed it all down.
"I'll meet with Billy and the club when I'm back and go from there but after losing Stan (Packer) and Scott (Morrison), for me to stick around will largely depend on how the club makes decisions on senior matters because it has to change so it'll be interesting to see if it has."
Last month Somerville said Greening was among a number of players who had committed to the club for the upcoming season but he rejects that claim.
"Until you've signed on the dotted line you haven't committed to anything, coach or player.
"The one thing I'll commit to is meeting with Billy to discuss my role before deciding anything.
"A lot has changed since I've been away and I'd be daft not to consider my future at Somerville.
"At the end of the day I'm a winner and feel I have so much to offer a club both on and off the pitch.
"I think I've got two or three years left playing seniors and I'm keen to combine that with a coaching role, if possible."
In NPL2 news Langwarrin has the opportunity to sign Kiwi international defender Reese Cox.
He has an impressive pedigree starting all four of New Zealand's games in the 2017 under-20 World Cup finals in South Korea.
He recently moved to Melbourne and his father made contact with Langy gaffer Scott Miller who wanted to see Cox in action.
The 22-year-old made two errors in the first 10 minutes of last Thursday night's hitout against Melbourne Victory's NPL squad but regained his composure and by game's end had not only impressed the club's coaching staff but had won over most onlookers.
"He's very purposeful in his action and he certainly sees passes into the midfield third," Miller said.
Langy won the friendly 3-2 with first-half strikes from Delarno Pharoe and Callum Goulding and a second-half George Howard penalty but had chances to score a lot more.
Its first-half performance was impressive.
"Physically we're improving and in that first half some of the passing was some of the best I've seen in terms of movement, simplicity and those cutting passes in between the back four."
The pace of former Springvale White Eagles and Box Hill United winger Pharoe on the right was significant.
Miller wanted to sign Pharoe last year and stayed in touch eventually landing his target last October.
"You can just picture him, McLean, Howard, Stoilovic and Orritt and we've still got a visa spot available – there's some nice attacking options we're going to have," Miller added.
Miller is yet to settle on a replacement for goalkeeper Fraser Maclaren.
Queenslander Brandon Cuminao lined up in goal against Victory but is yet to sign.
The 22-year-old has been on the books of Queensland Lions and Olympic FC and has trialled with Dandenong Thunder.
In State 2 news Peninsula Strikers welcomed back experienced midfielder Jonny Guthrie last week but only to training as his cricket commitments continue to take priority.
Strikers remain hopeful that he will stay.
Strikers seniors went to Monterey Reserve last Thursday to take on State 3 outfit Frankston Pines while the reserves of both clubs clashed at Centenary Park.
A late Strikers goal in the senior contest saw the visitors come away with a 1-0 win while Strikers reserves won 4-0.
In the first team clash Strikers should have scored from the penalty spot in the second half but Alex Mooy, younger brother of Socceroo star Aaron, skied his attempt.
Mooy was introduced to Strikers by committeeman and life member Steve Keenan and played with Bankstown City in the NSW NPL2 under-20s competition in 2017.
Jai Power nabbed the winner in the 86th minute after Beaumaris recruit Dakota Mcallan-D'Brass brought the ball down with a great first touch then jinked past a defender and shot from inside the area.
Pines keeper Jarrod Nardino saved the attempt but Power pounced on the rebound.
Strikers promoted Junior Mpota to the seniors while Nick Simmons and Laban Stringer again played for Strikers.
Robbie Acs was in goal for Strikers but is yet to sign while Strikers best were Callum Bradbury, Adam Crabb and Alex Whyte.
Sam Luxford, Jason Bradbury and Jack Buttery all missed due to injury.
Daniel Mota, Joe O'Connor, Alex Bevacqua and Stephan Ngoneh from Dingley Stars were missing from the Pines squad and Somerville recruit Callum Richardson had suffered an ankle ligament injury in the previous friendly against Bunyip District and could be out of action for six weeks.
The home team's best was CJ Hodgson playing in an uncustomary central defensive role.
Former Seaford United and Skye United player Alex Roberts and ex-Pines and Langwarrin player Kurt Wagner-Goldsworthy played for Pines.
Roberts was with Brandon Park last season while Wagner-Goldsworthy was with Seaford United.
This Saturday the local spotlight falls on Centenary Park when Strikers host the eighth staging of the Wallace Cup.
The annual charity event is a celebration of the local game and honours Stephen William Wallace, Langwarrin life-member and former club president, committeeman, coach, player and Bayside League referee who died on 19 July 2011 at the age of 54.
His daughter Tanya is current Langwarrin president and his son Alistair heads the club's high performance unit.
Ironically Langwarrin is yet to win the trophy.
"It would mean a lot to me to win my dad's trophy and I'm sure the boys will be up for it but it's great that other clubs have won it," Tanya Wallace said.
"I'd love it to be the go-to pre-season tournament for local clubs."
Wallace will consider restructuring the tournament with the possibility of it becoming a weekend-long event.
"It's something I'd have to discuss with the clubs and coaches but I'm very conscious of not asking too much of the players."
Mornington has won the Wallace Cup five times and head coach Adam Jamieson would love to make it six.
"I think the first thing is that it's important for everyone to put on a performance for Steve," Jamieson said.
"We've always gone into the event to try and win it.
"Every time we've done quite well in the Wallace Cup we've done quite well in the league."
Saturday's tournament kicks off at 11am when Langwarrin takes on Peninsula Strikers and Rosebud takes on Seaford United.
Games at 12 noon are Mornington v Frankston Pines and Skye United v Baxter.
First published in the Southern Peninsula News – 29 January 2020