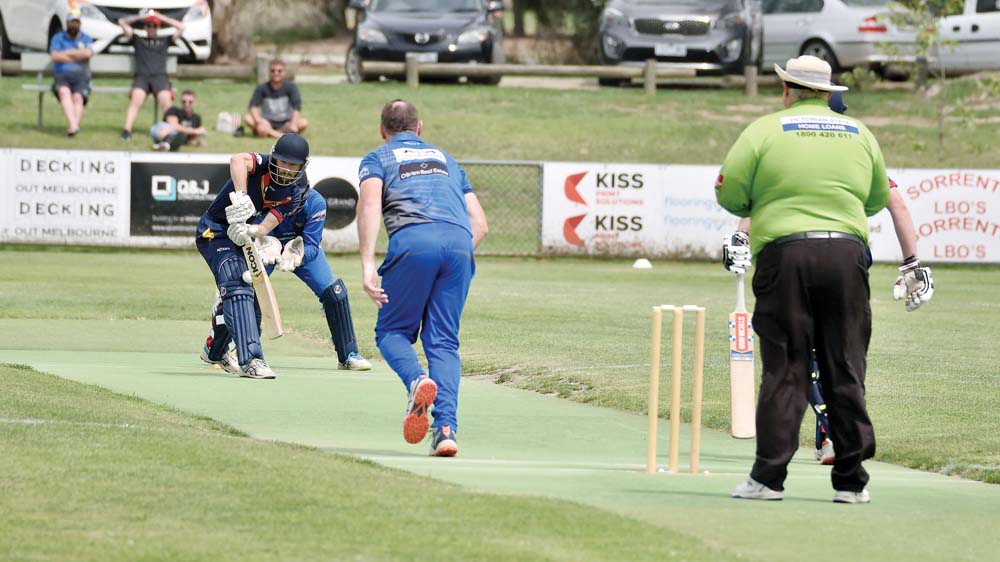 PENINSULA
A BRILLIANT knock of 86 not out from Simon Dart helped Red Hill to a big total against Moorooduc on Saturday.
Choosing to bat first at home, Red Hill were impressive. Opener Matthew Merifield also played a big part for his side, passing his half century.
Red Hill finished the day at 266, setting Moorooduc a formidable target to chase down on day two of their match.
Tom Shayler was the pick of the bowlers for Moorooduc. He took a five wicket haul, and posted final figures of 5/70. Shayler is in good form, and has taken two 5 wicket hauls in three weeks.
At Eric Bell Reserve, Pines set Main Ridge a tough target of 261 to chase down.
Pines were in fine form, with all of their top order batsmen performing well. Harley Peace-Stirling and Damien Lawrence were their best, each notching up half centuries.
At Ballam Park East, Pearcedale struggled against Long Island.
Pearcedale were sent in to bat first, and were sent packing for just 72 runs.
Long Island came in for their first innings and raced away to 1/128 from just 22 overs. They sensed a chance at an outright win and chose to declare with 17 overs left to play for the day. Pearcedale finished at 1/20 at stumps.
Somerville set Heatherhill a huge target of 299 to chase down on the first day of their clash.
DISTRICT
HASTINGS batsman Jake Hewitt has fallen just seven runs short of a century in an entertaining display at Roy Dore Reserve.
Hewitt's Hastings side were excellent, and finished the day at 8/267. Carrum have a lot of work ahead of them to get a result on day two.
Carrum bowler Jake D'Atri was their best performer, posting career best figures of 6/83.
Crib Point had mixed fortunes on day one of their clash against Mt Martha. They were sent in to bat first, and eventually got to a defendable total despite some struggles.
Mark Cairns and Mitchell Stansborough were excellent for the Magpies, scoring 70 and 83 respectively. They got no support from their teammates though, with the rest of the top order  falling for less than 10 runs.
Delacombe Park will have to work hard on day two to defend their total of 178 against Dromana.
Andrew Christides was a big contributor for his side with bat in hand, scoring 57.
Dromana came in for three overs to close the day out, and their run chase got off to a bad start. They lost an early wicket and will restart on day two from 1/0.
At Belvedere Park, Seaford Tigers were bowled out for 167 by Rosebud, who will start on day two from 2/21.
SUB DISTRICT
A BRILLIANT 111 run opening stand by Chris Jobling and Caolan O'Connor helped Boneo to a massive total of 289 on Saturday.
Ballam Park had no answers for Boneo, who dominated the day. After finally breaking up the opening partnership, they faced further troubles when Jarvis Anderson came to the crease. He scored a quick half century, scoring at better than a run a ball, to move the target even further out of Ballam Park's reach.
A great knock of 75 from opener Levi McLoughlin-Dore helped Frankston YCW set a total of 237 on Saturday.
Their Carrum Downs opponents will have to work hard to chase down that target this weekend. David Dervan was their best bowler on day one, taking 2/8 off 13 overs.
Balnarring struggled in their clash against Tootgarook, scoring just 163 from their 80 overs.
PROVINCIAL
AN excellent knock of 89 from Mason Mail put Flinders on the right track for a big total against Sorrento.
Mail was impressive, and so was his opening partner Kane Hawkins. He scored 68 runs, including five sixes.
Flinders ended up at 6/248 at stumps, leaving Sorrento with a lot of work to do this weekend to catch up.
At Overport Park, Baden Powell could only manage to put 108 runs on the board against Peninsula OB.
Rhys Elmi put 42 runs on the board and was Baden Powell's best on the day, but he didn't get much support from his teammates.
Adam Gailitis was the best bowler for the Old Boys, taking an economical 4/24 from 18 overs.
Peninsula OB got their run chase started on the right foot. They batted for 21 overs before stumps, finishing at 1/53.
A knock of 74 from Daniel Warwick was the highlight of Baxter's innings on Saturday, as they took on Mornington at Baxter Park.
Baxter ended up all out for 160 in just under 60 overs. Mornington finished the day 2/38.
Tom Baron ran rampant with ball in hand on Saturday, claiming the wicket of eight Langwarrin batsmen.
The Mt Eliza bowler was unstoppable, as he ran through close to the entire Langy side. He finished with figures of 8/76 off 38 overs.
Sam Prosser managed to reach his half century before being dismissed. His Langwarrin side ended up all out for 150.