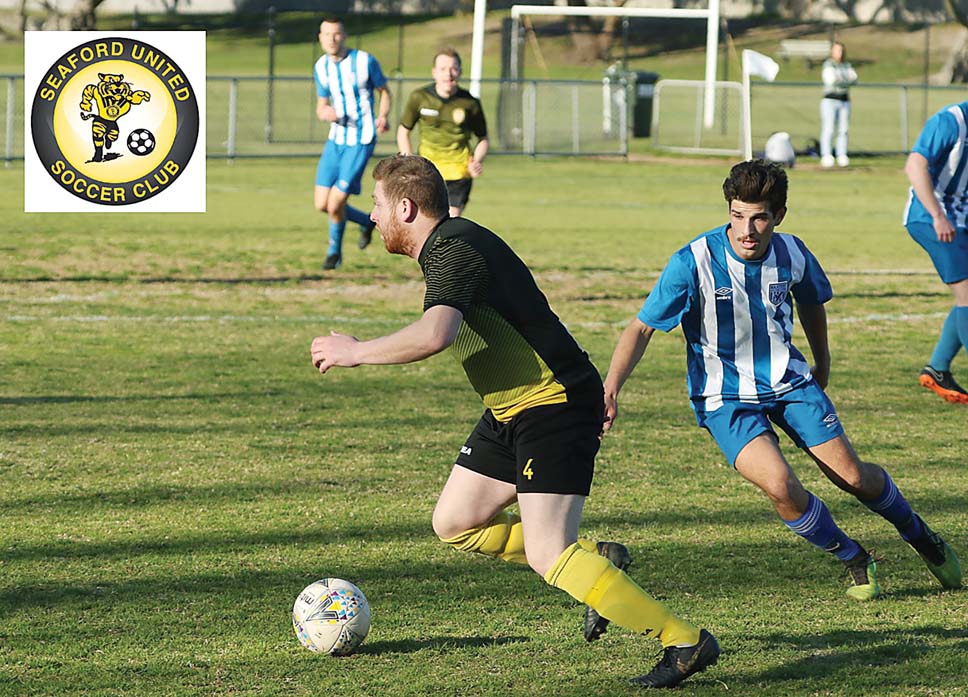 SOCCER
PLAYER-coach Matty Morris-Thomas believes that Seaford United can challenge for the State 4 South championship this season.
He already has agreed terms with experienced midfielder Scott Webster and fellow veteran Shane Tagliaferro has trained and played in a practice match for the local club but Morris-Thomas has four more player targets in his sights and wants to move on them immediately.
"Yeah we know who we want and if you come down to training next Thursday you might even see them there but we won't make any announcements until they're over the line," Morris-Thomas said.
"Look we had a tough season last year but if we get our structures right this year we think we can make a push for the title."
A club that could throw a spanner in the works is State 2 outfit Peninsula Strikers who continue to show interest in Tagliaferro.
It's believed that "Tags" hasn't been registered with Seaford and as a non-contracted player has freedom of movement so Morris-Thomas needs to lock-in that deal if he wants to retain the attacking midfielder.
In other player news Strikers announced last week that Jonny Guthrie, Alex Whyte and Laban Stringer have signed for the 2020 season.
Guthrie, 33, is a midfielder who played in Langwarrin's 2017 State 1 championship-winning side and in its 2018 NPL debut season before joining Strikers last year.
"He brings a wealth of experience to our midfield unit plus a winning mentality, professionalism on and off the pitch and will be a great role model to our up and coming youngsters," Strikers gaffer Paul Williams said.
Whyte, 21, is a former Bentleigh Greens NPL junior who switched from Langwarrin last season despite Frankston Pines making a pitch for the midfielder.
Stringer, 24, is a former Strikers defender who also played with Pines.
"Laban's tenacious and no-nonsense defending has impressed his teammates and he's no stranger to this level after playing State 1 for Pines," Williams said.
Frankston Pines head coach Kevin "Squizzy" Taylor finally has a senior assistant.
Former Skye United and Seaford United coach Darren Roberts has filled the role that has been vacant ever since Taylor's appointment.
Roberts has an impressive playing pedigree having played for Wolverhampton Wanderers, Doncaster Rovers, Chesterfield, Darlington and Scarborough over a lengthy playing career in England.
Roberts' son Alex is one of Pines' recruits for the 2020 season.
The club could get news this week of the visa applications for its Fijian recruits.
Somerville Eagles fans were buoyed by news late last week that David Greening is staying put this season.
The greatest first team goalscorer in Victorian soccer history will also coach the reserves and assist senior coach Billy Rae.
"There was a lot of interest from other clubs but ultimately it came down to the fact that I came to Somerville to try and build something and the fact I cared and hurt so much over what happened (in the off-season) just indicated to me how much I want to help them try and put things right," Greening said.
"It'll be tough no doubt about it but the aim now is to unite the club moving forward and put together two competitive squads for State 4."
The signing saga involving his strike partner Mark Pagliarulo is drawing to a close with the flamboyant veteran knocking back offers from Skye United, Peninsula Strikers, Endeavour United, Frankston Pines and Baxter last week and now deciding whether to stay with Somerville Eagles or join Rosebud or White Star Dandenong.
White Star has offered the most lucrative deal which involves a hefty match payment and a goal bonus.
"Pags" misses five games in May this season while holidaying in his native Scotland.
"I'll be honest. I wanted to prove myself at a higher level but missing five games was a massive thing," he said.
"Imagine the state of me after a four-week break back home on the bevvy."
Baxter will hold the inaugural Steve Driver Memorial Day on Saturday when it hosts State 2 outfit Knox City.
Long-serving clubman Driver lost his battle with cancer in September 2017 and around 40 of his friends are playing in a legends match that kicks off at 11am prior to the reserves and senior games against Knox.
"He left a big mark on our club, especially the defenders who came through the ranks during the decade that Stevie played for us and we are looking forward to celebrating the life of a great mate, great footballer and an even better person," Baxter president Bray Hodgkinson said.
"We are raising funds for the Cancer Council, the charity chosen by Steve's daughters Holly and Sophie and his wife Sandra.
"I made contact with the girls after we made it a priority to do something for Stevie and they were thrilled to jump on board.
"It will be a pretty special day for those of us who were blessed to play with or know Steve and we have a few really amazing surprises in store so we are very excited."
Last weekend's friendly games saw Langwarrin go down 3-1 away to Eastern Lions with big George Howard scoring for Langy.
Mornington drew 3-3 at home to Clifton Hill thanks to a Josh Hine hat-trick.
There were three penalties in the match (two to the visitors) and new Mornington central defender Reece Caldecourt was sent off in the second half.
Wayne Gordon, Kyron Kerr, Dejan Radojicic and Sam Scott missed through injury while Andrew Goff was unavailable.
Peninsula Strikers beat Dandenong South 2-1 at Centenary Park with Sam Luxford and Jason Bradbury scoring for Strikers.
Skye United lost 2-0 to Mazenod at Kingston Heath Soccer Complex but Skye was without Michael Rovinson, Daniel Attard, Daniel Walsh and Alex Rojas who were all out injured while Mitch Blake was unavailable.
Frankston Pines went down 5-3 to State 1 opponent St Kilda at Monterey Reserve with Joe O'Connor, Lachlan McMinimee and Alex Bevacqua scoring for Pines.
McMinimee is a staunch Rangers fan so scoring against a team in green and white hoops was a special moment for him.
Somerville Eagles lost 4-3 at home to King's Domain and goalmeister Greening scored the umpteenth hat-trick of his career.
Baxter defeated Pakenham United 2-1 at Baxter Park with Nat Daher and Charlie O'Connell scoring for Baxter.
Teenage striker O'Connell is easing back into playing after recovering from a long-term knee injury and only played for 38 minutes.
Seaford had a change of opponent midweek and defeated Boronia 4-1 at North Seaford Reserve thanks to goals from Dylan Waugh (2), Tagliaferro and Matthias Schwellinger.
Baxter striker Liam Kilner trained with Seaford last Thursday night and played in the first half of the Boronia match.
Last week new State 5 outfit Mount Martha released details of its pre-season schedule which could change depending on its FFA Cup fortunes this weekend.
It will play Somerville Eagles at Somerville Secondary College on Saturday 22 February, 1pm and 3pm; Endeavour Sporting Club at Chalcot Lodge Reserve on Saturday 29 February, 1pm and 3pm; Chelsea at Edithvale Recreation Reserve on Saturday 7 March, 1pm and 3pm; Mount Eliza at either Civic Reserve or Padua College on Saturday 14 March, 1pm and 3pm; and TOPSA at Civic Reserve on Tuesday 17 March, 7pm.
Aspendale Stingrays defeated Glen Waverley 2-1 at Knox Regional Football Centre on Sunday thanks to a Sam Timuska-Carr header and a Kieran Hughes tap-in following a superb ball from Ben Garside.
Former Dandenong Thunder NPL junior Tom Lonsing and two 17-year-olds, Dylan Guedes and Blake Rosenberg, all played in defence.
Meanwhile the Rosebud v Barwon FFA Cup fixture this weekend has been reversed due to council restrictions and will now be played in East Geelong.
Here are Saturday's FFA Cup first qualifying round matches:
Barwon v Rosebud, Howard Glover Reserve, 2pm; Mount Martha v Shepparton South, Padua College, 3pm; Aspendale Stingrays v White Star Dandenong, Kingston Heath Soccer Complex, 7.30pm.
This weekend's pre-season friendlies:
SATURDAY: Preston Lions v Langwarrin, BT Connor Reserve, 12.30pm & 3pm; Banyule City v Mornington, Yallambie Park Reserve, 1pm & 3pm; Skye Utd v Casey Comets, John Paul College, 2pm & 4pm; Mazenod v Peninsula Strikers, Kingston Heath Soccer Complex, 6pm & 8pm; Frankston Pines v Noble Park Drina, Monterey Reserve, 5pm & 7pm; Baxter v Knox City, Baxter Park, 1pm & 3pm (legends game 11am); Seaford Utd v North Melbourne Athletic, North Seaford Reserve, 1pm & 3pm.
SUNDAY: Somerville Eagles v Mount Eliza, Somerville Secondary College, 1pm & 3pm.