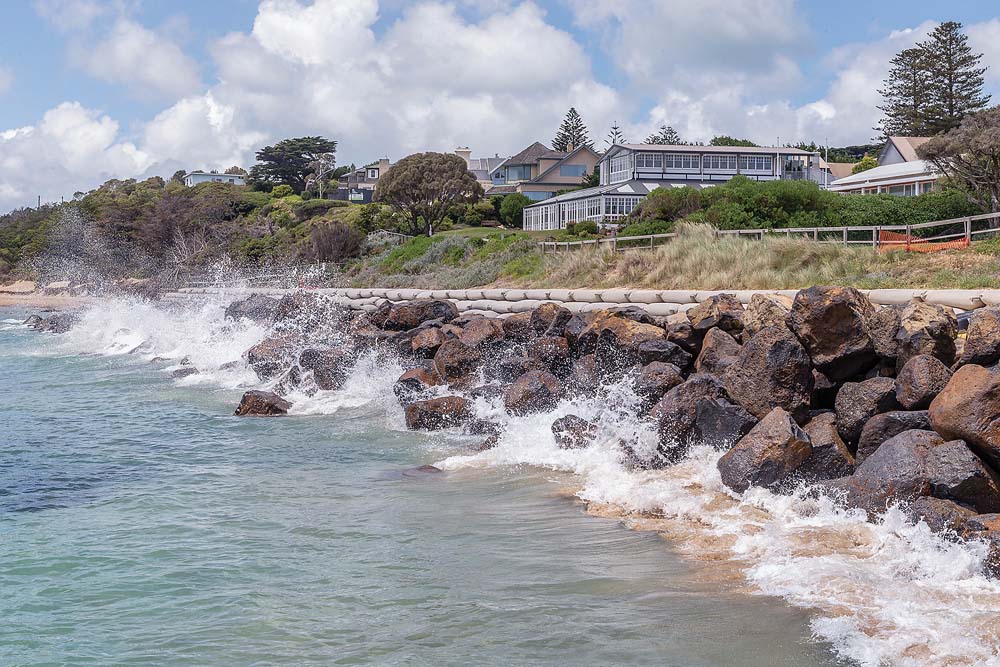 A MATE of the Premier Daniel Andrews has been enlisted to help restore the sand-depleted Portsea beach.
Futurefish Foundation director David Kramer will join Mornington Peninsula mayor Sam Hearn, councillors Bryan Payne and Hugh Fraser, and shire CEO John Baker, in a working group including scientists from the Department of Environment, Lands, Water and Planning.
Their brief is to bring sand permanently back to the beach.
The latest bid follows a decade of frustration and despair and hundreds of thousands of dollars spent on sandbags and rock revetments which failed to stop the sand loss.
Described as a man with a "history of steering tricky but successful state government-funded projects", Mr Kramer and the working group will oversee beach modelling and, hopefully, its eventual restoration.
Although no time frame has been set for any proposed works – and no finance guaranteed – the group is "confident families will once again be enjoying a sandbag free Portsea beach".
Mr Kramer was behind decisions to abolish Victorian boat ramp launch fees and to buy out commercial fish-netting licences in Port Phillip and on the Gippsland Lakes.
"This is one of the highest priority projects for the Portsea community," he said. "I want the people of Portsea to understand that this will be fixed at some stage and I am currently pursuing a meeting with Premier Andrews to discuss funding the restoration."
Cr Hearn said: "The council and the working group have a fresh set of eyes on this beach and will make its restoration a priority."
Mr Baker said: "We've had the right people in the room for several months now. We have completed some comprehensive modelling and we have two really good options to explore to restore the beach to its former glory."
He said a "preferred option at this stage" was to pump ashore a significant amount of sand to replenish the depleted beach and reduce wave action and sand movement.
"Once the dredging is complete the experts are pointing to a return of the iconic beach with immediate settling of conditions," he said.
Cr Fraser said: "The Victorian community want their Portsea beach restored. The technical advice to achieve this is in hand but commitment and the money from the state government to do so is also required."
Cr Payne said: "Portsea beach was a unique Australian beach. It was one of only five north-facing beaches in Australia (including Darwin and Noosa).
First published in the Southern Peninsula News – 11 February 2020