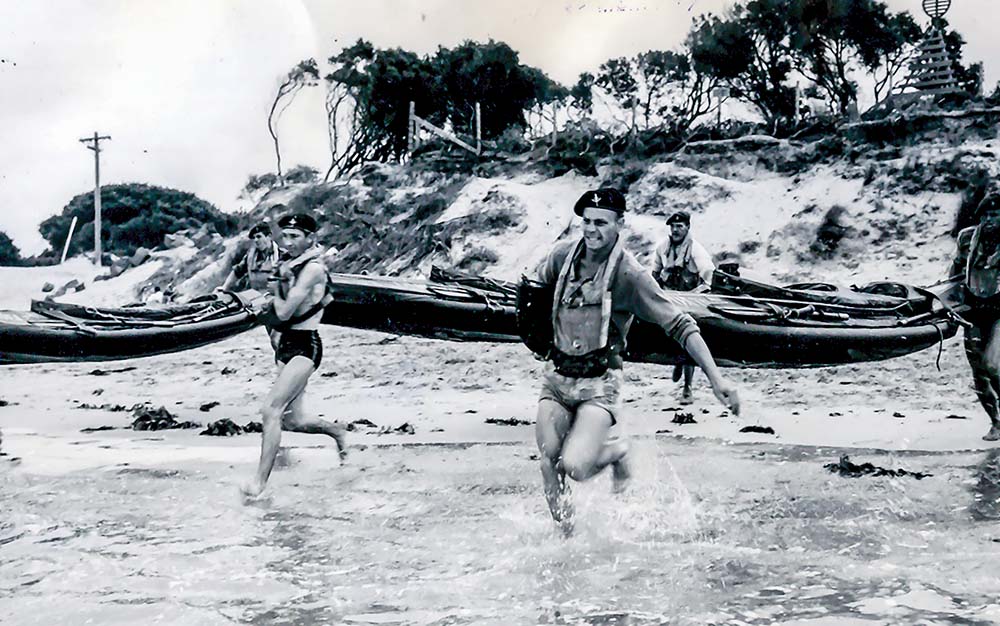 A MEMORIAL "pilgrimage" conducted at Queenscliff last week has special relevance to families living on the Mornington Peninsula.
It marked the date 60 years ago when three young Army commandoes lost their lives in a training exercise while crossing The Rip, 17 February 1960.
A ceremony marking the tragedy was held at Shortlands Bluff, Sunday 16 February.
Soldiers involved in the exercise still living on the Mornington Peninsula are Bob Dunball, Dave Gilder, Leigh Power, Wil Vicum and Winston Trood.
A keen historian – and skipper of an army vessel involved in the disaster – Mr Trood said on that fateful night search aircraft and vessels large and small were scouring the choppy waters outside the Rip in a desperate, futile search for Commando Roger Wood missing from the exercise the night before.
Next morning commandos also searched beaches from Point Lonsdale to Barwon Heads for their missing comrade in the knowledge that two others had already been confirmed drowned, with several others injured.
They were part of an "attack" flotilla of 74 commandos in kayaks, three man and 10 man inflatable zodiacs, and various safety craft which set off at 6pm from Lonsdale Bight beach, planning to cross the bay and launch a tactical raid on the Officer Cadet School, Portsea.
Their preparations had been thorough: the Melbourne-based 2 Commando Company had camped at Point Lonsdale for 16 days of training and military exercises. The company and its fellow 1 Commando Company in Sydney were, until 1999, the only post-World War II commando units in Australia.
The CMF (now known as Army Reserve) commando unit included soldiers who had completed their compulsory national service training. They had volunteered as commandos while fulfilling their final year of part-time training. Many of these young men become so involved in the commando way of life they stayed on as volunteers after they discharged their national service obligation.
Among the skills they were perfecting were diving and small craft handling. At the same time, they spent many days practising raid tactics under their officers and senior NCOs, many who had served in WWII and the Korean conflict. They were supported by eight members of 41 Amphibious Transport Platoon whose two DUKWs (or 'Ducks'), a workboat and a tugboat, acted as safety craft for the kayaks and zodiac crews, and provided a platform for the frogman diving course.
In the week before the planned amphibious raid on Portsea the company had done a 50-kilometre navigation march across the Bellarine Peninsula on a day of 30 degrees-plus. They were fit, highly trained young men – but that was not enough to prepare them for the dangers they encountered on their "raid".
A couple of hours into the exercise a fierce eight-knot turning tide caught the party and swept them out to sea through the Rip. The tide was met head-on by a strong south-westerly wind and huge waves – later estimated at 30 feet (10 metres) – which pushed the craft backwards and capsized many of them.
Many of the two-man crews were picked up by larger safety craft, leaving their abandoned kayaks to drift away, but the huge seas swamped and capsized the rescue vessels proving them to be no safe havens.
As the night wore on men were rescued by passing ships, including the Port Phillip Pilot ship the Akuna and a small flotilla of local vessels. A few paddlers made the Portsea shore in their kayaks, but many were picked up from the water, or from upturned boats, many kilometres out to sea.
These included eight commandos rescued from their zodiacs by the Italian liner Toscana. Sadly, at the point of rescue, Roger Wood was dashed from the ship's rope ladder by a giant wave after helping his comrades to safety.
Glenn Doyle, who later served in the UK parachute battalion, recalled: "All hell broke loose – bloody great white-topped waves and canoes spread all round the horizon. We were ordered to 'raft up' – tie their craft together – on our safety craft.
"Towing proved impossible and we thankfully scrambled aboard the safety craft, wrapped the tow lines around the uprights on the 'Duck' and breathed a sigh of relief – we were 'safe'!"
But it was not to be … "Shortly afterwards the Duck, skippered by Eddie Meyer, was swamped by huge waves, the pumps couldn't cope, and it sunk."
"Captain Jack Fletcher ordered us to jump and had the foresight to grab a life buoy," Doyle said. "Jack did a terrific job. He kept me afloat as my life jacket became useless when the Duck went down, and he kept us around the one life buoy … we were all exhausted and prone to drift off."
Fletcher was later awarded the George Medal for his bravery. "I think we were in the water three to three-and-a-half hours," he said. "We were eventually picked up by a lifeboat from the Akuna and sometime later I was told that Meyer and Drakopoulos had drowned."
Major Bruce Fox, the company medical officer, who had already been picked up by the Akuna, pronounced both men dead shortly after they were transferred from the lifeboat.
In 2000 a memorial was established on Shortlands Bluff at Queenscliff, overlooking the Rip and dedicated to the soldiers who had died 40 years earlier. The memorial commemorates the three men: Warrant Officer George 'Taffy' Drakopoulos and Private Roger Wood – whose body was never found – both from 2 Commando Company, and the driver of the Duck, Private Eddie Meyer, 41 Amphibious Tpt Platoon, Royal Australian Army Service Corps.
"Those three men will never be forgotten," Australian Commando Association Victorian president Doug Knight said.
An official inquiry later found that a misreading of information on tide changes possibly led to the men setting off in dangerous conditions.
First published in the Southern Peninsula News – 18 February 2020