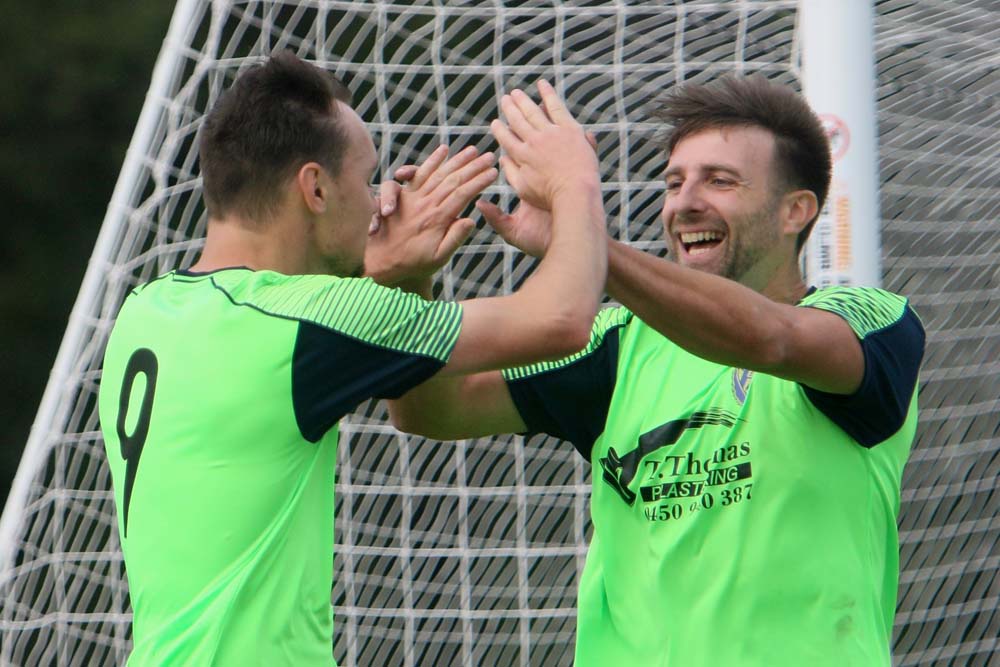 SOCCER
ROSEBUD agreed terms with Mark Pagliarulo last week breaking up the most prolific strike partnership in local ranks.
Pagliarulo and goalscoring legend Dave Greening powered Somerville Eagles to the State 5 South championship last season but the dynamic duo are no more.
Between them they nabbed 49 goals in 2019 as Somerville cruised to the title with a nine-point margin.
Both fielded a number of offers recently with Greening deciding to remain at Somerville while "Pags" has flown the nest.
Before settling on the switch to Olympic Park the big Scot turned down a lucrative offer to sign for rival State 5 South outfit White Star Dandenong.
"It was hard to resist but I played for decent money back home at times and I never enjoyed it because I went to the clubs for cash," he said.
"Now I want to help develop younger players and help Rosebud achieve success.
"I've been impressed with the club since one of my sons played there last season.
"The hard part was telling the boys at Somerville because I loved my time there and I'm devastated to be leaving them."
Director of football Zach Peddersen echoed the general sentiment at the Eagles when saying goodbye to last year's top scorer.
"We know he'll be back one day but for now Rosebud is a better fit for his family and we wish him all the best for the season ahead," he said.
Last week Rosebud also announced the signings of Eric Manhanong (also from Somerville), Hayden Hicks and Ryan McCann.
Manhanong can play at the back or in midfield, Hicks is a goalkeeper who has had spells at Peninsula Strikers, Old Carey and Swinburne while McCann has been with Mooroolbark and East Brighton.
In FFA Cup news no local State 5 clubs remain in this year's knockout competition after Rosebud, Aspendale Stingrays and Mount Martha all lost on Saturday.
"Pags" didn't play in Rosebud's 3-2 away loss to Barwon after injuring his right knee at training two days before the match.
Rosebud was 3-0 down at half-time but a 64th minute goal from Chris Parry running onto a ball over the top and finishing well opened the visitors' account.
In the 81st minute Blake Hicks pressured Barwon keeper Kieran Ower in a 50/50 and Hicks was presented with a tap in to make it 3-2 and the home side was made to sweat through the final minutes of the contest.
Aspendale Stingrays lost 4-3 on penalties to fellow State 5 rival White Star Dandenong at Kingston Heath after the sides were locked at 1-1 after normal time and extra time.
Louis Palmire put White Star ahead in the 13th minute and the Stingrays equalised in the 59th minute.
A Pete Dimopoulos corner fell to James Macnab and his deflected shot beat White Star keeper Bobby Pejkovic.
Aspendale's best were Tom Lonsing, Dylan Guedes, Kieran Hughes and Sam Timuska-Carr.
Mount Martha's senior soccer bow resulted in a 5-0 defeat against a much more seasoned Shepparton South at Padua College in Mornington.
If the visitors from the Bendigo Amateur Soccer League were in State 5 South they'd be one of the pre-season title favourites and they had winners all over the pitch.
Predominant among them were winger Remell Davis who started on the left, switched to the right and had a spell through the middle but was a constant threat and central midfielder Shaun Kane.
Kane's partner in the middle was Kabir Kareem whose possession stats were through the roof but time and again he had to take extra touches when quick ball movement would have added to the pressure on the home team.
Mount Martha never gave up and its ability to keep running and harassing the opposition will be one of its strong suits this season.
As will the presence of one of its few experienced players in left back Adam Steele who has been on the books of Manningham United and Ashburton United.
As if to validate his surname his scything challenge from behind on Davis in the second half forced referee Ellmir Asipi to brandish a yellow card.
Shepparton hit the front in the 13th minute when the home team failed to clear and Kane's cutback was hammered home by striker Joel Aitken despite Mount Martha keeper Alex Davies getting a hand to the shot.
The Kane-Aitken combination struck again in the 36th minute when Kane's free kick was headed home by Aitken to make it 2-0 and a minute later it was contest over after Kane pounced on a terrible defensive blunder and neatly shot low into the far corner.
In the 61st minute Davis broke clear on the left of the area and his low shot past the advancing Davies made it 4-0.
A minute later young Mount Martha striker Connor Mooney forced Shepparton keeper Robert Harmeston to parry at his near post and home fans reacted enthusiastically as it was Mount Martha's most dangerous moment in the contest.
A howler from Davies in the 73rd minute when he got both hands to a shot but failed to hold on allowed Kareem to get his name on the scoresheet.
For the record Mount Martha's first ever senior matchday squad was: Davies, Jannes Kalkbrenner, Steele, Howie Anderson, Jack Ecuyer, Josh Smith, Seb Siegl, Darragh Fitzsimmons, Mooney, Ethan Sanderson, Alex Giordano. Substitutes: Harry Aylett, Ben Edward, Archie Thomas, Tom Brewster, Jack Woodhill.
In NPL news Langwarrin's search for a goalkeeper ended last week when it agreed terms with James Burgess from Springvale White Eagles.
The 20-year-old has also been at Bentleigh Greens and played in Langy's 4-1 friendly loss away to Preston Lions on Saturday with Tom Youngs scoring for Langy with a classy finish.
In other practice match news Josh Hine was unstoppable in Mornington's 4-2 away win over State 1 North-West outfit Banyule City.
Hine's four goals and the debut of 24-year-old midfielder Dylan Fairclough were highlights for Mornington.
Australian-born Fairclough has recently returned from England and last year played with Fleetwood Hesketh in the Southport & District Amateur Football League.
Injuries and unavailability hit Mornington's matchday squad against Banyule and matters weren't helped when central defender Steve Elliott, who has been in good form since returning from Doveton, was forced off through injury.
Peninsula Strikers recovered from an early setback to beat Mazenod 2-1 last weekend at Kingston Heath.
Mazenod led after 13 minutes through an error by young keeper Nick Scialpi deputising for Robbie Acs who was at a wedding.
Strikers hit back in the 38th minute when a superb through ball to former Seaford United and East Bentleigh striker Ben Doree saw him cut inside an opponent before coolly slotting it past the keeper in the 38th minute.
Three minutes later a cracking through ball from Alex Whyte released Tuach Ter down the right and his first-time cross was finished well by Jason Bradbury.
Skye United beat Dandenong South 3-1 last Thursday night with Mitch Blake, Mikey Turner and Stephen Tsering scoring for Skye.
On Saturday Skye added State 1 side Casey Comets to its pre-season scalps with a 1-0 win at John Paul College.
A stunning long-range strike by 17-year-old Reilly Saffin settled the issue in what was a hard-fought win by a depleted Skye side.
Saffin was with Mornington's under-18s last year.
Frankston Pines beat Noble Park 4-0 on Saturday night at Monterey Reserve with goals from CJ Hodgson (2), Hamraz Zanoozi and Jason Tiso.
Baxter lost 2-0 to Knox City last weekend while Seaford United drew 2-2 with North Melbourne Athletic thanks to a Dylan Waugh double.
Queensland triallist Ryan Ramsden from Magpies Crusaders was in goal for Seaford in the first half and could sign this week.
On Sunday Somerville Eagles won 4-3 against Mount Eliza at Somerville Secondary College with Sam Beadle (2), Bjorn Kutschera and Greening scoring for Somerville.
This week's pre-season friendlies:
TUESDAY: Seaford reserves v Frankston Pines reserves, North Seaford Reserve, 7pm.
THURSDAY: Frankston Pines v Skye Utd, Monterey Reserve, 7pm.
SATURDAY: Doveton v Langwarrin, Waratah Reserve (venue to be confirmed), 11am (U18s), 1pm & 3pm; Bulleen v Mornington, Veneto Club, 10am & 12 noon; Peninsula Strikers v Chelsea, Centenary Park, 1pm & 3pm; Seaford Utd v Middle Park, North Seaford Reserve, 11am and 1pm; Baxter v Rosebud, Baxter Park, 1pm & 3pm; Somerville Eagles v Mount Martha, Somerville Secondary College, 1pm & 3pm.