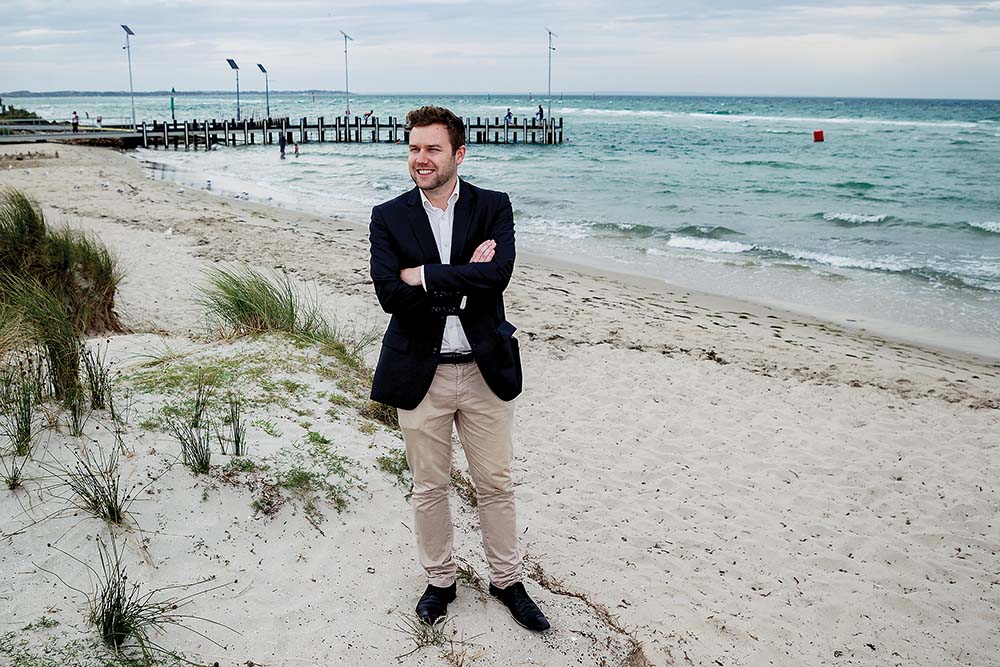 NEPEAN MP Chris Brayne realised he was growing into the role when a roomful of staunch Liberals came up to shake his hand after a Sorrento Rotary function at Portsea.
The Labor pollie – the youngest in the state at 26 and the first ALP candidate to win the seat since it evolved from the former electorate of Dromana in 2002 – said no one had wanted to know him when he arrived.
"I was reminded by the club president that I was walking into the Lion's den and just had to smile and agree with him," Brayne recalls.
"Then, after I said my piece and held a Q&A session, I felt things were improving and, when it was all over, they all came up and wanted to shake my hand. I thought to myself: 'Yeah, I must be doing OK'."
It was a sweet moment for the Balnarring boy who took the once-strong Liberal seat 14 months ago from long-time incumbent and retiring former minister Martin Dixon, whose office manager Russell Joseph had seemed a shoe-in to replace him.
The election result, even though it was on the back of a strong ALP showing state-wide, surprised the pundits, and Brayne: "I didn't expect to be in this role; the betting was $1.01 on Russell and $16 on me.
"I stood because I love the area where I live and was raised. We live in the best part of the best country in the world. I feel blessed to be here.
"I had made no campaign promises and so could start with a clean slate."
The irony of someone his young age representing the seat with the second oldest age demographic in the state is not lost on him. "When I go to bowls, croquet and tennis clubs the members are so much older, but I think they like me being much younger," he said.
He sees the best part of his role as doing just that – visiting clubs, community groups and schools where he is "meeting the people I represent in parliament".
An enticement to stand in the first place was being "sick of the status quo" which saw Frankston being spoilt with a new train station, hospital upgrades and school upgrades.
"I wanted to remedy that," he said.
Brayne said he would visit all the schools in his electorate to find out what they wanted to achieve "because investment in schools is crucial".
"For example, Red Hill Consolidated School had received no capital works for 50 years – yet if a school is well resourced it will get better teachers and the students will respond," he said.
The school is now in line for a $3.2 million grant, while Dromana Secondary College will benefit from $2 million to remove asbestos and Boneo Primary School will get shade sales and a sensory garden.
The grants could help counter the disturbing trend of Mornington Peninsula secondary students having a low rate of university admissions.
A visit by students from Rosebud Secondary College to discuss their desire for a wellness pavilion resulted in matching $300,000 grants from state and federal governments. "I was closer to the students' age group, which I think made it easier for them to feel relaxed and able to communicate with me," he said.
"Schools are a huge focus for me. I want to try to get to know the kids. I want to be the MP that young people feel comfortable with, so that it might help them get politically active and comfortable with politics."
Brayne said young people in Nepean were, rightly, concerned about climate change, "the biggest issue of our time".
"I'm proud to be in a government that has a target of net zero emissions by 2050."
Proof of this community view is that the seat of Nepean has the highest uptake of solar panel rebates in the state, he said. "People want to invest in green technology."
Hospital funding and homelessness are other issues requiring further consideration, he said. "When the social housing budget is being prepared I aim to make sure Nepean gets its fair share."
"The reality is that we do have homelessness; it's been a long built-up issue. I want to play my role and leverage social housing."
An embarrassing hiccup along the way – when he lost his licence for three months for speeding late last November – has had positive upsides. "I did the wrong thing, but the community has been very supportive," he said.
"Soon afterwards I was at McCrae carols when a taxi driver came up and asked if I needed a lift." Someone else gave him a bike.
Brayne says he will place greater emphasis on tapping into the knowledge of those with experience and understanding of the peninsula. This will include regular meetings with Mornington Peninsula Shire Council, with the first for the year this month.
"I met [the mayor Cr] Sam Hearn recently and he is as passionate as I am about the peninsula."
Getting recognised in public is pleasant, but still takes some getting used to. "A guy delivering a washing machine winked at me the other day and, when I was walking to an event, a woman turned and said: "Chris Brayne, as I live and breathe. What are you doing here?"
Perhaps the most satisfying comment came from a woman who said: "I didn't vote for you but you seem OK."
The signs are positive that this young pollie will grow further into the role. Who knows, it may even become his career.
First published in the Southern Peninsula News – 18 February 2020