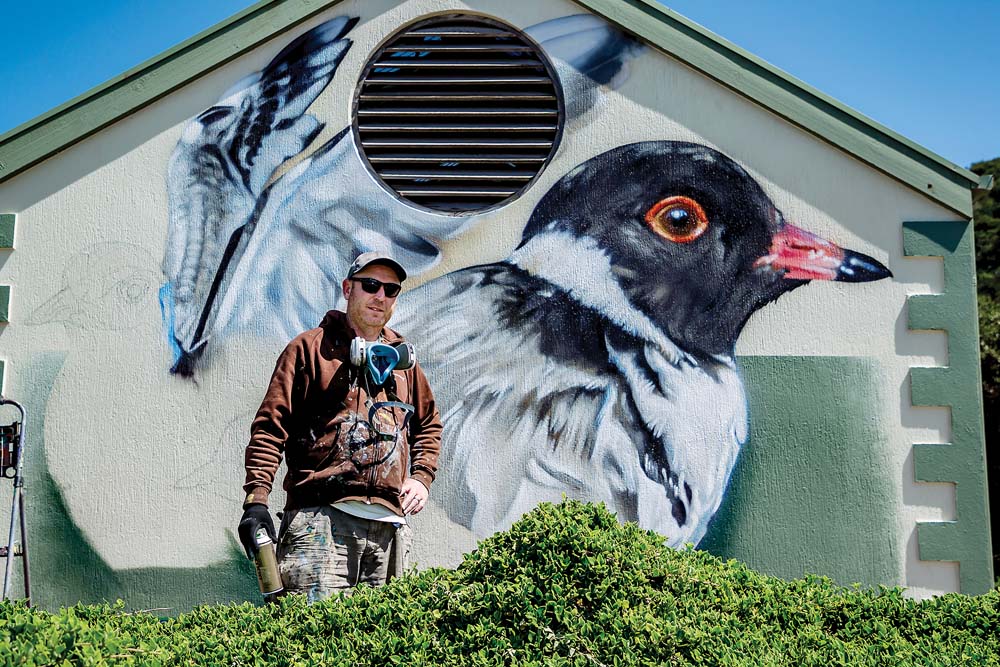 HOODED plovers are moving into Sorrento in a big way.
The small birds are usually spotted darting around near the waterline or, when nesting, protecting their exposed eggs from predators and the elements (just 2.5 per cent of the birds survive from egg to fledgling).
But now there's no excuse for not knowing what a hoodie, as they're affectionately known, looks like.
Jimmy "Dvate" Beattie has used his aerosol paints and mural skills to cover a wall at Sorrento back beach with a hooded plover and chick.
Beattie is known for his work on Victoria's silo art trail and spaces in London, Amsterdam and New York.
Originally from Frankston, he has a passion for conservation and many of his images draw attention to native animals and nature.
His first brush with the hooded plover came in 2018 with his contribution to Frankston's inaugural Big Picture street art festival.
"We believe that Jimmy's images [at Sorrento] will create a new talking point about hooded plovers and indeed, the issue of coastal conservation," Friends of the Hooded Plover (Mornington Peninsula) Karen Wootton said.
"It won't be a huge artwork, but it will be in a highly visible location with a spectacular backdrop."
The official launch Beattie's latest artwork starts at 11am Saturday 29 February 29th at Sorrento back beach (near the surf lifesaving club).
First published in the Southern Peninsula News – 25 February 2020