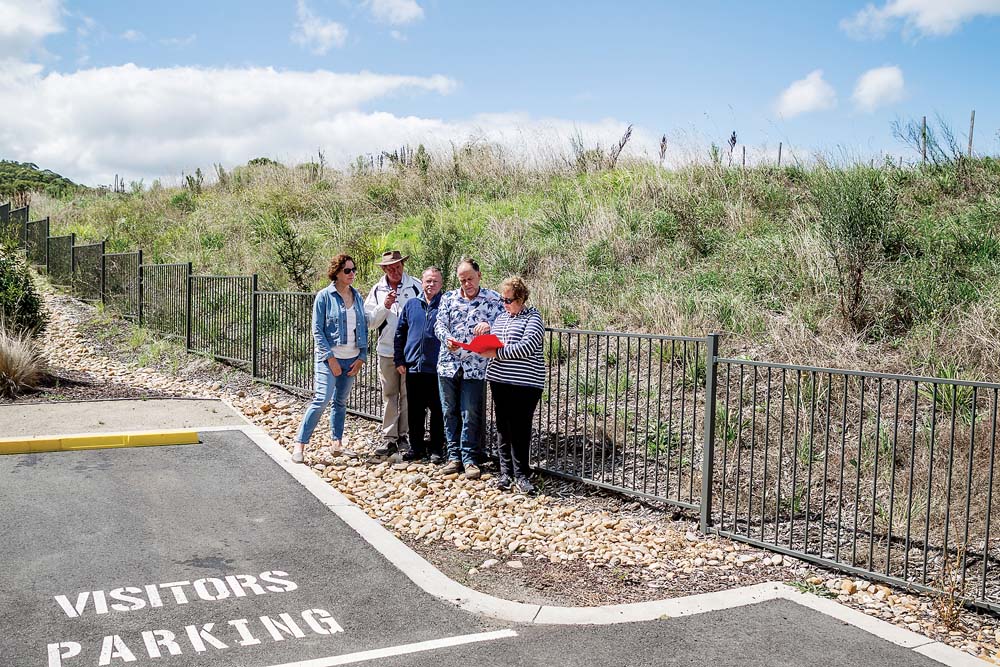 MARTHA Cove residents upset over unfinished landscaping following the construction of houses on Helm Avenue have called on Mornington Peninsula Shire Council to clean up the mess.
Their primary concerns centre on the height and slope of mounded soil at the eastern end of the street and unkempt vegetation. They say the mound can't be properly maintained and is a fire risk, harbours snakes and is detrimental to the amenity of the neighbourhood.
The residents say they are "seeking clarity" on how their concerns will be resolved.
"There is uncertainty around how this landscape feature will be maintained with the developer soon to hand-over the maintenance of this area to the body corporate," petitioner Fred Isarin said. "We don't believe it is maintainable in its current form and condition."
Cr Simon Brooks, who met residents at the mound, said he would pass the petition to the shire and follow up the residents' concerns with officers.
"There has been an evolution of planning conditions in this area and it is in everyone's interest to ensure best practise and processes are followed," Cr Brooks said.
"The shire's ability to manage day-to-day issues around traffic, parking and amenity in general relies on considered planning controls.
"I'm certain everyone is on the same page and that our officers will ensure the best outcome for residents."
The shire has hired an "expert planning consultant" to review all permits relating to the two decades of development of the Martha Cove residential and marina project ("Expert to probe Martha Cove" The News 25/2/20).
First published in the Southern Peninsula News – 3 March 2020