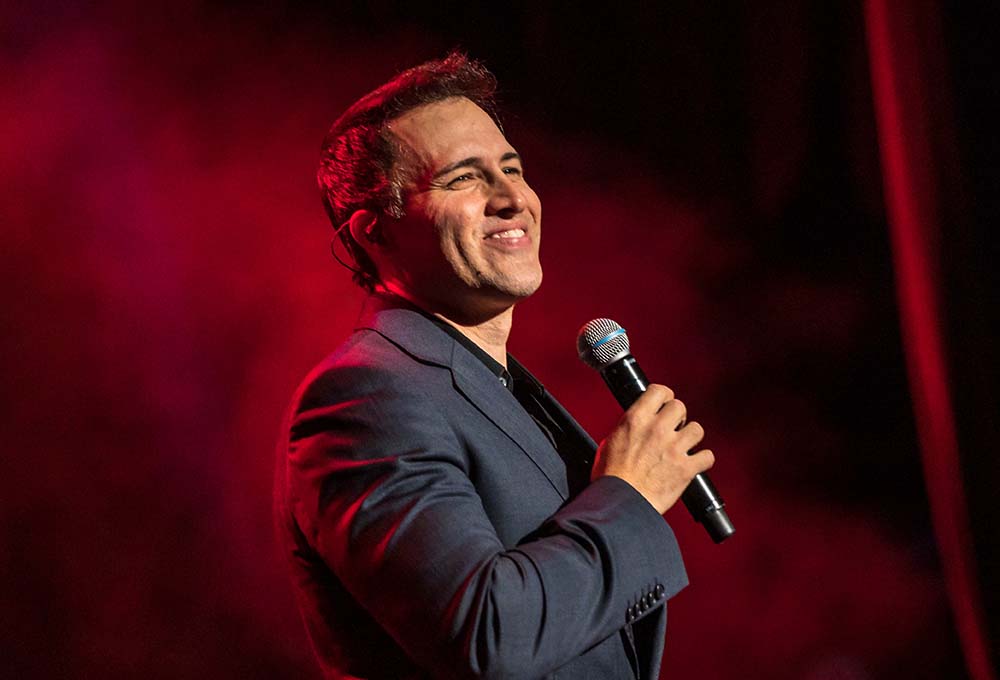 DIRECT from the USA "You Got It! – a salute to Roy Orbison"  Live In Concert.
Wesley Orbison, Roy Orbison's eldest son is very proud to fully endorse and present this amazing live concert experience remembering his father as we relive the sound & all the magical hits of Music Legend Roy Orbison in an International production starring The sensational Voice From Downunder John Stephan.
This is the only show of its kind in the world and is officially endorsed & presented by Roy Orbison's eldest son Wesley Orbison. Featuring spoken word from Wesley with a very personal narrative of Roy's intriguing yet tragic life.
Superstar Roy Orbison was one of the world's greatest and most successful Rock n Roll Music Legends of all time.
Internationally Renowned Artist John Stephan will be celebrating & and paying the ultimate homage to The Big O showcasing all his classic hits together with Roy Orbison's massive 15 number 1 hits right across the world with a special touch to the hugely popular "The Traveling Wilburys".
With a voice filled with warmth, emotion and a four-octave range, "the voice from down under" will take audience members on an incredible trip through the storied career of Orbison, covering a multitude of his chart-topping hits. "You Got It! A Salute to Roy Orbison".
Direct from Las Vegas "YOU GOT IT! – A Salute to ROY ORBISON" will see audiences mesmerised in an unforgettable live International Concert Experience starring multi award winning artist " The Voice From Downunder" John Stephan with over 10 million albums sold worldwide that feature his sensational voice and a string of National & International awards.
Come and relive the glory days as singer songwriter John Stephan performs Roy Orbison's iconic hits such as "Pretty Woman", "Crying", "I Drove All Night", "Leah", "Working For The Man", "Blue Bayou "Only The Lonely", "In Dreams", "Blue Angel", "You Got It", "Running Scared" and many many more.
Working alongside the best in the business John Stephan has garnered strong support & friendship with some of the music industry's most prestigious producers and writers including Walter Afanasleff, Babyface, Dann Huff, Vince Gill & Jorgen Elofsson to name a few – he has shared the stage with some of the world's finest artists including Faith Hill, Kenny Chesney, Jewel, Keith Urban, Taylor Swift and many more.
He has toured Japan, USA and parts of Europe and based himself in the USA starring in his show on the Las Vegas Strip, Maui & Nashville to thunderous applause and standing ovations.
"John Stephan has the powerful voice and compelling stage presence of a superstar! In his songs he truly captures the emotions and power of music at it's very best" – Vince Gill (19 Grammy Awards, 10 CMA Awards Country Music Hall Of Fame Inductee)
"John Stephan is passionate as a lyricist and an extremely moving performer. I took one listen to this guy and decided I wanted to do everything in my power to help catapult John Stephan to the top !" – Dann Huff ( producer & guitarist – Michael Jackson, Celine Dion, Keith Urban, Faith Hill )
"By experiencing this show you could not get any closer to the late great music legend Roy Orbison" – (Tony Conway Roy Orbison's former booking agent)
This is one hit concert experience not to be missed !
Frankston Arts Centre Saturday 21 March, 8pm
Tickets at thefac.com.au