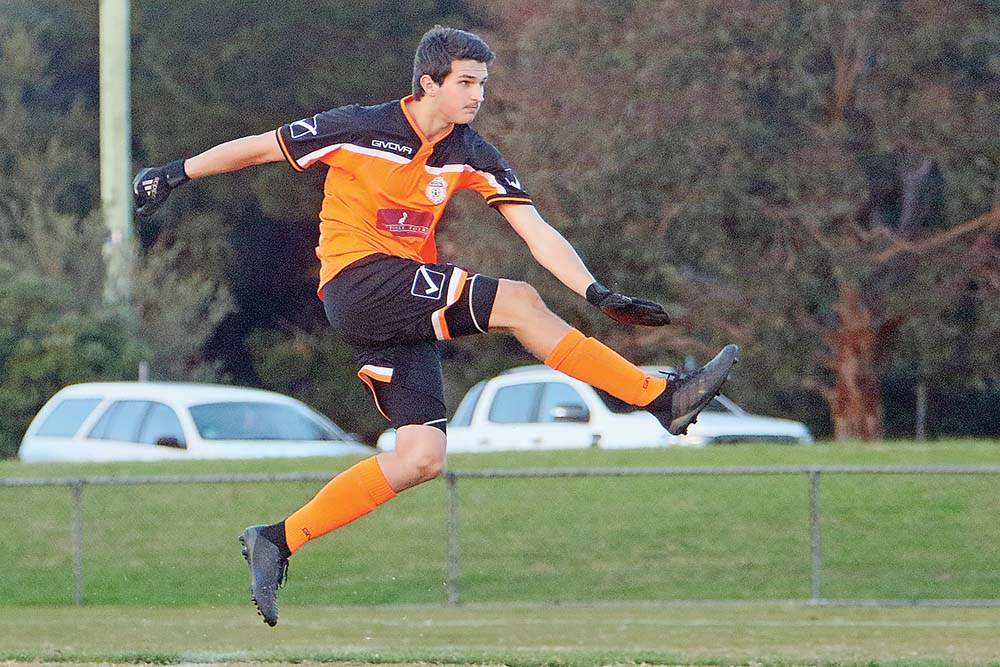 SOCCER
SEAFORD United was the only local club to survive last weekend's round of FFA Cup matches.
The draw for the next round was due to be conducted today (Tuesday) as we went to press.
Langwarrin, Mornington, Peninsula Strikers and Skye United all entered this week's draw so just five local clubs out of 12 who contested Australia's premier knockout competition in 2020 remain in the hunt for glory.
Harry McCartney reports that Seaford had to endure a nerve-racking penalty shootout against visitor Brunswick Zebras on Saturday.
The local outfit won that showdown 7-6 after the sides were locked together at 2-2 after normal time and couldn't be separated after 30 minutes of extra time.
Seaford had started well with young striker Conor Mcfall chesting down a cross in the 10th minute then striking his shot in off the near post.
McFall had trained with rival State 4 club Baxter the previous week before agreeing terms to stay at North Seaford Reserve.
In the 32nd minute Mitch Hawkins headed over advancing Brunswick keeper Nicholas Manduca and the home team had a firm grip on the contest.
An error by Seaford goalkeeper Ryan Ramsden in the second half gifted a goal to Hogan Somers and Christian Smith forced the tie into extra time when he made it 2-2.
The deadlock couldn't be broken and Seaford substitute keeper Justin Holland who had come on near the end of normal time made his third penalty save in successive cup ties to send the home team through to the next round.
State 4 club Chelsea was dumped from the cup last Saturday after a 5-1 loss at home to State 5 opponent Mount Waverly City.
The visitors to Edithvale Reserve wrapped up this clash in the first 45 minutes and went in at the interval with a commanding 4-0 lead.
Chelsea was missing key players and that proved crucial.
Its only reply was a spectacular solo effort from Luke D'Alessandro in the 57th minute when he took on three opponents on the left before hammering the ball into the top far corner.
But that proved of little consequence as an Evan Devlin hat-trick and singles to Mount Waverley captain James Kelly and Alec Tsementzis sent the visitors through to the next round.
Despite the loss it would be a mistake to dismiss Chelsea's league prospects this season.
Head coach Carlo Melino has been busy bolstering his squad and arguably his biggest coup was clinching the signature of striker Piers Brelsford from Yarra Jets who was second top scorer in State 5 East last season.
Other newcomers were winger Will Ong from Ringwood City, ex-Mornington defender Sam Dunn, defensive midfielder Nathan Boccari from Beaumaris, former Bayside Argonauts striker Adrian Lotca and two youngsters returning to the club in attacking midfielder Abdul Mohammad and right back Josh Torossian.
At Monterey Reserve on Saturday State 5 visitor Barwon embarrassed its State 3 opponent running out a deserved 4-2 victor.
Frankston Pines had gone into the cup match without their much-vaunted quartet of Fijian internationals.
Their international clearances were not processed in time so they enjoyed a casual stroll in the reserves friendly which the home team won 9-2.
The cup clash was an entirely different matter.
An intriguing mix of slapstick defending, remarkable reflex goalkeeping and finishing so bad it had to be seen to be believed made for an interesting afternoon for the 42 spectators that were there from the outset.
That figure includes a handful of toddlers and doesn't include the reserves teams and support staff who were in and around the dressing rooms after playing their part in proceedings.
A square Barwon defence playing a high defensive line invited Pines to break into one-on-ones in the first half against opposition keeper Kieran Ower.
Not that it mattered as Lachlan McMinimee failed to hit the target after lobbing over Ower towards an unguarded goal then Pines captain CJ Hodgson shot wide after being put through.
Callum Richardson scuffed his shot after breaking clear in the 34th minute the ball falling to McMinimee whose first attempt from close range was parried by the advancing Ower and his second attempt skewed wide of the target.
Barwon should have gone ahead a few minutes earlier when Nathan Niedzwiedzki's cross from the right picked out the unmarked Moo Thay at the back post but he headed straight at Pines keeper Jarrod Nardino.
The rangy Pines gloveman was to play a pivotal role in proceedings, first with a disastrous piece of goalkeeping right on half-time then with a series of stunning reaction saves after the interval that stopped Barwon blowing Pines away.
Jardino attempted to throw the ball to a teammate in first half time added only to hit the back of Barwon's Ni Reh who turned around and scored the opener.
In the first 10 minutes of the second period Barwon striker Mylton Bailey would have had a hat-trick if Nardino hadn't reacted so quickly using every centimetre of his lengthy reach to effect a series of point blank saves.
Then Hodgson blew his second great chance when put through by Joe O'Connor and at the other end yet another Nardino save denied Moo Thay.
But Barwon finally broke through in the 66th minute when Moo Thay was sent clear by Bailey to make it 2-0.
Pines boss Kevin "Squizzy" Taylor exploded in the technical area haranguing his players and slamming their performance.
Hodgson then discarded his captain's armband and later Pines claimed it was simply because it was too tight and was annoying him.
The timing was unfortunate.
But Pines hit back in the 70th minute when Richardson went down inside the area and the ensuing penalty was easily converted by Hodgson.
McMinimee should have done better with his header on the end of Cole Ryan's far post cross from the right but O'Connor made amends when he ran onto a through ball in the 84th minute and on the bounce lobbed Ower to make it 2-2.
In the first minute of injury time the elusive Moo Thay raced clear once more and poked the ball past Jardino to make it 3-2.
Three minutes later Bailey iced it with a shot from close range, a fitting reward for the 17-year-old who was the best player on the pitch.
In State 2 news the tug-of-war to secure the signature of attacking midfielder Shane Tagliaferro has ended and he has agreed terms with Peninsula Strikers.
"Tags" trained with both Seaford United and Strikers and last week Strikers head coach Paul Williams was delighted to announce that his club had signed the veteran.
"Shane is part of the process of building an exciting squad which has a good blend of experience and youth," Williams said.
"He's a cultured and creative midfielder who can dictate tempo and I'm sure he'll bring his fair share of assists and goals to us."
In State 4 news Baxter received a bodyblow with news that central defender Matt McDermott has a fractured fibula sustained against Darebin United in the FFA Cup a fortnight back.
The break resulted from a reckless challenge in the 71st minute by Darebin's Frank Drakopoulos who left referee Jackson Landy with no choice but to send him off.
McDermott had to be substituted and the veteran is expected to be sidelined for six to eight weeks.
Drakopoulos was given a three-week suspension that drops to two weeks with a guilty plea.
Results of last weekend's friendlies: Langwarrin 2 (Delarno Pharoe, George Howard penalty) Nunawading City 1; Bentleigh Cobras 2 Peninsula Strikers 2; Pakenham Utd 1 Somerville Eagles 3 (Bjorn Kutschera, Jack Wyer, own goal); HMAS Cerberus 3 Rosebud 4 (Cory Osorio, Blake Hicks, Owen McDougall, Michael Durrance).
Mornington's friendly on Saturday at home to Caroline Springs George Cross was abandoned after Mornington team manager Tony McKay collapsed in the dressing rooms before the match and had to be rushed to hospital.
There was no further information as we went to press.
Mornington wishes to thank George Cross for being both understanding and respectful of the situation.
This weekend's pre-season friendlies:
THURSDAY: Endeavour Hills Fire v Chelsea, Power Reserve, 6.30pm & 8.30pm.
FRIDAY: Frankston Pines v Rosebud, Monterey Reserve, 6.30pm & 8.30pm.
SATURDAY: Baxter v Aspendale Stingrays, Baxter Park, 1pm & 3pm; Knox Utd v Somerville Eagles, Park Ridge Reserve, 1pm & 3pm; Mount Martha v Mount Eliza, Padua College, 1pm & 3pm.