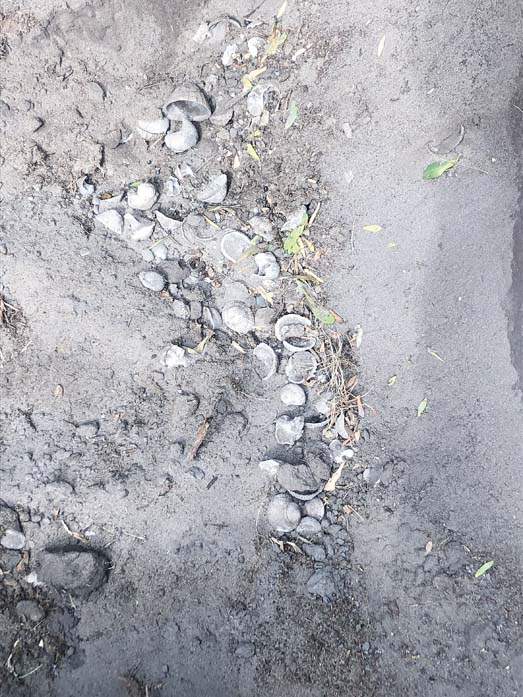 DISCOVERY of an Aboriginal shell midden put a stop to South East Water works at Sorrento late last month.
Works crews uncovered the midden, right, while installing a pressure sewer system for a residential customer, Thursday 27 February.
"Our crews stopped work in accordance with our cultural heritage protection protocols as soon as they found the midden," Liveable Water Solutions general manager Charlie Littlefair said.
"We're organising for an archaeologist to do a full assessment of the site and we're working with Bunurong Land Council Aboriginal Corporation to seek the relevant permit to continue the pressure sewer installation, and avoid further impact to the site."
Mr Littlefair said it was "common to find shell middens" on the Mornington Peninsula. "They can consist of shells from a single meal or many different meals eaten in the same location over many years," he said.
"The peninsula has a strong Aboriginal cultural history, and we recognise the important role traditional owners have in the ongoing management of water resources in Melbourne's south-east.
"We acknowledge and respect the connections that Aboriginal and Torres Strait Islander peoples have to the land and water, and we work closely with Traditional Owner groups in our service area on a number of projects."
Mr Littlefair said South East Water was working with representatives of the Bunurong, Wurundjeri and Boon Wurrung Traditional Owner Groups and First Nation gathering places to develop a reconciliation action plan.
"The [plan] seeks to provide opportunities to create connections and build trust, respect and understanding of First Nations history, and create employment and procurement opportunities," he said.
First published in the Southern Peninsula News – 10 March 2020