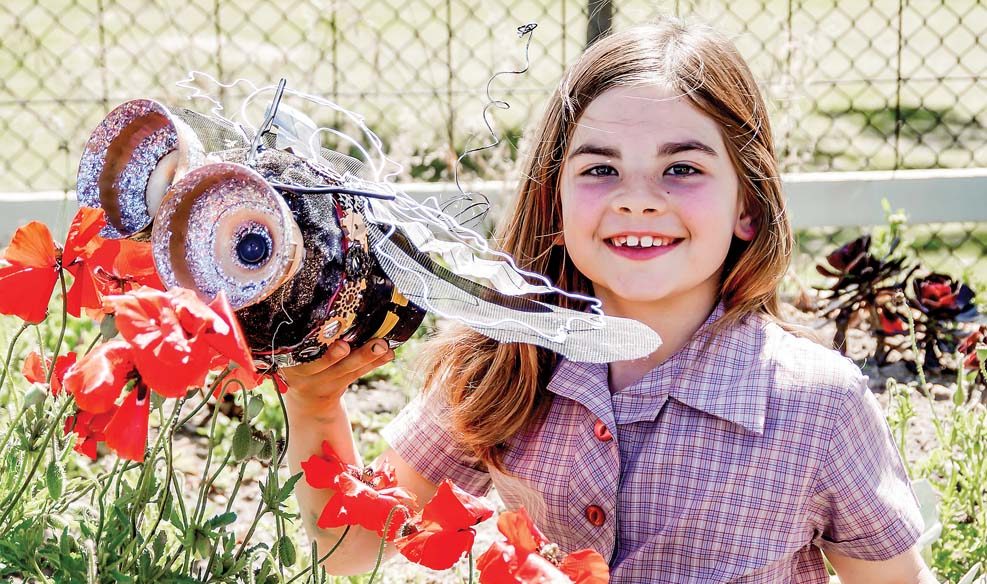 ALICE McKinnon, above, got a buzz showing off a robotic bee made from recycled materials at Our Lady of Fatima, Rosebud, last week.
Her creation was made to form part of a mechanical garden sculpture display at the Red Hill Show over the Labour Day long weekend which reflected the students' concerns about a world with only robotic bees and mechanical flowers.
At the base of the sculpture a black spray can symbolised the reason for the declining bee populations: pesticide sprays.
Visual arts teacher Amanda Heggen said the model bee helped teach the children about the decline of bees in our environment, and how bees are a crucial link in helping plants and trees produce flowers and fruit.
"The sculpture competition is based on the theme of Red Hill's agriculture," Ms Heggen said.
"The students and I have been discussing how Red Hill is known for its apple farms and bee keepers and that, if we don't look after the bees, and use fewer pesticides, then one day we may no longer have enough bees to pollinate all of our plants and trees."
First published in the Southern Peninsula News – 10 March 2020