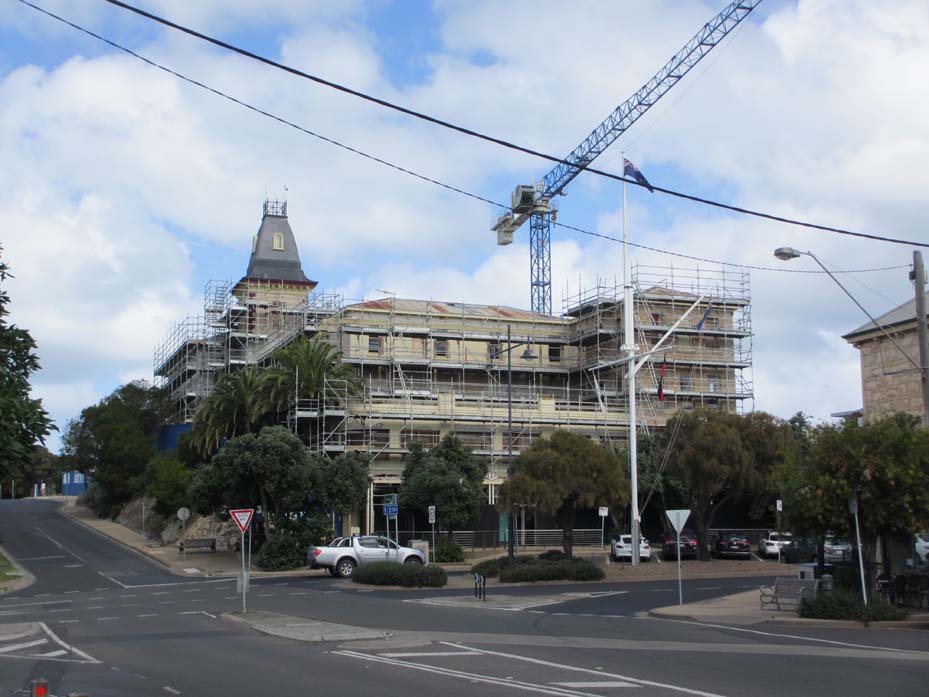 SUPPORTERS of the historic Continental Hotel fear it will sink into its massive foundations before a new buyer can be found.
The Sorrento hotel back on the market without the spruiking of Continental Development director Julian Gerner and is described as in a "clean" financial state with all previous contractual encumbrances removed.
This clears the way for a legitimate buyer with deep pockets and the wherewithal to bring the 1875 limestone icon back to its former glory – something Mr Gerner has been unable to do.
Colliers Real Estate is seeking expressions of interest after five years of on-again, off-again deals which have left the four-storey building teetering above its cavernous foundations with approved plans and permits for a wellness centre, residential accommodation and, of course, the grandest of grand hotels.
Nepean Conservation Group president Ursula de Jong said the group was pushing for a "complete and thorough assessment" of the state of the hotel. "We need to document the building as it stands now to see what needs to be done and to protect it," she said.
"What has happened is devastating for the people of Sorrento and the state. This is a heritage-listed building and the decision-makers should have been more careful.
"We want it restored, developed and protected and [these latest events] may allow it to happen."
Members of the conservation group met with Mornington Peninsula Shire  mayor Cr Sam Hearn and councillors at the site last week. "We walked around it and appraised it and the huge hole that surrounds it," Ms de Jong said. "We are thinking creatively about the best outcomes. Our priority is to reinstate the hotel as an icon of Sorrento."
Drama always seemed close after the hotel's purchase by interests associated with Mr Gerner in 2015.
After initially opting to redevelop the building himself, the hotelier later reluctantly put it back on the market as "too big [a project] to handle alone".
In December 2017 Mr Gerner took on joint venture partner Steller Property Group to help finance the now-$100 million refurbishment, but that company foundered in October 2019 and all bets were off.
Mr Gerner soon after announced he had sold the Continental to LBA Capital for a reported $21 million but continuing legal battles meant that company's finances and real estate assets were frozen by the Supreme Court after its South Korean financiers alleging it had breached its loan obligations.
With the sale looking increasingly unlikely late last year, Mr Gerner again announced he would continue the project alone.
However, last week's decision by Justice Almond – that the LBA Capital contract of sale was ended – released the deposit to first mortgagee Manda Capital Holdings. Manda reportedly has security over all the assets of Continental Development including the deposit paid by LBA Capital. Receivers have been appointed to oversee the future of Continental Development.
Petr Vrsecky, partner at PKF Melbourne and a receiver appointed by Manda Capital, said the Continental Hotel was "on the market again" and a "clean proposition".
"We are pleased and relieved the matter has been brought to a head, and that we can now move forward with the sale of such an illustrious property," he said.
"The previous contract of sale is at an end, and we welcome all expressions of interest through Colliers Real Estate."
First published in the Southern Peninsula News – 17 March 2020