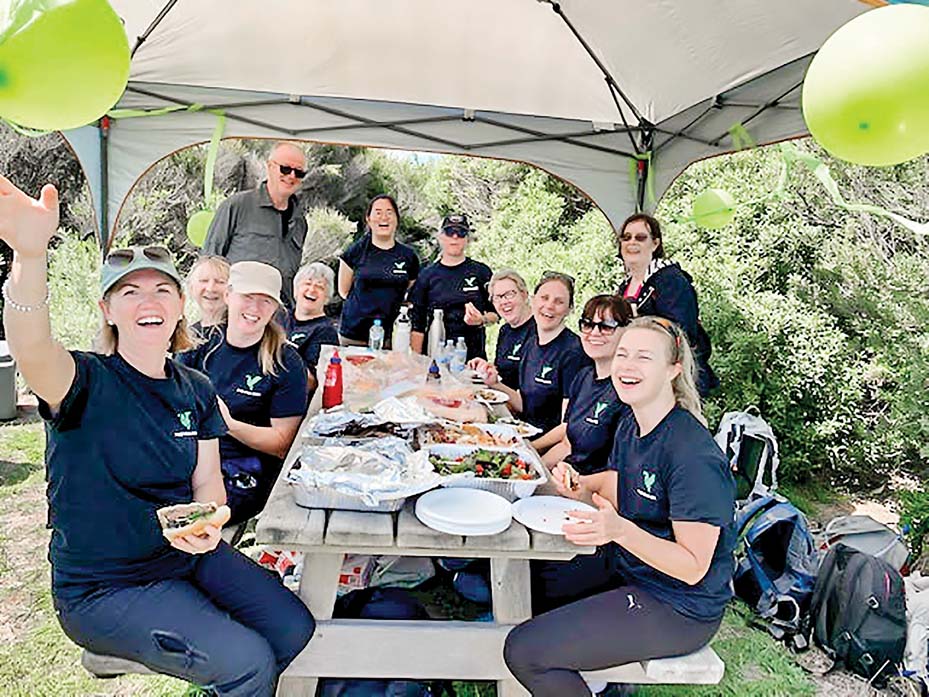 A GROUP of walkers who finished up with a barbecue at Safety Beach on the Labour Day weekend were aiming to raise awareness of a rare autoimmune liver disease known as primary sclerosing cholangitis (PSC).
The trek took them from Rosebud to Portsea on Saturday 7 March before driving back to Rosebud for the night. On the Sunday they walked from Rosebud to Safety Beach with a detour up to The Eagle chairlift.
The barbecue was held at the Safety Beach home of Travis Pearce, 34, to thank the many PSC Support Australia committee members who attended.
Mr Pearce said the condition caused inflammation of the bile ducts in the liver eventually resulting in fibrosis, cirrhosis and, in many cases, liver failure.
There is currently no cure or treatment and many patients end up needing a liver transplant, he said. Unfortunately, even after a liver transplant, because the disease is autoimmune, it can return.
Mr Pearce, who has two children aged six and three, said the main aim of the walk was to raise awareness of the disease. "As PSC is rare there is not a lot of research being done in Australia although the first medical trial is taking place this year," he said.
He praised a Facebook page set up to link PSC patients and caregivers and provide much-needed support. "Suffering from a rare disease can be quite isolating," he said.
The page brought him into contact with nurse Kerrie McFarlane whose daughter also suffers from PSC and had a liver transplant many years ago.
"With Kerrie leading a small group including me, my wife and other patients and caregivers – one living in Mt Martha – we set up an organisation known as PSC Support Australia to increase awareness, link more patients for support and advice, provide advocacy and, hopefully, raise funds to increase medical research into PSC," Mr Pearce said.
"Some of our walkers on the weekend were from interstate. Friends of my mum wearing PSC Support Australia T-shirts also completed the Larapinta trail in the West MacDonnell Ranges to raise money for multiple sclerosis last year as one of my siblings has MS."
Mr Pearce said supporters had raised more than $2000 from a GoFundMe page. "More importantly, on the weekend walk they spoke to many people and raised more awareness of PSC." See: pscsupport.org.au
First published in the Southern Peninsula News – 17 March 2020