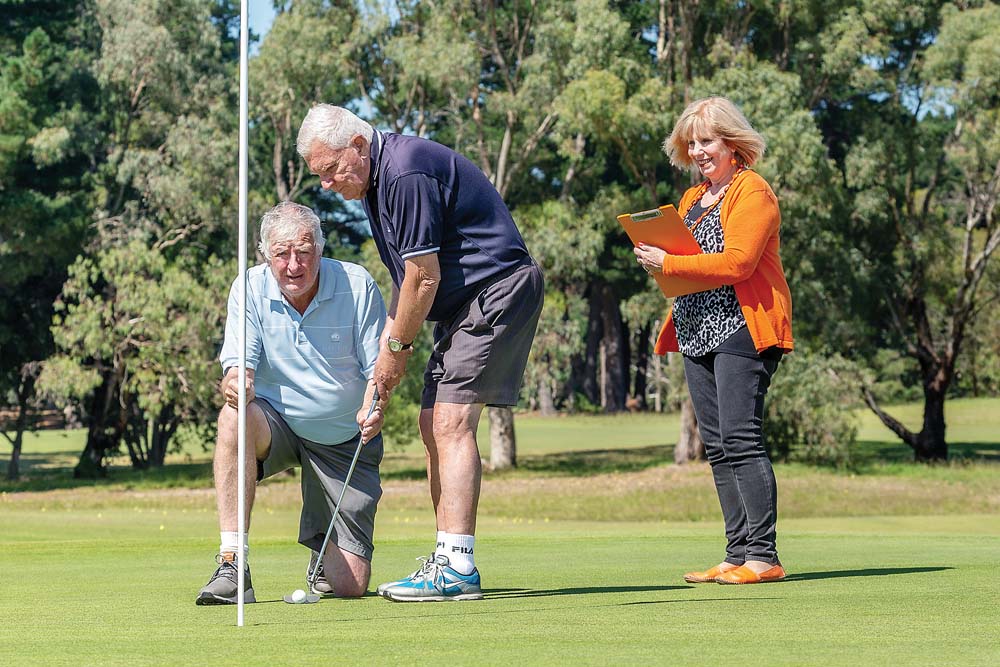 BLIND golfer Jeff Ellis got some handy tips on lining up his shot from caddy Esther McArdle at the Victorian Blind Golf Open. Both are members of Rosebud Country Club where the event has been played over the past 30 years.
Ellis, captain of Blind Golf Victoria, was one of the players at the inaugural event, while McArdle is the club's volunteer coordinator.
The top blind golfers from around Australia competed in the 36-hole stableford event in mid-March, followed by the ISPS Handa Australian Blind Golf 36-hole stroke tournament, 29-30 March. They included Mark Eschbank, winner of the 2019 ISPS Hand Japan Blind Golf Open and Michele Watts, current Lady World Blind Golf Champion.
The winner was Graham Coulton, of Sydney, with help from caddy Sue Carpenter. After 15 years together they are a "well-oiled partnership", organiser Michele Watts said. Coulton, a long time competitor, shot 71 and 72 net off a handicap of 43.
Former Victorian Blind Golf president David Blyth played in the tournament that he established 30 years ago, claiming it as "the longest running sporting event held in the same location in Australia".
Club members volunteer as caddies, spotters and referees. Tournament referee Arthur Scott has held the position since the beginning and led a volunteer team of about 300 in 2014 when Rosebud hosted the World Blind Golf Championships.
First published in the Southern Peninsula News – 31 March 2020