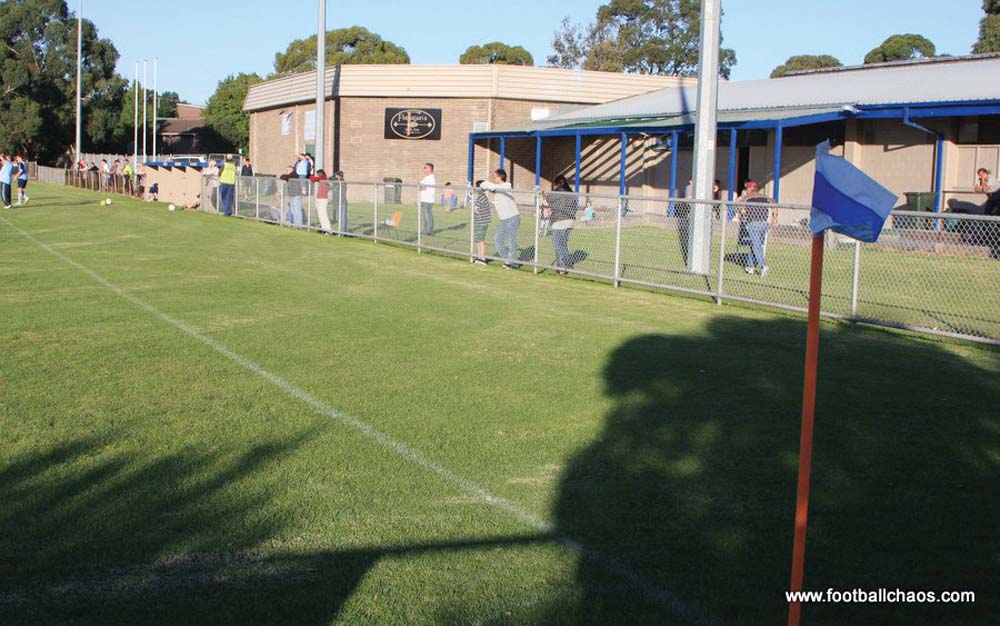 SOCCER
FRANKSTON council looks certain to approve a $1.43 million makeover of Monterey Reserve in next financial year's budget.
This was one of the major capital works projects announced last week in a proposed annual budget posted on the council's website and inviting community feedback.
It's no secret that Monterey Reserve tenant Frankston Pines and council had been at loggerheads for some time over long-standing plans for a major makeover with the club strongly opposed to important aspects of the project.
For reasons the club could never understand the original plans had public toilets at the entrance to the new facility, a greatly reduced interior and no player race.
"The loss of space was a major issue for us," club president Lee Davies said.
"Apart from the public toilet placement and the removal of the player race there was no entry point which could be policed on matchdays.
"The suitability of the facility to service the whole community not just Frankston Pines was important to us.
"We believed the club should be used more whether for school football, all abilities, darts and other groups which local residents are involved in but the design didn't provide this option."
Meetings were held between club and council but Pines' attempts to alter the plans proved fruitless.
So the club elicited the help of north-west ward councillor Glenn Aitken who arranged a meeting late last year between Davies, Pines food and beverage manager Pat Duffy and relevant council staff.
"Glenn took charge of the meeting and basically the council said they would address our issues," Davies added.
"They agreed that the new building wasn't fit for purpose so they'd look at changes and a redesign.
"I spoke to council the other day and they said they were going ahead with what Glenn asked them to do and what we wanted.
"Everyone is aware that when the council addresses our concerns it may push the project back a little bit but there's no specific timeframe as yet.
"The council was very positive about the whole thing in fact they've been great."
Davies also said that council had been supportive when queried about rent relief given the impact of the corona virus pandemic.
"They've been very helpful and no-one is chasing us for money," he said.
"We seem to be getting on great with them for the first time in a long time.
"We deal with Fiona (Dalla-Rossa) and James (Madder) and they've been brilliant ever since we started to work together."
The issue of rent relief has been of concern to all the local clubs and although council is yet to decide on a relief package the topic is definitely on its agenda.
Frankston mayor Sandra Mayer acknowledged that rent relief wasn't specifically mentioned in last week's proposed annual budget but assured clubs that they wouldn't be left without assistance.
"That level of detail is not in there as we are still working through the relief package and it has not yet come to a council meeting for official endorsement. It is in the package though," councillor Mayer said.
It's understood that some clubs have been told that their tenancy will be charged on a pro rata basis and if the venue remains unused then no fees will be charged.
Skye United is one such club.
"I've got it in writing that if our season starts and it's for only three months say then we'll only pay three months of the normal six-month winter tenancy," Skye United vice-president Stuart Lawrence said.
"We're quite happy with that because we weren't sure if we'd get anything."
Meanwhile the contrast in managing the sport at state level between Football Victoria and Football Queensland could not be more stark.
In a statement released late last month FV cautioned clubs on refunding player fees and said its fees and charges to clubs would remain in place whereas its Queensland counterpart in the same month released an updated document entitled "Refund of Governing Body Fees Policy".
That refund policy statement alerted clubs and players to FFA's National Refund Policy and outlined the application process involved.
Last week the Queensland body released another statement on the current situation and explained the reasons for updating its refund policy.
In part it said "… the FQ Refund Policy was updated to provide clubs with greater clarity around the refund process for governing body fees, eligibility and payments, and to assist clubs in communicating the refund process to their members."
Last week's statement also gave a breakdown of how registration fees for junior and senior players are used.
Pines head coach Kevin "Squizzy" Taylor lamented the different approaches by the two state federations.
"The Queensland approach was to clearly outline and articulate why the fees are charged whereas here in Victoria I'd be surprised if many people genuinely know where the fees are going," he said.
"I'm sure most people look at them and say 'it's just wages'.
"I have no idea why we are kept in the dark here."
One club that seems set to ignore FV's repayment advice is Peninsula Strikers juniors.
Strikers senior club vice-president Steve Schreck liaises between the senior and junior clubs and echoed Taylor's sentiments when it came to FV's handling of the current situation.
"From my viewpoint the mixed messages initially coming from FV were very frustrating and apart from that we've had nothing from them, no direction, nothing," Schreck said.
"Pretty much our costs are fixed at junior level and I've told Rob Harrington (Peninsula juniors president) to give people their money back if they ask for it."
Schreck also hit out at FV over a recent survey conducted by its competitions department.
"They surveyed NSL seniors and juniors and community clubs but rather than asking what we think they just wanted to know about ground availability.
"They're not looking at the big picture and my fear is that if the season does get underway we won't have even half of the players we had at the start of the year."
FV's survey was intended to give it a better handle on fixturing and how the season might look if and when it restarts.
The federation is looking into the possibility of extending the season into summer.
One of the positives to emerge from the survey was the spirit of cooperation between some clubs.
Pines have contacted both Skye United and Seaford United who are winter tenants at their respective venues and offered to come to a suitable arrangement for all three clubs to use Monterey Reserve if required.
"We just thought both these clubs will be in trouble once the cricket clubs move back in," Pines gaffer Taylor said.
"I thought to myself 'well Skye's just down the road and we get on well with them' and I also put in a call to Willie Lynn (Seaford president) the other night making him a similar offer.
"We've got the ground, we've got the lights and we can play seven days a week if need be.
"Rather than clubs having to fork out huge amounts of money to use alternative venues we can come up with something to assist them.
"These clubs are just around the corner, they're good people and we're more than happy to help out.
"I've got no doubts that if we were in their position they'd do the same for us."