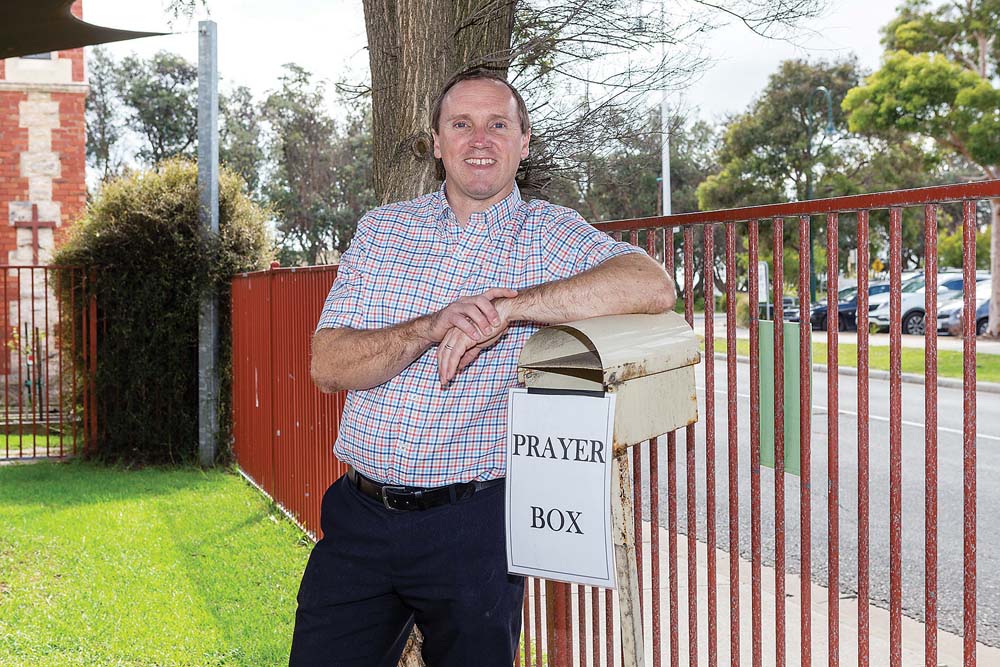 LIFE in the time of COVID-19 is, for many, a time of prayer. But congregating in a church during the coronavirus pandemic is not possible because of government social distancing rules
St Marks Anglican Church, Dromana has had to abandon its regular services because of the dangers of transmitting COVID-19, but the offer to the public for its members to say prayers on request has not been withdrawn.
The Rev Paul Woodcock said prayer requests usually "trickle in" at a rate of three or four a month.
The requests are left in a small steel letterbox – the prayer box – behind the church's fence in Odonohue Street, just off Point Nepean Road. A sign on the fence offers prayers for "genuine" requests.
Mr Woodcock said there had been no noticeable increase in prayer requests since the COVID-19 emergency was declared, although this could be attributed to people staying at home.
He said prayers were requested for a variety of reasons, often involving family or relationship problems, children or illness.
"Sometimes there's a request for a prayer for a particular person without any particular issue being mentioned," Mr Woodcock said.
Notes were sometimes left saying that a particular situation "has sorted itself out", a result that was attributed to prayer and other reasons.
Mr Woodcock did not know of the church ever receiving prayer requests for frivolous reasons, although an item of origami had been placed in the box the previous week.
"Sometimes the requests are on really weird scraps of paper but there has never been anything rude or abusive," he said.
St Marks normally holds two Sunday services (holy communion and family worship wth a children's ministry and a combined worship every fifth Sunday) and holy communion on Wednesdays.
Dedicated on 7 Aril 1893, St Marks is unlikely to have ever witnessed such a disruption to its public services.
However, the Rev Woodcock is making sure that parishioners have an opportunity to pray by making pre-recorded services available on YouTube or distributing printed copies to parishioners.
"We have organised for people to stay in touch with one another. We are caring for each other."
First published in the Southern Peninsula News – 21 April 2020