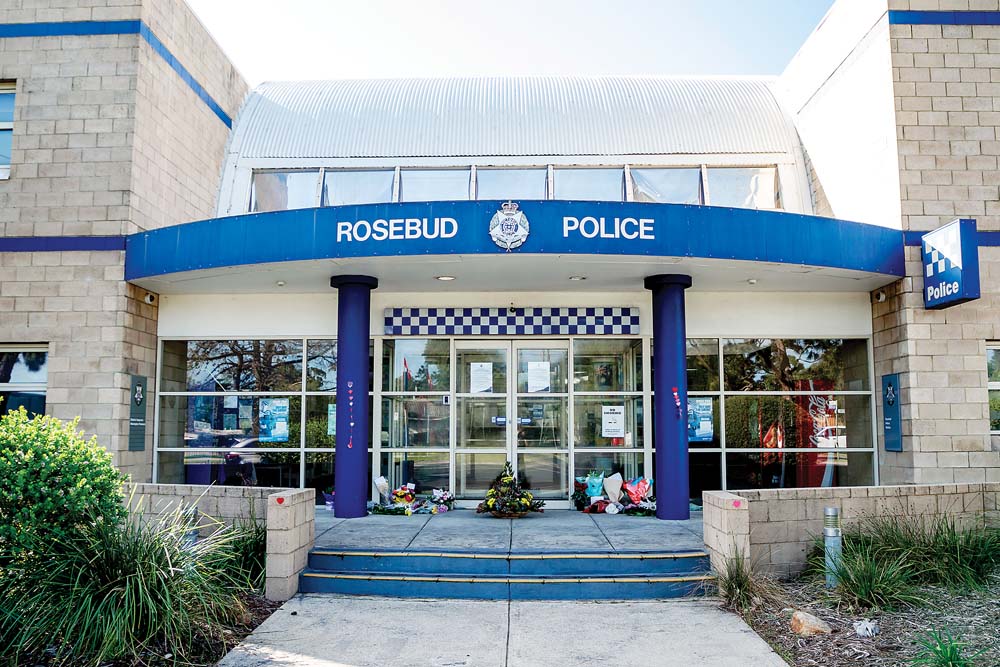 FLOWERS and condolence messages delivered to police stations across the Mornington Peninsula illustrate the widespread sense of sadness over the deaths of four officers in Kew, Wednesday 22 April.
Senior Constable Lynette Taylor, Senior Constable Kevin King, Constable Glen Humphris and Constable Josh Prestney died when they were struck by a truck in the emergency lane of the Eastern Freeway, 4.30pm.
Truck driver Mohinder Singh Bajwa, 47, of Cranbourne, was due to face court yesterday (Monday 27 April) charged with four counts of culpable driving over the crash.
The driver of the car the police were booking, Richard Pusey, 41, of Fitzroy, has been charged with nine offences, including driving at a dangerous speed, reckless conduct endangering life, failing to render assistance and drug possession.
Rosebud, Mornington, Hastings, Dromana, Rye and Sorrento police stations have been inundated with heartfelt letters, flowers and phone calls expressing shock and sadness at this sudden and terrible loss, Senior Sergeant Natalie Dollard, of Rosebud police, said.
"We are humbled by, and grateful to, the countless members of the public who share our grief and stand by our side during this difficult time.
"It is often said that the most difficult part of any police member's duty is supporting people on the worst day of their lives. To the community we serve – thank you for supporting us on ours."
First published in the Southern Peninsula News – 28 April 2020