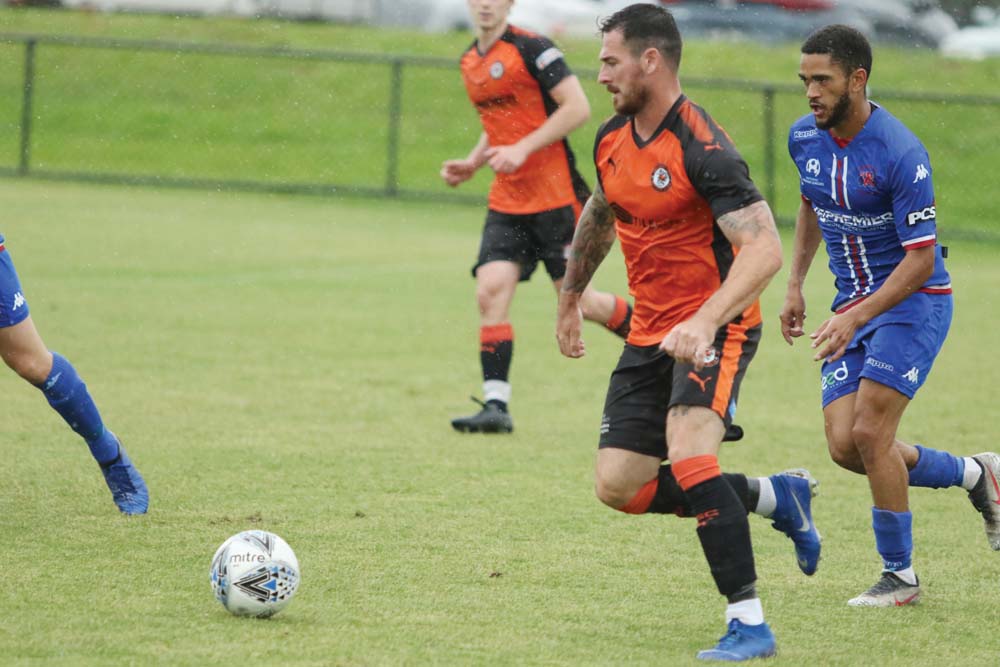 SOCCER
FOOTBALL Victoria hopes to get the green light to announce a resumption of training this month with the aim of starting the league season in June.
In April Football Federation Australia extended the suspension of all soccer activities until 31 May but that looks likely to be lifted.
Last week Prime Minister Scott Morrison announced that national cabinet had endorsed the "National Principles for Resumption of Sport and Recreation Activities" developed by the Australian Health Protection Principal Committee and the "Framework for Rebooting Sport in a Covid-19 Environment" developed by the Australian Institute of Sport.
The AIS document sets out a pathway for a staged return of community and professional sport.
This starts with an initial phase of small group (less than 10) activities in a non-contact fashion prior to moving to a phase of large group activities eventually including full contact training and competition.
However the document emphasises that all sporting organisations need to be flexible "to accommodate and respond to changes in (coronavirus) community transmission rates and the associated changes in advice from Public Health Authorities."
The document emphasised the importance of player education and agreement to the protocols to be put in place along with illness management.
"Preparation for resumption includes education of the athletes and other personnel, assessment of the sport environment and agreement on training scheduling to accommodate social distancing.
"The approach to training should focus on 'get in, train, get out', minimising unnecessary contact in change rooms, bathrooms and communal areas.
"Prior to resumption, sporting organisations should have agreed protocols in place for management of illness in athletes and other personnel."
FV arranged a members' meeting on Tuesday last week involving zone representatives and standing committee chairpersons and now awaits the outcome of a national cabinet meeting scheduled for Friday this week and an expected announcement by state government on 11 May.
There are indications that some of the current stage 3 restrictions in Victoria will be eased leading to the possibility of community sport resuming with new social distancing restrictions in place.
Should that happen then FV could allow senior NPL and community clubs to start senior training on 16 or 17 May with matches commencing in a staggered fashion from 12 June to 3 July.
Cup competitions could start from 6 June with Langwarrin, Mornington and Seaford United the only local clubs remaining in the FFA Cup.
FV's members meeting raised the prospect of junior training commencing between 12 and 15 May with matches starting from 6 June.
Notes of the members' meeting circulated to clubs stated that there is more certainty around junior competitions "since changerooms are rarely required" and the new restrictions could include a directive that changerooms are not to be used.
The meeting also speculated about a cap on training numbers and the duration of sessions.
Part of last week's discussion centred on FV's relationship with government and its role as the sport's main advocate.
Sport and Recreation Victoria has formed a working group and FV is represented by Matthew Green its Senior Executive Manager Business Operations.
Recommendations from the SRV Working Group regarding protocols for a resumption of sporting activities and possible funding initiatives for community sports will be presented to state cabinet.
At last week's FV members' meeting the financial situation around FV fees and charges also was discussed with the issue of FV refunds given priority by the state body.
A working committee has been established consisting of FV president Kimon Taliadoros, two other board members and FV senior executives to "formulate recommendations around FV refunds for the board to consider."
The meeting notes state: "They (FV) mentioned the importance of striking a balance between helping clubs and their own financial viability."
Meanwhile FV is keen to use its ambassador program to stay in touch with clubs.
Greg Hurvitz, FV club ambassador for the southern and south-east regions, linked up with Mornington, Mount Martha, Mount Eliza and Rosebud Heart last Wednesday evening for a teleconference where clubs shared their recent experiences and discussed a range of issues.
Hurvitz is believed to be organising a similar hook-up involving Frankston council clubs this week.
Meanwhile Mornington will be hoping for a later start to the season after star Seagulls striker Josh Hine suffered a dislocated elbow and minor fractures in a road accident early last week.
Hine was cycling as part of his pre-season program when struck by a car and taken by passers-by to Sandringham Hospital for treatment.
"We're waiting on specialist's advice to find out how bad the dislocation and the fractures around it are," Mornington head coach Adam Jamieson said.
"If we start in late June he'd be touch and go but I think he'd be pretty close to being ready if we started around mid-July."
Application software has played an important part in Mornington staying connected to players and coaching staff via messaging services and social-fitness apps and Jamieson linked up with other club coaches via Zoom last weekend.
Players have been given programs to follow and their progress has been monitored so the club has the best possible chance to hit the ground running once competition resumes.
Mornington like all local clubs is waiting to find out what restrictions will be put in place to allow training and playing to restart.
The Seagulls are keen to know how these restrictions will be policed and what would happen if, for example, one of their players tested positive to corona virus.
For example, Jamieson doubles as coach of the club's JNPL under-13s and also attends committee meetings when requested so the knock-on effects should one of his players test positive would be far-reaching if strict quarantine rules are in place.
NPL2 outfit Langwarrin has dealt with monitoring fitness levels among its senior players through a program developed by high performance manager Alistair Wallace.
"I set them a program from a PDF I created with three different training sessions with different training outcomes, for example aerobic, high-speed exposure and acceleration plus change of direction," Wallace said.
Each player fills out a form after each session and the data is used to monitor their progress.
"We did this for all of pre-season to track load so pretty much when we come back we know how much we can increase each player's load without them getting injured.
"Most players send me screenshots of their sessions using an app or a smart watch."
If as expected there is an abbreviated training period before matches start Wallace feels Langy is well-positioned to cope.
"Looking at it they say we will have four weeks back training before we play.
"We can do a lot in four weeks but we will just have to be very vigilant with some players and adjust training loads independently for each player.
"It isn't ideal but we just have to adapt and keep risk levels low for players.
"Most players have been doing the training loads so we are happy with where we are right now."