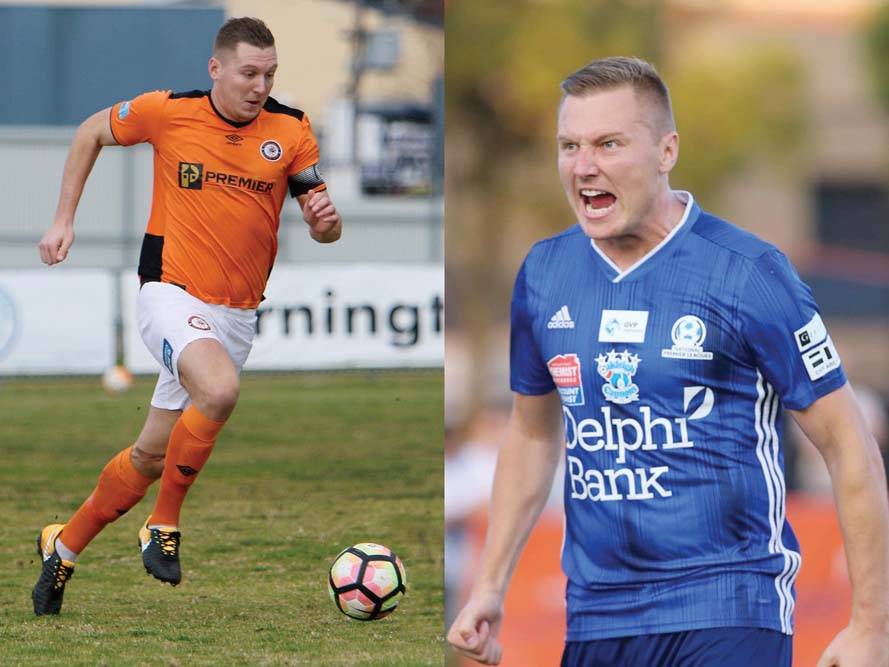 SOCCER
RYAN Paczkowski could be on the verge of a sensational return to Mornington.
The move relies on his current club Oakleigh Cannons not playing this season and releasing "Patch" from his contract.
NPL1 powerhouse Oakleigh faces two major hurdles standing in the way of competing in 2020.
The Greek-backed outfit is closely considering its duty of care to its members and has genuine concerns especially for it older supporters.
It also stares into a financial black hole given that its main revenue streams have dried up with little prospect of short-term recovery.
There's no doubt that should "Patch" be on the move there will be plenty of interested clubs but there's only one club that he'd join if he doesn't play for Oakleigh this year.
Mornington gaffer Adam Jamieson and president Matt Cameron have not been involved in discussions with Paczkowski about a possible move.
"I want to make it clear that we have not discussed this matter nor have we given it consideration," Jamieson said.
However Paczkowski is one of a number of contracted players who are believed to be considering exit strategies should Football Victoria cancel the NPL1 season.
Mornington brought the former Gainsborough Trinity, Harworth Colliery, Frickley Athletic and Brigg Town striker to Melbourne from his native Doncaster in England for the 2014 State 1 season.
Two seasons later his reputation had been established and he joined Bentleigh Greens where he enjoyed a stellar 2016 season highlighted by a number of man-of-the-match performances and multiple team-of-the-week selections.
He returned to Dallas Brooks Park for the 2017 season before Chris Taylor took him to Oakleigh where he has spent the past two seasons and proven his versatility in a number of positions.
But a Paczkowski switch relies heavily on the make-up of the season that Football Victoria is expected to announce this week.
FV was due to contact NPL clubs yesterday (Monday) and there has been much conjecture that if the elite club competition goes ahead it will only be at NPL2 and NPL3 levels.
Just before we went to press a prominent NPL club was canvassing the notion that FV would announce that promotion would still be in play this year but that relegation would be suspended.
If applied to State Leagues it would be a second successive season that an integral element of the sport had been removed by the governing body.
Last week FV announced proposed resumption of play dates for NPL, junior NPL, community clubs and community junior competitions.
The junior NPL season is tentatively scheduled to start on Saturday 20 June.
Community clubs (State Leagues and below, seniors and juniors) were given a proposed start date of Sunday 28 June, which took many local clubs by surprise as they play on Saturdays.
Sport and Recreation Victoria plays a crucial role in setting these proposed start dates and it's believed that SRV will call for the cricket season to be pushed back to a late October start to accommodate football codes as many grounds have multisport tenants.
Last Friday evening there was a bombshell announcement from State 1 South-East club Richmond that it was withdrawing all teams from competition this year.
State 4 South outfit Keysborough followed suit on Sunday afternoon and the danger for FV now is that if there's no relegation more clubs may decide not to play.
It's clear that clubs have been weighing up whether or not they should compete in 2020.
However Mornington, which plays in the same league as Richmond, has no such doubts.
"If there's a season we'll be playing 100 per cent," club president Matt Cameron said.
"To be honest I don't know how you can say you'll not play this season because the way I read the rules you don't just drop out of your league but you've to go all the way down to the bottom league and start up all over again.
"It's happened to us a couple of times with our women's teams so it's not as simple as saying you won't play and you'll just start up again next season.
"We would never consider that. We want to play."
FV's recent return to training guidelines also required local councils to finalise tenancy agreements before clubs could hit the training track.
Last week Frankston council and Mornington Peninsula Shire council sent out seasonal tenancy confirmation letters to the State League clubs under their jurisdictions and Mornington has started training.
As have Chelsea and Aspendale Stingrays who come under Kingston council.
Langwarrin, Peninsula Strikers, Seaford United, Somerville Eagles and Mount Martha are waiting until 1 June to make a definite decision on a return to training.
Langy president Tanya Wallace favours a staggered return involving the club's four junior NPL squads at first then building on those numbers by introducing two more squads each week.
"We won't be returning before the end of May," Wallace said.
"I'm not bringing them all back in one hit. That's ludicrous. We'll start with the junior NPL sides then build it from there.
"We're also giving a lot of consideration to our volunteers as many of them are older and in a higher-risk category when it comes to the virus and we are very aware of anyone coming into contact with them."
Skye United, Frankston Pines, Baxter and Rosebud start training this week.
Skye will start with its women's teams on Wednesday night followed by the senior men on Thursday night.
Pines, Baxter and Rosebud will start on Tuesday night.
Rosebud players allegedly will see a slimmed-down version of colourful central striker Mark Pagliarulo.
"I'm currently day 38 off the alcohol and going strong," he claimed on Sunday.
"I'm doing personal training with (Bulleen head coach) John Maisano and lost 5.5 kilos just in case you wondered.
"Heading off now to Gunnamatta beach to go on a run with him after our 9am bootcamp this morning."
Rosebud announced last week that new state-of-the-art floodlights will be installed at its Olympic Park headquarters in Besgrove Street and be functional by mid-June.
The club says this opens up the possibility of hosting Friday night and midweek fixtures.
In other news Skye United's clubrooms at Skye Recreation Reserve were vandalised last week with graffiti sprayed on signage, walls, roofs and footpaths.
The club took to social media to ask for help in identifying the perpetrators.
Meanwhile Frankston Pines head coach Kevin "Squizzy" Taylor has raised an interesting point about controlling numbers of attendees at training and matches.
"Most grounds are located in public parks and not all of them have completely fenced off access so how are clubs meant to police this?" Taylor asked.
His concerns were echoed by Skye United president Daren Jones.
"We've got a lot of people who walk their dogs on our park and how do we get their names and contact information if they are doing that during a training session?
"As far as I'm concerned everyone on that park has to be on our register otherwise how can they be traced?"
And for the record let's finally publish the worst kept secret in local football.
Billy Rae has left State 4 South-East club Somerville and been replaced by Dave Greening who will be player-coach of the senior squad.
Stan Packer who had quit last year along with former senior coach Scott Morrison has returned as Greening's assistant.
Neither Rae nor Greening were prepared to comment.