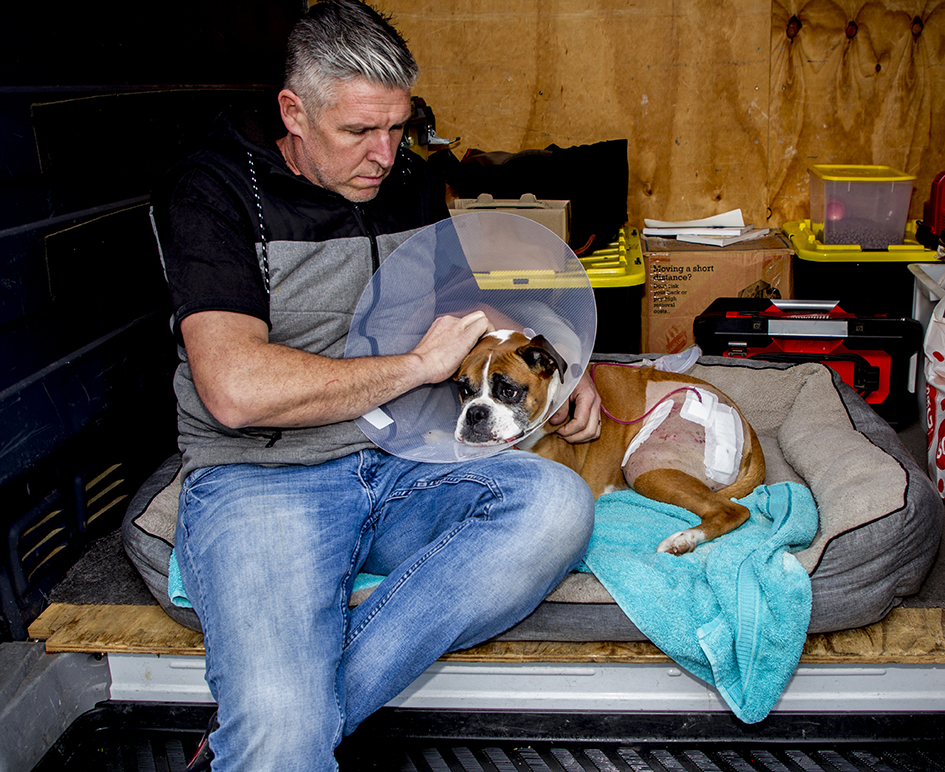 A BRUTAL dog attack at Rye on the weekend has left a family's boxer pet with severe leg wounds, her owner traumatised and needing tetanus shots for bites to her hand, the offending dog's owner also with lacerations to his hands – and a vet's bill nearing $3000.
Matt Hollard and wife Yvette Nicole Williams were still in shock yesterday (Monday) over the incident near Rye pier, 10am, Sunday 31 May, when one of two American Staffies passing by "broke free and bolted full steam at me and our dog, locking onto the upper part of her back leg".
Mr Hollard said: "With horrified cries from our beautiful Chanel, the other owner let go of the [second] dog and threw himself onto the [attacking] dog in an attempt to release [its jaws].
"Myself, another man, and three other ladies somehow attempted to free our poor dog from this vicious animal's locked jaw.
"My wife had to retreat after being bitten and going into complete shock as well as a full-on panic attack.
"Other walkers ran to her aid while continuing to watch [our] little girl being mauled with none of us able to release our poor puppy from this dog's locked jaw."
Mr Hollard said after "what seemed an eternity, with ripped flesh and blood streaming everywhere, the dog let go".
Yesterday (Monday), Ms Williams was said to be "recovered but completely traumatised by the incident".
Chanel, aged nine, was recovering in a Mornington veterinary hospital on a drip after surgery on Sunday night with extensive damage to her leg and back, muscles torn off bone and skin, along with multiple puncture wounds and serious internal damage.
"She is OK at this stage, but also very traumatised," Mr Hollard said.
"The [other] dogs' owner received serious lacerations to his own hands when trying to release his dog.
"And we are left with a vet's bill in the vicinity of $3000 – making it a very expensive outing for a coffee on an [otherwise] beautiful morning in the area we love."
Mr Hollard said while he and Ms Williams were "in a state of shock and concern for our dog, and our own wellbeing, we are also very concerned for the other dog owner's wellbeing as he was very apologetic".
"An older man shouldn't [have to] be on the ground fighting off a vicious dog and with what looked like serious injuries to his hands."
Mornington Peninsula Shire rangers and the Rye police were told of the incident but it is not sure what follow-up action was taken.
"We would like to thank all who assisted us, especially the strangers who jumped in to help," Mr Hollard said.
"Special thanks to the beautiful lady (Anne) who helped calm my wife, and others who got water and gave us advice while I was attending to our puppy and unable to help my wife, and also to Peninsula Vet Care."
Mr Hollard urged "all dog lovers and owners be aware of your surroundings, be responsible for your dog and we hope you never have to face what we did today".
"Heaven forbid these dogs go on to harm other dogs or, even worse, small humans."